EduBirdie Review
EduBirdie.com has a business model that we often see. Customers place orders and then those orders are placed up for bids from writers who are registered with the company. In this sense, then, the company acts more as a clearinghouse for customers and writers to "match" up in order for orders to be completed.
We have conducted this review based upon the same factors that we always use. Those factors include information on the company website, testimonials published on-site, quality of writing based upon site text, samples and blogs, customer reviews we have found on the web, and the results from a university-level research paper which we ordered and awarded to one of the bidders. The results of our review follow.
Factor 1: Types of Writing Services Offered
Edu Birdie is typical of most all academic writing services. It focuses on student customers from high school through Ph.D. programs. By opening the hamburger menu in the left upper corner of the Home page, students can see the listing of all of the writing that is offered. Further, they can click on any of the writing product types and link to more detailed information about that type of piece.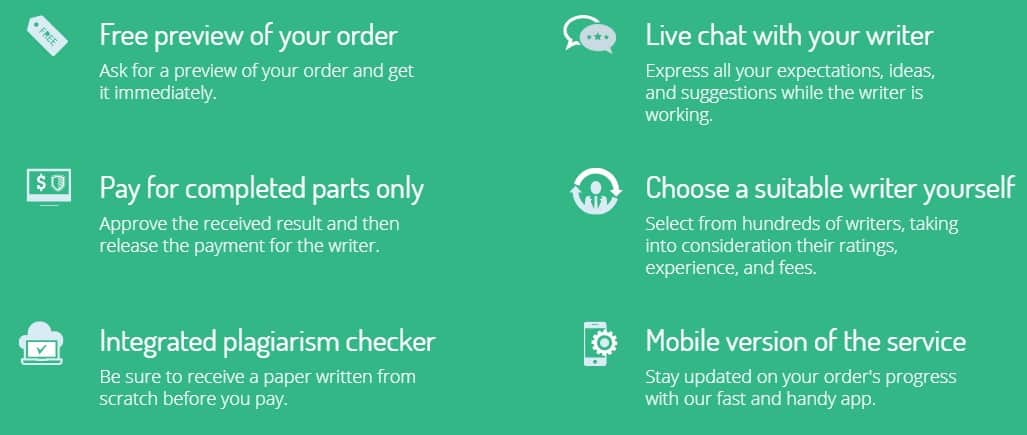 The offerings include essays, papers, theses, dissertations, admissions essays, and more. While not stated, we assume that editing and proofreading is also offered, given that there are quite a large number of writers – we assume that there are individuals who can perform these functions.
Factor 2: Trust/Reliability
Factors of trust and reliability are determined by several criteria.
Does the customer have access to customer support?
Does the customer have access to his/her writer?
Does the customer receive what s/he orders and on time?
Does the customer have privacy and confidentiality?
Does the Company stand by its policies?
The reviews of EduBirdie that we have found on the web are mixed. While all customers stated that they received ordered products and did have conversations with their writers, many customers spoke to lack of responsiveness of their writers, especially when they asked for revisions.
Based upon these customer experiences, we can certainly say that EduBirdie.com is not a fraud or scam.
Factor 3: Level of Quality
When we look at quality, of course we look at what customers say. We also review the quality of writing on the Edu Birdie website itself, samples or blog posts if available, and our evaluation of the research paper we ordered and received from one of the writers.
Again, customer reviews are mixed. On-site testimonials are all quite positive.
Customers who have provided off-site comments do speak to lower quality than they expected. Many state that their writers were obviously foreign.
Our experience with writing quality was concerning. There were just a number of grammatical and compositional errors that were reflective of an ESL writer, although we were told by our writer that he was an American.

The quality of writing on the website is also of certain concern. The writing is poor and is very repetitive, especially in the footer pages. In all, content is also quite thin. There is a blog, but the articles are poorly written and, in some cases, incorrect. One post on dissertation methodology used as an example a law dissertation. Law school students write lots of papers, but they never write dissertations.
Factor 4: Pricing/Payment
Prices are not definite. Customers place orders, and registered writers submit bids. We finally settled on a price of $134.00 for an 8-page research paper with a 7-day deadline. There are no discounts or coupon codes for special pricing. No new customer will find a promo code for a "welcome" discount.
Customer can negotiate pricing with writers, to an extent. And EduBirdie has a new policy that will assign a writer for a customer, for a price of $9.99/page. This seems odd, especially when there are students at all different levels who need many different types of pieces. It is unusual that a qualified writer would work for that amount.
Payments are made via major credit cards and are secure. Payments are held by the company until the customer approves the piece of writing. We did not approve our piece and requested a refund. We are still awaiting a response. This is pretty poor PR.
Factor 5: Additional Important Considerations
There are no company-wide free pages or other benefits. These are left up to the writers, at their discretion.
Concluding Comments
We have a number of concerns about Edu Birdie as we look at pros & cons. As we look at writer profiles and what they have written, we find that one writer has produced pieces in nursing, criminology, English literature, marketing and psychology. Obviously, the writer does not have degrees in all of these fields. How, then does he qualify to write in all of these areas? There is also no BBB membership. Overall, we are providing a rating of "Fair."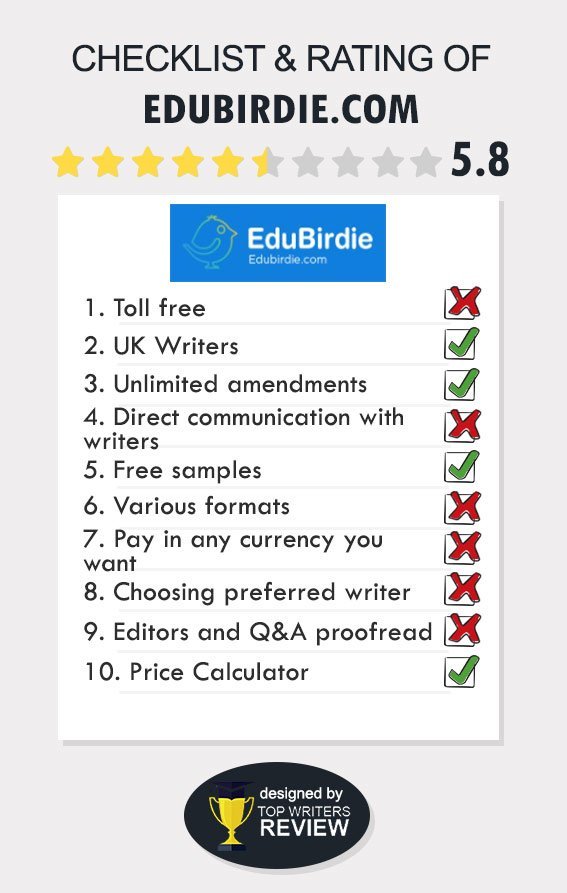 I needed a movie review 5 pages long, in 72 ...

I've been using Unemployed Professors for over ...

I payed a ton for the paper that didn't even ...
View ALL comments