EssayDune.com
http://essaydune.com/
Pricing

4.9

Support

7.5

Quality

6.6

Delivery

5.9

Usability

6.8
Extra Features:
Payment Methods:

PayPal

Credit Card

Additional Features:

Price Calculator

Plagiarism check

Money back guarantee

100% Privacy

Life-time Discounts

Writers are Native English Speakers

3-hour delivery option

Prices start with $10.00

Support:

Live chat

24/7/365

US Toll-Free

UK toll-free

AU toll-free
EssayDune.com Review
The following is our review of Essaydune.com. We took several steps to prepare for this write up. This includes placing an order for an academic paper, reviewing that paper for accuracy and quality, reading online customer reviews, researching this writing service, and verifying with the BBB that they are not a fraud or scam. In addition to this, we also explored the Essay Dune website.
Review Criteria
As with every other writing service that we analyze, we have several criteria that we expect EssayDune to meet. This includes good writing quality, professional and courteous customer service, fair pricing, and an easy to navigate website. We also give bonus rating points for quality web content and extra features.
Factor 1: Types of Writing Services Offered
This is an academic writing service. They offer essays, research papers, book reports, movie reviews, thesis and dissertation, and other common services. They also offer editing and proofreading services.
Factor 2: Trust/Reliability
Essaydune is mediocre in terms of trust and reliability. Yes, it does appear that people do receive the papers that they pay for. However, some of the claims made concern us. We believe it's possible that they are selling duplicate or low quality papers, especially when it comes to long or very complex academic documents.
Factor 3: Level of Quality
We were very disappointed in the quality of the research paper we received. The writing was error ridden, and clearly not written by someone with a firm grasp on the English language. Further, the sources they used were not up to academic standards. When we approached customer service, they offered no revisions or other help. Overall Essay Dune writing and customer service receives low marks from us.
Factor 4: Pricing/Payment
We paid 21 dollars a page for a research paper with a deadline of just under a week. We feel that these prices are pretty fair. However, the low quality was problematic. It simply was not a good value for our dollar.
The company accepts multiple forms of payment. These include debit and credit card as well as paypal. We made payment via debit card and had no issues.
There is a discount page. However, we were disappointed to find that none of them really applied to us. Companies normally offer a promo code for first time buyers. Here it only appears that coupon codes are available for volume and repeat orders.
Factor 5: Additional Important Considerations
We didn't really uncover anything interesting or of particular concern. Essaydune.com doesn't have much to offer beyond the standard writing and editing services. There is a testimonials page. We also read a few of their blog posts. Unfortunately, they weren't very interesting. They seemed to be written with the goal of promoting writing services rather than providing information or entertainment.
Concluding Comments
In going over the pros & cons, we ultimately cannot recommend this site for anyone. There are too many issues with quality. Further, some of the claims the company makes are quite outlandish. We believe this could be a fundamental lack of understanding of academic writing. This was made evident to us when we were told the company could research and write a dissertation within a time period of two weeks. Something that is ultimately impossible. Therefore, despite some positive testimonials we rate this writing service with a quality level of low.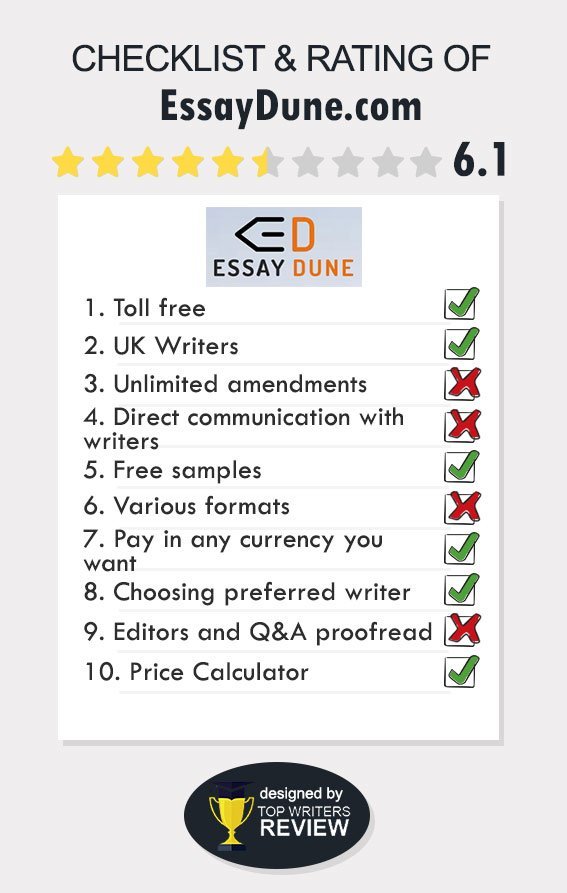 Customer Reviews of "EssayDune.com"
Pricing

Support

Quality

Delivery

Usability
Sophie
commented
EssayDune.com
Awful price! The worst thing you get with them is the price. However, they provide some nice support and not of the best, but of quite pleasantly looking quality.
Pricing

Support

Quality

Delivery

Usability
Eivery
commented
EssayDune.com
Splendid, seriously splendid support department that made an awesome thing by helping me out with the order process and then by solving difficulties that happened due to my bank account blocking. Talking about the other things I should mention their good price and surprisingly nice quality.
Pricing

Support

Quality

Delivery

Usability
Leonard
commented
EssayDune.com
EssayDune was a quite helpful place to work with. The request order of research paper was completed in accordance with my time schedule and in accordance with the set of rules I gave them from my college professor. Of course, there are some features that could have been improved, but in the general look I`m totally satisfied.
Not scammers but the quality is terrible.

Nice website and friendly support. ...

Could have been better. Their quality sucks.
View ALL comments