GradeMiners.com Review
GradeMiners.com is an academic writing service whose target audience is high school, college, and graduate students. Several members of our audience have asked us our thoughts on Grade Miners. Because of this we have decided to write this review. As always, our review process includes reading customer reviews, researching the company on the BBB website to determine that the service is not a fraud or scam, and ordering a paper. We also explored the GradeMiners.com website to learn as much as possible.
Review Criteria
Our review criteria for GradeMiners is the same for any other website. Our final rating is based on our evaluation of several criteria:
Customer Service: Professionalism And Courtesy

Writing: Quality And Adherence to Instructions

Pricing: Value And Available Discounts

Website: Ease of Navigation And Quality Content

Placing an Order: Trust And Security
Factor 1: Types of Writing Services Offered
Grade Miners is strictly an academic writing service. The offer writing services that include research papers, essays, thesis and dissertation works, lab reports and other commonly offered writing services. For this review, we purchased an essay for a college student. It was a simple 5 page English essay.
Factor 2: Trust/Reliability
On the matter of trust, we found that the company is not quite truthful in some of its claims about writer's qualifications and quality. We will address that later. However, we did place our order and we did receive a paper. So, we will not label them a scam or fraud. There are some concerns though.
It terms of reliability, our score is quite low. Our essay was a full day late, and that came with no warning, explanation, or apology. Had we been students needing to turn a paper in on time, that could have been disastrous.
Factor 3: Level of Quality
It only took a few moments of reviewing our finished essay to come to one conclusion. It was not written by someone who is fluent in English. There were too many telltale mistakes in word usage, transitions, and tenses that indicate a writer isn't a native English speaker. In addition to this, the essay we received was clearly not a college level paper. The citations were incorrect, and the writer used sources that would never be accepted by any professor.
Factor 4: Pricing/Payment
We paid more than 120 dollars for the paper that we received. Without taking quality into consideration, these prices are higher than average. Adding quality back into the equation, and there is absolutely no justification for such high prices.
We searched for discounts. We did not find a promo code nor did they offer coupon codes for first time customers. There is only a very convoluted loyalty program.
Concluding Comments
While there were a couple of positives, our overall experience with GradeMiners was quite negative. In fact, just based upon factor 3 (level of quality) we would be unable to endorse this service. After all, the bottom line here is quality writing. In spite of a few glowing customer testimonials, they simply did not deliver an academic paper that was acceptable on any level. After weighing the pros & cons, we recommend students select a better writing service provider.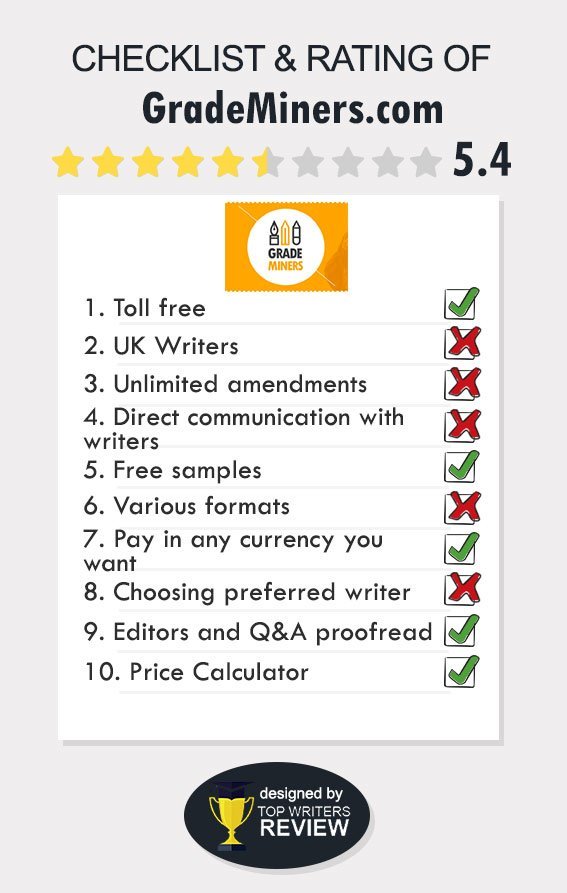 I needed a movie review 5 pages long, in 72 ...

I've been using Unemployed Professors for over ...

I payed a ton for the paper that didn't even ...
View ALL comments