PrivateWriting.com Review
PrivateWriting.com is an online writing service that we have recently investigated at the request of several of our loyal followers. To conduct this review of Private Writing, we took the following steps:
We Read Customer Reviews And Testimonials of PrivateWriting

Researched PrivateWritings on The BBB Website to Determine if They are a Fraud or Scam

Placed an Order For an Essay From Private Writing

Explored The PrivateWriting Website
Review Criteria
We follow the same review criteria for every content writing service that we review. First and foremost, our concern is writing quality. This must be excellent. Writers must be professional and communicative. Next, we take into consideration customer service. Courtesy is wonderful, but that's now our only criteria. We want representatives who can answer our questions, and take action to solve any problem we have. Cost is also an important concern. We don't expect papers to be cheap, but they should be a great value for the dollar. Finally we look at website navigation. It should be easy and safe to place an order. There should also be plenty of interesting web content.
Factor 1: Types of Writing Services Offered
We were able to discern that both academic and business writing services are available as well as ghostwriting services. Our review is based solely on our experience with academic writing. However, the reviews we read addressed all services, and were largely negative.
In the area of academics, they offer the usual papers such as essays, research papers, term papers, lab reports, admissions essays, thesis and dissertations, coursework, book reports, and more. They also write SEO posts, articles, web content, and copywriting.
Factor 2: Trust/Reliability
In listing the pros & cons, we can say that we did receive our paper on time. We also made payment securely. On the other hand, we also trusted them to deliver a paper that was of appropriate quality and written by a qualified professional. They did not deliver on that promise in any way.
Factor 3: Level of Quality
The paper we received was exceptionally poor. It was clearly not written by a native English speaker in spite of a customer service representative indicating that it would be. There were multiple areas relating to facts, grammar, and spelling.
Factor 4: Pricing/Payment
Our essay cost just over fourteen dollars per page. Taking nothing else into consideration, that's a pretty average price for the academic writing industry. Unfortunately, because of the low quality writing and poor customer service, we certainly don't feel as if we got a good value for our dollar. Payment was made via credit card and we encountered no issues.
There are discounts available. We chose to use a promo code when we placed our order, and other coupon codes are available as well. However, these are no substitute for quality or professionalism both of which are sorely lacking here.
Concluding Comments
Our overall rating is exceptionally low. They failed to impress us on any level in the areas of customer service, or writing quality. If you are considering using this writing service for academic or business writing, please reconsider. We have a long list of high quality writing services that offer great writing at very fair prices.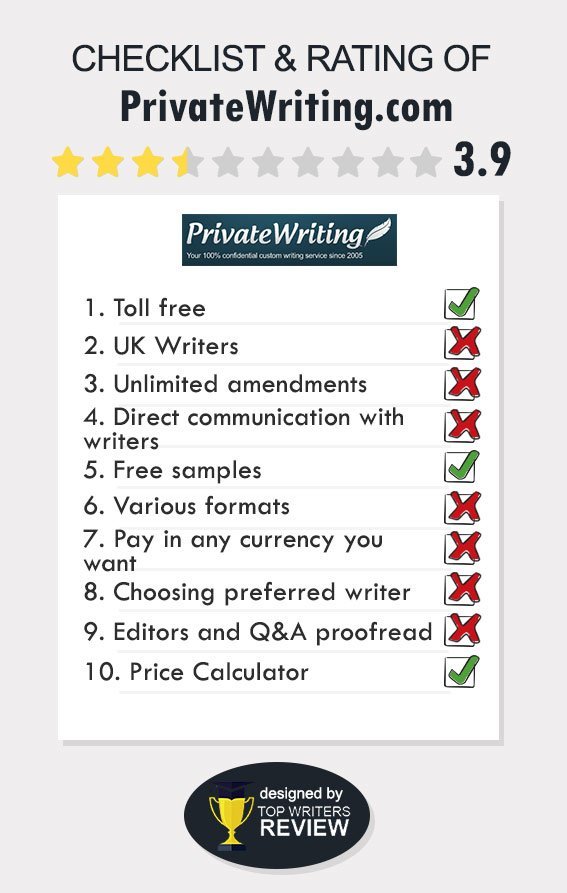 I needed a movie review 5 pages long, in 72 ...

I've been using Unemployed Professors for over ...

I payed a ton for the paper that didn't even ...
View ALL comments