StableWriters.com
https://stablewriters.com/
Pricing

2.9

Support

2.9

Quality

2.9

Delivery

3.6

Usability

3.6
Extra Features:
Payment Methods:

PayPal

Discover

American Express

Master Card

VISA

Security:

SSL certificate

Additional Features:

Price Calculator

Plagiarism check

Money back guarantee

100% Privacy

Free Revisions

Writers are Native English Speakers

3-hour delivery option

Support:

Live chat

24/7/365

US Toll-Free
StableWriters Review
StableWriters.com has been in the writing service business for several years, as its website states. It serves the English-speaking world of students and business professionals, although its main focus appears to be on student needs. In performing our evaluation of the Stable Writers, we looked at the same factors we do for all of our reviews – website information and content, StableWriters testimonials, our experiences with the customer support department, customer reviews that we have found on the web, and the quality of a research paper that we ordered from the company. This review is the compilation of all of these factors.
Factor 1: Types of Writing Services Offered
Stable Writers offers academic writing of every variety for high school students up through Ph.D. candidates. There is a long listing of products and services posted on its home page. It also offers business writing, and the listing of those products can be found once a customer gets to the order form. In between academic and business writing are resumes, CV's, and editing and proofreading services.
Factor 2: Trust/Reliability
To determine the quality of this factor, we had to rely on the comments and feedback of customers. Without exception, all of the comments we reviewed indicated that the company did in fact produce and deliver a product they had ordered and di so on time. Further, they were comfortable in providing their personal information and making payments with their credit cards.
Our experience was the same. We ordered a college-level research paper and paid for it with a credit card. We received the paper on time.
While there is no evidence of a BBB membership, we can say that Stable Writers is not a fraud or scam.
Factor 3: Level of Quality
When we first read through the website content and also the blog post, we had some concerns for English language usage, specifically incorrect wording and awkward sentence structures. We were interested to see how StableWriters.com customers felt about the quality of their products. The responses were mixed, although there were a number of complaints about composition errors.
The paper we received also had the same types of errors we observed in the site content and the blog posts. While the site promises only English-speaking writers, we suspect that this may not be entirely true.
Factor 4: Pricing/Payment
StableWriters prices are somewhat above average. Further there are no discounts advertised on the site. We did find a field for a promo code on our order form and contacted customer support about a discount. We were given a 10% discount and told that customers who requested them could get coupon codes for discounts. This is a bit of a concern – the company should at least let customers know that discounts are available.
Factor 5: Additional Important Considerations
The company does state that it will take requests for revisions for ten business days following delivery of a product and that revisions will be provided free of charge, according to its policy. Here is the problem: there are no policies published on the site at all. It is therefore difficult for a customer to know what his right and responsibilities are.
Concluding Comments
In looking at pros & cons of Stable Writers, we have concerns about writing quality and about the fact that there are no written policies for customer review. Based upon this review, we are providing a rating of "Fair." Publishing clear policies and providing stronger reviews of the products that their writers produce would also help. At this point, it doesn't appears that such editing doesn't exists or it is being conducted y individuals who are not well versed in scholarly English writing.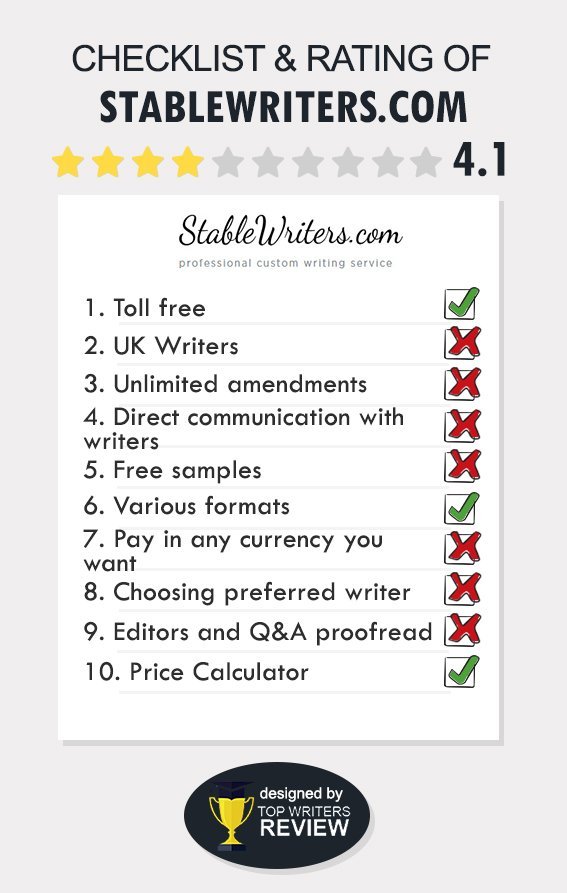 Customer Reviews of "StableWriters.com"
Pricing

Support

Quality

Delivery

Usability
Solange
commented
StableWriters.com
If you want to work with a resource full of disadvantages - welcome to stablewriters. Here you`d get all kinds of unprofessional support, management, creation and much much more for an inadequate high price. Enjoy!
Pricing

Support

Quality

Delivery

Usability
Leo
commented
StableWriters.com
Error, error, error and again error. This site is sooooooooo difficult to reach. I had to email them for a couple of time to at least get a small idea of what was going on with my paperwork. Doesn`t worth my money, any single penny. Don`t recommend.
Pricing

Support

Quality

Delivery

Usability
Margareth
commented
StableWriters.com
StableWriters isn`t the best place you can rely on when dealing with important and valuable writing for college. I was expecting some pleasant outcome or a competitive material that I can show. Nothing. None of those. Completely none of those.
Not scammers but the quality is terrible.

Nice website and friendly support. ...

Could have been better. Their quality sucks.
View ALL comments