Best Plagiarism Checker Reviews: Only Top Tools Offered
Finding the best plagiarism checker for students is important. It's a known fact that students who write academic essays on a daily basis need to know how original their work is. Various companies try to take advantage of this and offer their tools. Some of them are safe, but many others aren't. You might be ripped off, lied to, or presented with a similarity report that's completely made up. We decided to explore the market and find the most reliable plag scanners. Our team personally tested hundreds of options, and we settled on ten best ones.
Top 10 Plagiarism Checkers in 2022
1. Plagtracker

This central page of this website doesn't have a good design, which might be a turn off for many students. It's overwhelming and garish. Still, it's one of the best plag checkers we've tested, and here's why. It doesn't cost anything, so students could use it as many times as they want. The maximum amount of time you'll have to wait for is just one minute. It's much less for shorter texts or essays with average length. This best plagiarism software issues a detailed originality report where you can see how much of your text is unique, what is cited incorrectly, what is plagiarized, etc. Plagtracker uses an extensive base of online and scanned sources to determine uniqueness percentage, and we found results to be extremely accurate.
Price: Free
Accuracy: High
Database: Extensive
Usability: Tacky design and some bugs present
Pros
Students don't have to pay

Detailed plag report

Great accuracy

Quick results
Cons
Garish design

Website lags at times
2. Copyleaks

This is one of the best plagiarism checkers that supports 100 different languages, which is definitely a big advantage. Both American and international students will find it useful. The problem is, you have to create an account for checking your text. It doesn't take long, but it's still an obstacle most of us would like to avoid. After this, the work of this scanner was great: it tested our essay through several large databases and made correct conclusions. Similarity percentage was accurate, and the tool even found the article we were using despite it being obscure and not available on many sites. There are many options available: students could copy and paste their text, upload it, create a link to it, etc. Note that everything is free only for a trial with a limited amount of pages (about 10). If you like how Copyleaks works, want to keep using it, and hope to see a more detailed report, you could upgrade your account.
Price: Sample trial; after that, $10.99 for checking 100 pages per month or $109.90 for 1200 pages per year.
Accuracy: High
Database: Extensive
Usability: You need to create an account
Pros
Quick work

Many databases used

High degree of accuracy

Free trial available
Cons
Paid subscription

Making an account is a must
3. PlagScan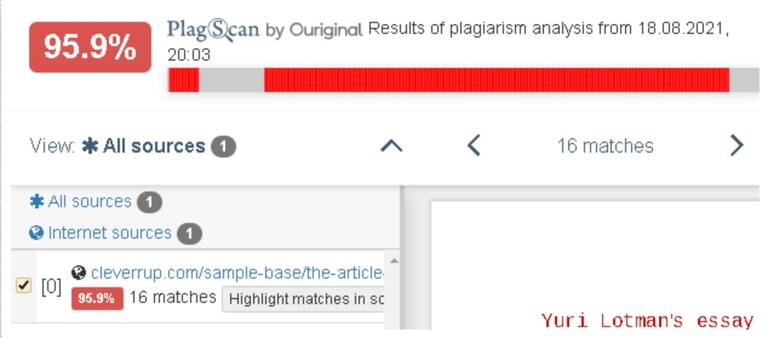 This is the best site to check plagiarism if you need specific formats. For example, it'll convert your file into PDF to let you download or print it as proof that your work is fully original. Like with a previous plag detector, you'll need to create an account, but you could also link your already existing social media account to it. With it done, you should specify in what way you'd like to upload your text: through the web, your desktop, or by copy pasting it. Give it a name and wait for results. Results are displayed in three colors. Green means impressive originality, yellow is for moderate plagiarism, and red is for extreme cases. Our essay was rightfully flagged in red. PlagScan found all issues and offered to take a look at the detailed report. It searches through online databases and libraries, so it could detect even the unknown bits of stolen content.
Price: Sample trial; afterward, 24 pages cost $5.99, 70 pages cost $12.99, 160 pages cost $24.99, etc.
Accuracy: High
Database: Extensive
Usability: Account needed
Pros
Texts are checked swiftly

Extensive search across databases

Great accuracy percentage

Cheap prices

Sample trial present
Cons
You need to pay for this software

You must create or link an account
4. Grammarly

Grammarly is popular — everyone knows about it. We don't find this surprising as it is truly one of the best sites to check for plagiarism. Simple design, friendly interface — students quickly figure out how to use this scanner. From drawbacks, they need to create an account, but they could also link their Google account to access Grammarly. Even then, though, they won't be able to use plag detector. Sample version gives you an automatic proofreader, but if you want to check text for plagiarism, you'll need to pay. From good news, prices aren't expensive, and results are outstanding. Grammarly clearly explains what's wrong, which parts of content are original, and what you should do to improve your text. We were pleased with results, so we made it a part of our top plag scanner review.
Price: Basic account costs $12 per month
Accuracy: High
Database: Extensive
Usability: Account + paid subscription needed
Pros
Popular software with many positive reviews

Many features

Precise plag finder

Affordable prices
Cons
No opportunity to use plag checker without paying

No free trial
5. Quetext
This is a simple and pleasant best plagiarism detector. It doesn't require any kind of registration: just follow the link and you'll see a welcoming empty box. Fill it with your text and start checking it. Using this program is completely free, even if your essay is long. We have no idea how many databases Quetext searches, which is unfortunate, but it shows accurate results. Every time we tried it with different articles, we got correct percentage. There aren't many features and the report itself is pretty laconic, but if you want to know how original your text is, it'll serve this need.
Price: Free
Accuracy: High
Database: Unknown
Usability: Simple in use
Pros
Functional design

Best plagiarism checker free online

Highly accurate results
Cons
Unclear which databases are covered

Limited service
6. Duplichecker

This top plagiarism checker is pretty diverse. Its system is functional: people could upload documents in different formats, check originality of a webpage via its URL, ask for grammar help, etc. There is no need to log in or create an account — all you'd have to do is tick the "I'm not a robot" box. The issue is with speed. It might take some time before your report is ready. If your text has plagiarism, you'll be offered a free paraphrasing tool, which is great. Apart from that, though, the free version is limited. Students can check only short texts and only for a specific number of times. Price for pro version isn't high, but there are some nuances that you should consider. For instance, with a basic tariff, you would be able to do just 10 searches, not more. Results are mostly accurate, but there is a slight deviation. It's not significant but you should still keep it in mind.
Price: Free limited version & basic plan starts with $10 per month
Accuracy: Moderate to high
Database: Extensive
Usability: Diverse and clear in use
Pros
Many options to choose from

Good results

Detailed report
Cons
Costly software

Speed isn't always high
7. Plagramme

If you're a college student looking for a paid anti-plag tool, you might like this plagiarism checker best. It's been developed specifically for students and educators, and this is something you should indicate when creating an account here. It doesn't take long to register, but it's still something you must do — otherwise, you'll be able to check just several sentences, and results won't be good. Once you're done, Plagramme will offer you to pick between regular or deep check. The former is free, the latter costs $1 or $1.50. For free version, you'll have to wait in a queue. It could take up to 10 minutes and it's a huge drawback. Seeing a detailed report is extra $5. But if you're willing to pay, a lot of features become available, and you could get really great insights here. There is also professional help available at any moment. Accuracy is very high no matter what text you're checking.
Price: Free limited version & $1 per one check
Accuracy: High
Database: Extensive
Usability: Comprehensible
Pros
Reliable plagiarism checker

Many features offered

Detailed plag reports
Cons
Sample versions are mostly useless

Costly service
8. SmallSeoTools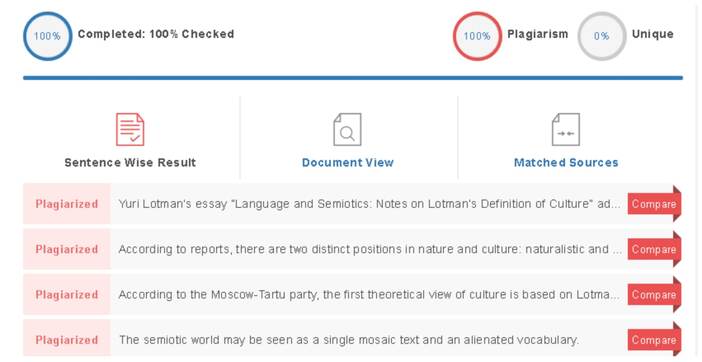 This best plagiarism checker and proofreader has functional design and stable checking system. We've seen better sites, but SmallsSeoTools captured our attention because of all benefits it offers. It is free, doesn't ask for registration, and proposes several options at once. Students could upload their files or paste them directly into the box. Results are shown sentence-wise – it's useful and gives you a chance to improve your text directly. Uploading report is also easy and doesn't cost anything. You won't have tailored-made suggestions or other useful tips that come from paid subscriptions on other platforms, but this is a legit free plag avoider that'll help you with the basics.
Price: Free
Accuracy: High
Database: Unknown
Usability: Simple
Pros
Best free plagiarism checker for students

Other useful tools offered

Downloadable plag report
Cons
Not diverse enough

Site is too overloaded with info
9. UniCheck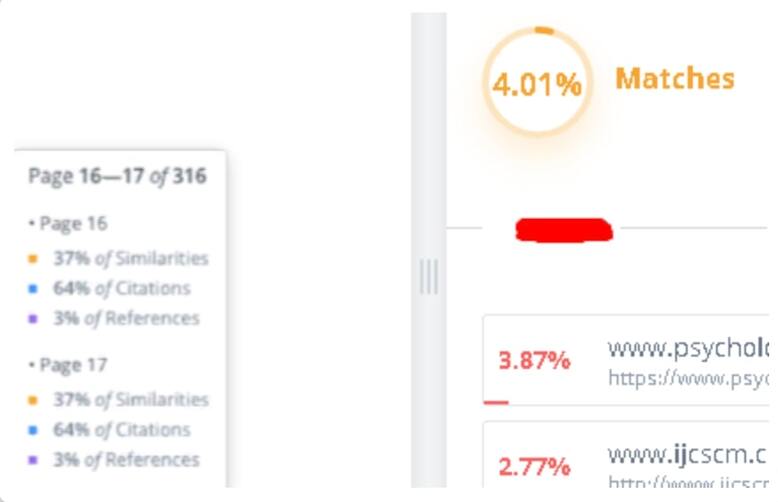 Lots of colleges and universities trust this best plagiarism checker software in particular. We can't say it was the absolute best: website looks respectable, but it works slowly. Students must create an account, and if they want to log in with Facebook, it doesn't work for some reason. They should also pay — no free version is available. But we appreciated the variety of options and unique thoroughness of plag reports that become available upon making a payment. After you upload your file, you can see what's wrong with it in all details. You could check even 10K pages or more, so the plag machine is really efficient and fruitful. We found it to be effective, too: its accuracy is impressive.
Price: Starting with $5 for 20 pages
Accuracy: High
Database: Extensive
Usability: Clear
Pros
Many positive plagiarism checker reviews online

Very detailed reports

Huge volumes of pages available

Affordable prices
Cons
No free version or trial

Website doesn't work properly sometimes

You must create an account
10. Scribbr

You probably recognize the name of this platform. Scribbr is a popular choice among people all over the world, and it has good plagiarism checker. You cannot use it without paying, so it's a disadvantage, and the generation of a report might take 10 minutes. It's a lot for those who want to be done with their task quickly. Another problem is that the price is expensive for those who have short documents. Minimal package starts with 7500 words, so even if you have an essay with 400 words, you'll have to pay as if for 10+ pages. But apart from these facts, Scribbr plag tester is excellent. It offers precise and detailed reports — you can see an example on a screen shot above. Every plagiarized sentence is underlined and each source is given a number, so it's easy to see what you got from which website. Suggestions, advice, and other useful features are present, and there is a big volume of pages provided. You could even test your novel here to make certain it's unique.
Price: Starting with $19.95 for 7500 words
Accuracy: High
Database: Extensive
Usability: Comprehensive
Pros
Great online reputation

Many pages checked at once

Precise results
Cons
No free version present

Slow generation of plag reports

High prices for users with small tasks
Read also: Good essay writing services to help you save some precious time.
Plagiarism Checker Review Criteria
Let us share a few quick words about our selection criteria. We are not affiliated with any companies that offer their checkers: to make our list, we performed a lengthy research where we tested option after option and compared their results. Only inexpensive, accurate, and reliable tools were chosen. You can try any of them and we guarantee that you'll be pleased with the results.
FAQ
What is the best website to check plagiarism?
The answer depends on factors that you personally consider most relevant. In general, we recommend using Plagtracker, Copyleaks, or PlagScan — they impressed us most with their work.
Is there a free best plagiarism checker for research papers?
Quetext is the best free tool for students who want to test their college essays.
Is plagiarism checker as good as TurnItIn?
It depends on which checker you pick. The best options are just as accurate as TurnItIn, so they won't let you down.
What is the best plagiarism checker for teachers?
Professors prefer TurnItIn, Grammarly, Plagramme, and Scribbr. As members of colleges and other educational establishments, they have free access to advanced versions of these programs. But students have to pay to use them.
What is the best plagiarism checker for students?
Quetext, Grammarly, and Plagramme are the most popular choices among students in English speaking countries.
What is the top free plagiarism checker?
If you're interested in free plag checkers for non-academic stuff, try SmallSeoTools. It supports different texts and performs an extensive search.
What is the best paid plagiarism checker?
Copyleaks and Grammarly are the best paid options we've seen. You could use them both for school essays or other kinds of work.
Is there the best plagiarism checker online free?
Of course. There are plenty of professional plag checkers that you could use without paying. Try some from our list — we took care to pick only the best tools.
Posted by Diana B., August 19, 2021