Our verdict: Recommended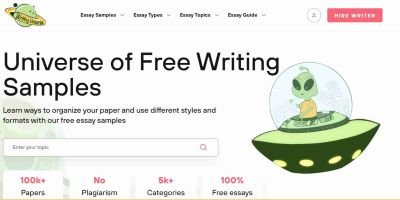 Top 3 services
VIP Support
From $14.99 per page
PhD Writers on staff: 80%
From $12.99 per page
WritingUniverse Review - Quality and Reliability Approved
WritingUniverse review was requested by many visitors of our website, as this service is relatively new. Its website immediately caught our review team's attention with its unique and cute design. An adorable alien greets site users and offers help with essays. Writing Universe has a variety of essay samples and essay topics that could inspire any student. There is also the most detailed essay guide we have ever seen. It has legit tips for writing academic papers.
Being impressed by the website, we still had to analyze pros and cons of this service to help people stay safe as they look for essay help. As a rule, finding a reliable service is not easy, which is why our team works hard to provide you with honest reviews of various writing services based on customers' testimonials and our reviews on a scale from 1 to 10.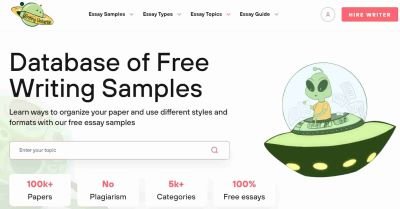 Writing Universe Review Criteria
The purpose of this WritingUniverse review is to examine available service features by placing an order to check what we get by the delivery time. Moreover, we also study various testimonials online to have an unbiased opinion. Checking our final result and samples, we also determine essay quality compared to other essay service reviews that we have encountered. It includes pricing schemes, meeting deadlines, and customer support among other things.
Writing Universe Samples
One of the most important aspects of our review of WritingUniverse is essay sample selection. Here, it is available basically on any topic for free! That helps college students to learn by example without registration or any payments. It is enough to type your topic title regardless of academic level. Find college, university research, or basic samples for high-school-level papers easily. What makes Writing Universe stand out among other essay writing websites is the amazing categorization that makes it easy to choose a related subject.
Navigation: easy to find samples with a great website structure.
Access: free to read, download, or print.
Number of Categories: over 158 different categories on popular academic subjects.
Originality of Samples: almost all original.
4 Examples of Samples Based on Category
Antoni Gaudi, The Intelligent and Humble Man Who Served God
Topic: Biography, God, Humble
Category: Life, Religion
Words: 3000
Plagiarism Report: 73%

This essay represents quite good grammar with a nice structure and bibliography. It provides interesting information with a scientific language. Furthermore, it is clear that this paper has been written by a native English speaker. Placed in the category of Life/Religion, this essay paper fits in well. This assignment also poses a certain unique voice of the author that can be seen ever since paper's introduction part.
As a Force, the United Kingdom
Topic: Countries, Power, United Kingdom
Category: Life, World
Words: 2000
Plagiarism Report: 82%

This assignment has a decently high percentage of originality, which also speaks a lot about Writing Universe quality. Once again, we have references with good sources properly cited in the text. This paper is placed in the Life and World category, yet our Writing Universe review experts could find it by browsing through this website's Europe category. What makes this paper strong is the presence of sources that helps to defend each statement that has been made. This sample is written using British English, which is an important factor as it must have been written for a UK student.
Topic: Admired Person, Student, Volunteering
Category: Education, Life
Words: 280
Plagiarism Report: 64%

This short essay has 64% of originality by taking only one page. Unfortunately, the only negative part is that it includes one quote from an eponymous book, yet it does not provide a relevant reference. Nevertheless, it refers to the book already mentioned, and it might not have been necessary for this original task, yet our WritingUniverse.com review has noted this point.
Topic: Computer, Computer Programming, Problems
Category: Information Science and Technology, Life
Words: 1900
Plagiarism Report: 88%

This Writing Universe assignment has a good structure, excellent grammar, analysis, and a presence of several opinions, which is especially good for this subject. It is one of the best samples that contains good writing and structure. The language may seem a bit colloquial, yet it makes this assignment original where an author's voice can be heard and seen.
Quality of Samples: High
The WritingUniverse offers very good samples that may serve as a good reference for college and high-school students. Our review of Writing Universe specialists should also note that this essay writing service reminds college students about how many people have downloaded each paper, which acts as an important reminder regarding plagiarism risks.
Types of Writing Services Offered
As we started with our reviews of WritingUniverse, our experts have noticed that this company focuses on various essay topics from analytical and informative to profile essays and creative writing. But also, they have various subject specialists to offer any type of services, even dissertation writing services. Simply choose your assignment type as you hire your writer. It has simple essay orders, capstone, term papers, research, coursework, book reviews, and more.
Trust and Reliability. The company has clear privacy and terms and conditions policies. They also have a money-back guarantee with an American phone number that can be reached. WritingUniverse review experts believe that it is a legal company that has strict rules in terms of plagiarism and timely paper delivery.
Level of Quality: Based on our compare-and-contrast order and their samples, our WritingUniverse review team is happy with the presented results and originality. Speaking of grammar and style, our order has been very accurate and well-formatted. No plagiarism issues.
Pricing and Payment: The basic page (275 words) is $11.99, which is below the typical average. However, if you choose a Master's level three days before your deadline, one page will be $28.99. Some other WritingUniverse.com services include a premium +25% to your price (writer's level change) and an additional +35% if you want to choose one of this company's top 10 writers.
As we composed this WritingUniverse review, we also had an opportunity to choose our preferred writer. If you need an originality report, it is $1 more addition. It is also possible to have a draft for an additional +20% to the pricing. An urgent writer assignment (for those urgent orders) will have an additional $9.99. Our WritingUniverse review assignment took advantage of proofreading by an expert (we had Psychology homework). It was $4.99 per page, which has resulted in an excellent paper with no mistakes.
This service's payment options include PayPal, MasterCard, Discover, or Visa.
WritingUniverse Reviews: Writing Guides, Essay Topics and Tips
Another useful aspect concerning this essay writing service is a presence of a detailed blog. It has several guides that assist with essay challenges. Starting from college paper editing services and rules to revision process tips, these guides make an impression since it is not often that such information is offered free.
As we checked through the blog, we also noticed that their essay topics website section has argumentative, cause-and-effect, classification, compare-and-contrast, proposal, process, or narrative topics among others. For example, if one clicks on Controversial Essay Topics, you can find out what kind of writing it represents and see the list of topic ideas. Be it Technology, Education or Philosophy, this company offers all these explanations and subject ideas for free.
Additional Important Considerations
Reviewers always notice the flexibility or comfort regarding the ordering process where you can choose various elements by approaching drop-down lists from formatting to page numbers or additional features. For example, if you need a one-page summary that will have every argumentative point for your WritingUniverse final assignment, it will cost an additional $10.99, which is an interesting feature. Just hover over every part that you do not know to see what it means before you make any payment. Still, the most frequent praise from the Writing Universe reviews is the assigned writer's quality that represents native speakers. It can be confirmed by our order that had no grammar or style mistakes.
Regarding WritingUniverse support, they are, indeed, 24/7 as our review experts have received an immediate reply. The support agents are respectful. It is another good mark in our book that shows this company's attitude.
Final WritingUniverse Review Verdict
Regarding the final verdict for this WritingUniverse review, it is safe to say that this essay writing service earns 9.6 points out of 10 based on an excellent order that we have checked, timely delivery, high originality, good quality samples along with positive WritingUniverse.com reviews that often speak about writer's quality with a plethora of free information for college students. Therefore, one can determine that WritingUniverse is the best assignment help website that meets academic standards.