Our verdict: Not Recommended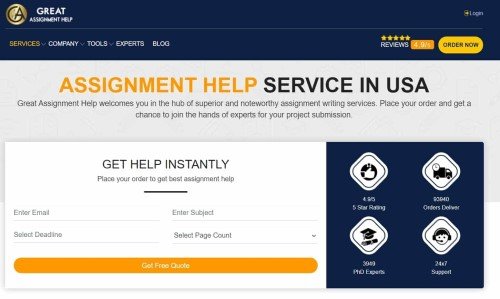 Top 3 services
VIP Support
From $14.99 per page
PhD Writers on staff: 80%
From $12.99 per page
GreatAssignmentHelp Review From Prof Experts
Aiming for something different, our expert team decided to compose this GreatAssignmentHelp review to determine whether their academic assistance is really what they promise. Since there is a plethora of writing services available online, it's vital to choose only those that provide reliable help and contain little to no plagiarism or style issues. Looking for the best online coursework help or proofreading services, reading an unbiased review becomes an ultimate solution that saves you from trouble and keeps your academic future safe!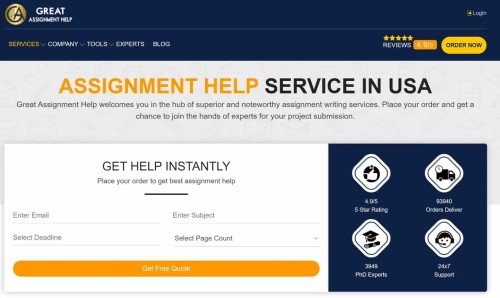 Great Assignment Help Review Criteria
Our team always places an actual order with every company that we check. Since we are not affiliated with any writing service or advertisement campaign, what we provide is based on the skills and academic experience of our experts. Starting with grammar rules and a plagiarism check to editing, we also evaluate things like timely delivery, affordability, customer support service, safe payment methods, and the company's registration background. We also evaluate online reviews of Great Assignment Help to see what other users are saying to determine an average medium of services on offer. It lets us provide you with an impartial opinion.
Factor 1: Types of Writing Services Offered
This service claims to have over 4,000 available experts, which is already doubtful as it would take several universities to handle an inflow of tasks. Placing our Data Science order has resulted in over five hours of waiting only to find out that they have no free specialist dealing with our subject. According to reviews of Great Assignment Help, it all comes down to basic writing assistance, yet proofreading and plagiarism issues seem to be most common.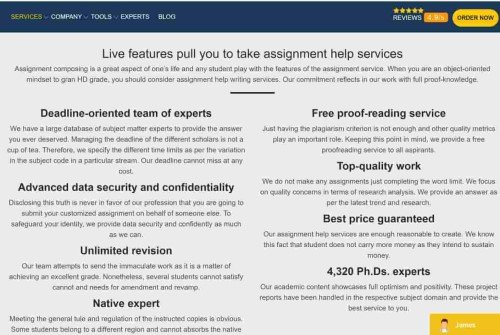 GreatAssignmentHelp website lists academic writing assistance in IT, Finance, Law, Management, Economics, Science, Nursing, Mathematics, Humanity, and Marketing. What makes them different is programming help that includes Java, Matlab, and basic web design.
As always, we have dissertation assistance, case study writing, thesis, research papers, biotechnology reports, and coursework help. They have good description pages and promises of urgent delivery in as little as 3 hours, yet it does not work in practice.
Factor 2: Trust & Reliability
Our experts could find little information about the service's background other than they claim to be U.S. based. There are no physical addresses or contact phones that would say something about being legit or registered as an academic help service. It mentions user security, yet there's no mention of encryption methods. What makes things worse is their poor website grammar, which has also been noted in various reviews of GreatAssignmentHelp. Notice their "Best Price Guaranteed" paragraph where they make several mistakes in the same simple sentence.
This is where problems start to occur as originality and formatting issues come to the surface. Our order with GreatAssignmentHelp has also contained numerous grammar mistakes that our assigned specialist refused to correct. This rude attitude and inability to see our point has left a negative customer attitude impression. Clicking on GreatAssignmentHelp company's country-based branches does not seem to mention choosing the UK or US-based writers.
Factor 3: Level of Quality Based On Our Experience & GreatAssignmentHelp Reviews
Contrary to what GreatAssignmentHelp website claims, they do not have a plethora of experienced native writers. They have about twenty available specialists at best with little to no choice regarding their qualifications or language skills. It is either a hit or miss since one may encounter serious plagiarism problems, grammar mistakes, lack of proper writing style, or even late delivery. Our assignment's literature review order had no formatting. Sharing a real-life grading rubric has been ignored as our writer did not include anything from what has been required. Spelling errors and run-on sentences have made our final assignment virtually unreadable.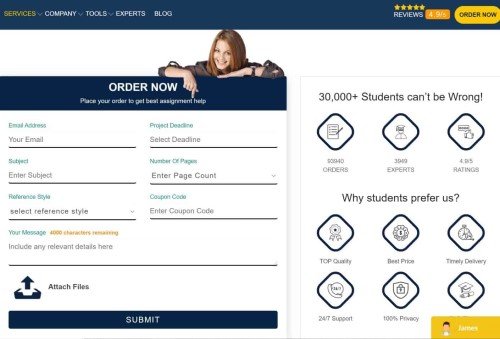 Regarding free revisions or refunds, our GreatAssignmentHelp review team could not find anything comprehensible. Although unlimited revisions are mentioned, they didn't work for our review case. Using provided coupon discounts has also been unavailable. Their customer support blamed some technical glitches but it would not help much, considering their low quality and lack of timely support.
Factor 4: Writers & Customer Support Service
This part of our GreatAssignmentHelp.com review is what has constituted the majority of our final verdict since asking for guidance with our order or dealing with an additional question, as some writer has been assigned, took hours. This is not how the majority of essay writing businesses work.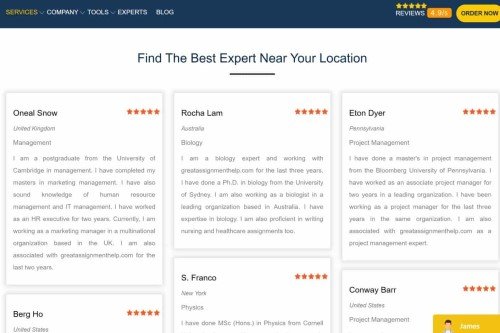 This is what one may discover regarding their writers. What makes it rather strange is that a Biology expert based in Sydney uses "organization" instead of "organisation" in their description. Looking up "Rocha Lam" does not result in any scientific profile or academic references. Poor grammar structure and similar writer descriptions make it sound unreliable. Even if these names are made up, it does not help much.
Factor 5: Pricing & Payment at GreatAssignmentHelp.com
GreatAssignmenHelp prices start at affordable levels as you have report writing at $12 per page, yet it will increase as you proceed through their checkout process. Requesting an essay that is 400 words will end up around $25. What makes it concerning is that what they ask for is not always what you might receive when making a payment. Things could be explained easily if they had outline writing, plagiarism report, or an expert check, yet it's not the case here.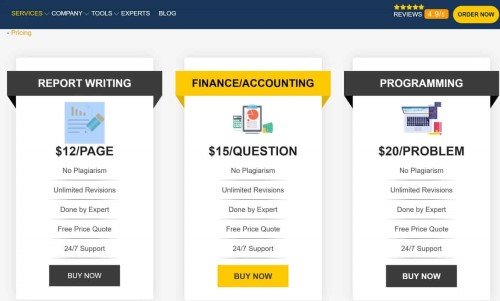 When choosing top dissertation writing services, prices are usually higher, which makes it strange that essay writing still costs the same for most tasks be it coursework writing or some complex research paper. According to GreatAssignmentHelp.com reviews, poor quality is encounter even with programming tasks, as they contain major plagiarism issues and lack code written from scratch.
Some premium price features include: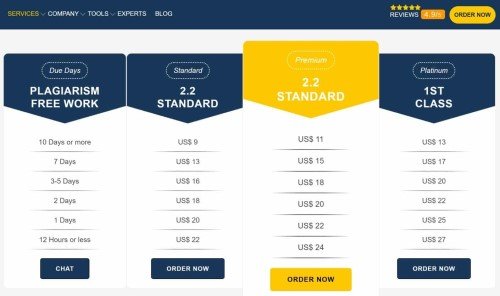 Checking these options via chat window, as we spoke to GreatAssignmentHelp review customer support, has been provided no detailed information regarding significant changes or additional proofreading.
Factor 6: Blog & Additional Tools
An only positive aspect of our review of Great Assignment Help is the presence of a good blog and helpful tools like Grammar Check and Word Counter. While these are only basic, most blog articles are worth checking. Starting with competitive Healthcare or Qualitative Research Topics to Annotated Bibliography Topics, these may be important for students looking for inspiration and ideas.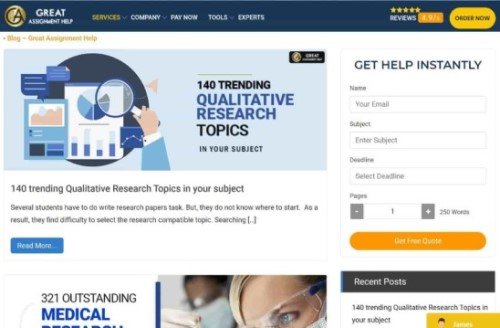 Regarding things that are not so common, our experts liked 100 innovative artificial intelligence research topics. It is easy to feel lost when inspiration does not strike, which is why looking through such lists is quite helpful. If only GreatAssignmentHelp could follow the same accuracy with their orders, things would be much better.
GreatAssignmentHelp Pros and Cons
The positive sides include an excellent blog with two free tools and a great website structure where everything is well-designed. These are the only things worth mentioning. Other Great Assignment Help reviews also fail to mention anything positive when dealing with their actual work.
The negatives, however, outweigh the pros and include poor English grammar, no reliable information about company's writers, late delivery, and bad customer support.
GreatAssignmentHelp promises to offer technical assistance but our technical order has been misunderstood and ignored. Even sharing a detailed grading rubric with a list of customer comments (our programming experts), we did not receive much help. Our final document has been plagiarized with some parts copied directly from a famous university.
Our Final Verdict
Summing things up, we can give GreatAssignmentHelp only 3 stars out of 10. The most common issues discovered include prices that may increase, low paper originality, structure and style issues, and late delivery times. Although this company has a nice blog and several rare features, they cannot deliver the expected quality. It could become a good service that one would include in the list of best essay writing websites if not for plagiarism issues that are too serious to ignore.