Our verdict: Recommended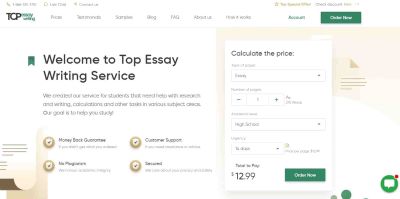 Short overview
Minimal deadline:
6 hours
Guarantees:
24/7 Support, Confidentiality, No Hidden Charges, On-Time Delivery, Free Revisions, Refunds, No Plagiarism
Payment Methods:
Available Services:
Writing, Assignments, Dissertations, Editing, Proofreading, Rewriting
Extra perks and features:
Samples, Loyalty Program, Useful Blog
Summary
Writing TopEssayWriting.org review was one of the most interesting experiences for me because this company is full of unusual contradictions. I can see why my readers felt intrigued by it. Let's start with its founding date: TopEssayWriting appeared in 2013, meaning that as of 2023, it has been working for a decade. This is an impressive experience because most academic platforms close down soon after emerging. Only a few succeed in taking root, and TopEssayWriting is among them. But despite a decade of crafting papers for students, it has only around 200 reviews online. I'd think that most clients have negative experiences to explain the lack of popularity, but no, most comments are positive. I decided to perform my review to see what's up. TopEssayWriting covers a large number of writing services. It has an empathetic customer support team and affordable prices that will make any student's day. Its policies are friendly and detailed, with great extra resources like a database with free samples. To see what service clients should expect, I became one. I placed an order and eagerly waited for my paper. Strap in and find out if TopEssayWriting is a worthy service!
Pros
High writing quality
Various academic services on offer
Transparent policies
Low prices for papers
Communicative employees
Cons
Lack of unique website design
Samples could use some editing
Top 3 services
VIP Support
From $14.99 per page
PhD Writers on staff: 80%
From $12.99 per page
Analyzing the Company's Website: Is It Useful?
There were many questions I intended to answer as I started my review. One of them was, is TopEssayWriting reliable? To establish the truth, I had to analyze this company from different angles; I needed to see every aspect that makes it what it is. Studying its website was the first step, but when I accessed it, I felt underwhelmed. It's a nice platform — nothing is garish, the color scheme has pleasant shades of baked milk, but it's really blank. There is no spark, no special design or logo that would make this company feel unique. If I left this website without placing an order, I wouldn't have even remembered it. But functionality is more important, so this is what I decided to focus on.
The site has key info about different nuances of the company's work. Students could see reviews of TopEssayWriting.org right on the platform to get an idea of what other people say; they could see prices and the order form with a list of services. If you're interested in learning about policies and seeing how they work, they are easily available, too. TopEssayWriting offers
several ways of contact, such as its phone number or live chat; it thoroughly explains what options you can purchase and which discounts you can count on. I appreciated this amount of details.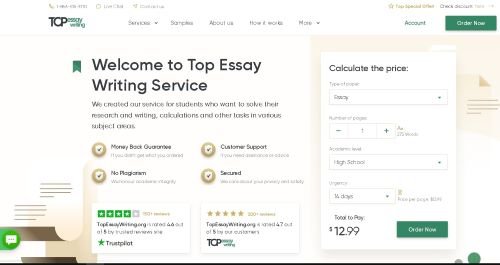 All Academic Services Under the Sun
The second step involved researching how many TopEssayWriting services students like you could order. The choice is impressive. There is standard academic writing for all types of essays, whether a term paper, lit review, reflection, comparative or case study, or something else. In addition, students could request proofreading, editing, or re-writing. These options are useful as sometimes students create their essays, but they understand they have flaws. Hiring an editor or a proofreader is always a good decision in these cases. Even better, TopEssayWriting is willing to create dissertations or admission papers for its clients. These projects are more complex: they require creativity, research, and an understanding of what the world of academics expects from writers. It's great that the company gives a hand to those students who need this kind of assistance.
Many of you won't readily believe it, but some TopEssayWriting.org essays are free. These are samples that represent 29 different categories and cover a variety of topics. Imagine that you have to write an essay about WW2. By choosing this category at TopEssayWriting, you'll find several papers exploring this topic. They might not suit your prompt ideally, but they'll have relevant ideas and research that you'll be able to use in your work. The presence of samples was a definite advantage, but are they any good? I performed a quick analysis.
Title: The Accused: Seeking Justice and Confronting Prejudice
Length: 3.5 pages
Analysis: This Top Essay Writing sample doesn't have the best quality. The writer makes endless mistakes with punctuation, grammar, and style. Introduction has just 2 sentences because of their abnormal length. Ideas are murky and the writer rambles sometimes, but they relied on good sources and their analysis has completed its goal, even though it took it a while to get there. I think editors should be more attentive when adding samples to collection. Still, students will be able to find crucial insights
here.
Quality: Low to Medium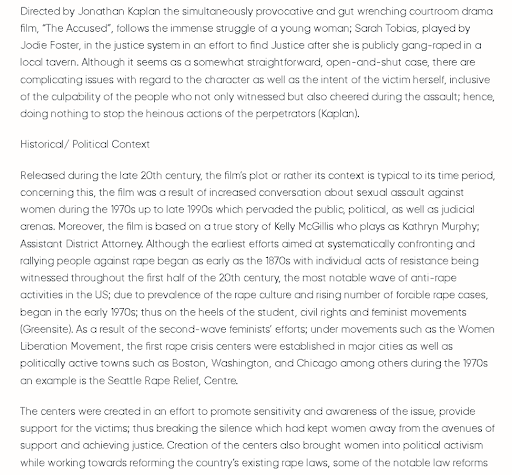 Confidentiality, Revisions, and Refunds
Is TopEssayWriting.org scam? Multiple students ask this question about every service they consider hiring. There is nothing worse than placing your trust in someone and them failing it. Fortunately, it shouldn't be an issue in this company as it has strong and detailed policies governing each action it takes. It collects basic details about its clients like their names and contacts — don't be alarmed, every company does it. TopEssayWriting isn't going to use any of this data in harmful ways. It limits its employees' access to it and stocks it on secure servers.
Some TopEssayWriting.org reviews will tell you that even in case a client isn't happy with the quality of their order, nothing is lost yet. That's true! You have the right to place a revision request. There is a catch: you need to do it within 14 days after getting your paper, but these are good terms. Two weeks should be sufficient for you to realize if your essay is written properly. Refunds are present as well as an extreme measure. Resort to it if your essay doesn't meet your requirements at all. Note that if you asked for revision first, you'll only be able to return 70% of your money.
Speaking with Customer Support for My TopEssayWriting.org Review
I had to see how operators handle visitors' and clients' requests. Using an online chat is convenient: click on a green envelope in the lower left part of the screen, select an inquiry, and connect with a team. I spoke with different representatives of TopEssayWriting three times. Each one left me satisfied! They sound professional, they listen to you and they give valuable advice. They're your best helpers in case of any problems.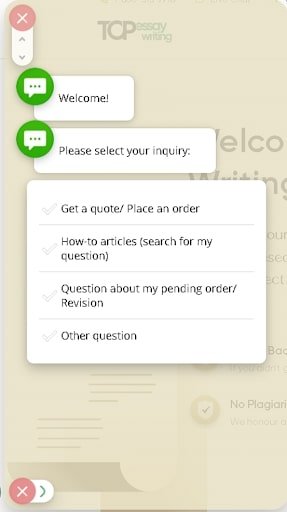 Reading TopEssayWriting Review: Discover the Level of Quality
Quality means everything. To determine which of the best essay writing services are actually the best, one has to try them personally. This is what I did for my review! I ordered an essay of 6 pages about Marketing: my deadline was 2 weeks, and I paid $77.94. This is cheap for a paper this lengthy — I was thrilled at the chance to save up.
Managers decide which TopEssayWriting.org writers to assign to each order. They selected an expert for me, we talked a bit, and I started waiting for the results. My essay arrived 2 weeks later as promised. I was dying of curiosity, so I read it immediately, and the more I saw, the more impressed I felt. My writer really went all out: ideas, the sheer amount of creativity, and professional language amazed me. This was a ridiculously perfect paper. I had no reason to even ask for revision — this was the first occasion where my grammar checker offered no input.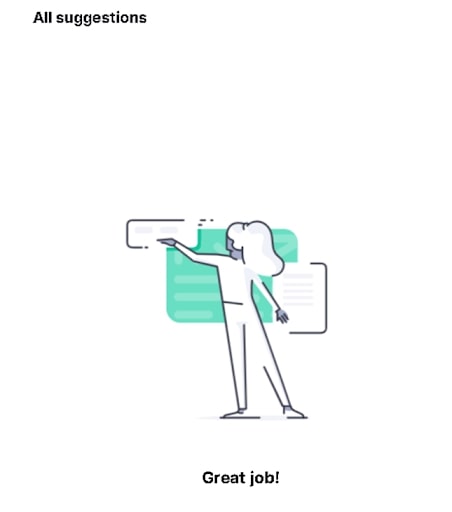 Steps You'll Need to Order Your Essay
Another part of my TopEssayWriting review was checking how quickly students could place orders. My practice shows that it should never take more than 10 minutes. In this case, it took 5.
Fill out the order form. Use the order form and decide whether you need term paper editing service or you want an essay written. Pick type of service, deadline, length, plus level.
Keep expanding your request. Pick more options describing your paper; upload files, determine if you want extra services, and create an account.
Pay for your project. Select which payment provider you prefer and pay for an essay.
Read this essay & review the company. Your paper will be ready for download by your deadline. Take it, read it, and leave TopEssayWriting review for other students.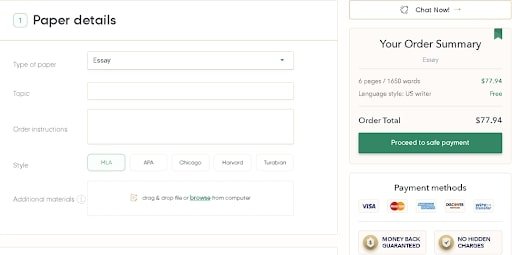 Is TopEssayWriting Affordable?
If you're a student, I can bet you worry about prices. That's all right; everyone does, myself included — I really don't want to go broke doing all these reviews! Thankfully, TopEssayWriting applies an affordable model of payments. Some examples of its prices:
| | |
| --- | --- |
| Services | Minimal Price per Page |
| Simple essay | $12.99 |
| Proofreading | $2.50 |
| Coursework and Case study | $12.99 |
| Dissertation | $17.99 |
| Editing | $4.55 |
| PowerPoint presentation | $9.25 |
Seeing these prices alone was enough to justify my Top Essay Writing review. They are among the most affordable ones I've seen, especially with this level of service. You could also use discounts. Contact the operator for your promo code if this is your first order, and use a loyalty program if you're a returning customer. Paying 15% less is a treat.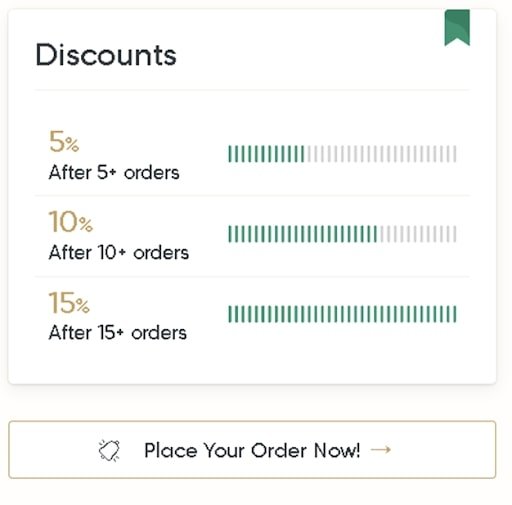 Working with My Writer: Did I Like Everything?
No reviews about TopEssayWriting mention this nuance, but some writers seem to act a little unprofessionally. My paper was perfect — I described why above, and it was a surprise because after seeing how my expert communicates, I started having doubts. They called me "dear" and used informal language overall. I didn't think they were a native speaker until I saw the level of their writing. Other than this, my experience was positive.
Mechanics of Revisions
As I stated in my Top Essay Writing overview, my paper looked perfect. I had no need to ask for revisions, but some reviews mentioned them. Clients seem satisfied with this feature.
Any Additional Benefits?
You already heard about samples. They are a perfect addition to the company's collection of educational materials. You could also use a paraphraser or conclusion generator, two great tools that make any writing process simpler. I loved them and I was excited to see that TopEssayWriting goes above and beyond to be useful. Not just its clients but also its visitors can benefit from it. More than that, I found a blog with different academic articles that effectively teach students how to write their papers.
Insights I Got from Reading Top Essay Writing Reviews
Reading reviews from older clients is always insightful. TopEssayWriting doesn't have that many of them, but I still found about 200, and they showed me that most students like this company.
SiteJabber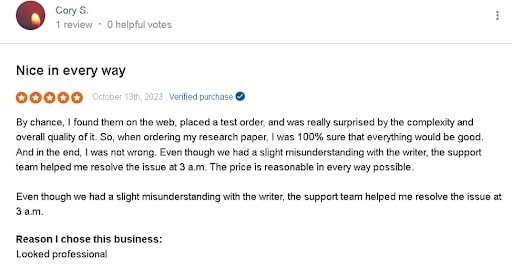 Some Top Essay Writing service reviews on this site are negative, but they seem older, and there are some suspicious things about them, which is why I focused on the more recent comments. Like me, all recent clients loved the service they got.
TrustPilot
I didn't find any review of TopEssayWriting.org on this site. But I found comments about a look-alike website with a similar name, so beware.
Social Media
I came across the Facebook and Twitter accounts of TopEssayWriting. The former has been abandoned for years while the latter is active. Still, this company isn't big on social media, which explains the lack of well-deserved popularity.
Faq
Is TopEssayWriting legit?
Yes, this company is legit, as it works in accordance with the law. It has an official and legitimate registration address, and it's been working in this market for years at this point.
Is TopEssayWriting safe?
Analysis of policies, communication, and quality showed that this company is safe. It'll never share data from its customers with anyone — more than that, it guarantees high quality. Clients receive refunds in case they're dissatisfied.
Is TopEssayWriting reliable?
In my experience, yes, TopEssayWriting is a reliable service. It provided excellent writing quality and its operators were always nearby to answer my questions. Based on other people's reviews, the majority share my impressions.
Is TopEssayWriting scam?
No. If you have questions about the specifics of its work, you can read its policies or speak with its customer support. All information is transparent — if these people promise something, they stick to it.