HireWriters.com
http://www.hirewriters.com/
Pricing

4.2

Support

4.6

Quality

4.6

Delivery

5.7

Usability

4.0
Extra Features:
Payment Methods:

Credit Card

Maestro

Discover

American Express

Master Card

VISA

Support:

Fax

Security:

McAfee

Additional Features:

Progressive delivery

Money back guarantee

100% Privacy

All Subject Areas

All Formats

PowerPoint Presentations

Multimedia Projects

6-hour delivery option

Writers are Native English Speakers

MA/MS and Ph.D writers

Prices start with £12.99
HireWriters Review
HireWriters.com is a fairly new content writing service. Unlike many of the services we review Hire Writers is more of a clearinghouse that matches people who need writing services with writers. Because of this, our approach was slightly different than usual.
We still read customer reviews of HireWriters. We also researched HireWriters.com on the internet and the BBB website. We searched out testimonials, but found none on Hire Writers that we found to be very credible. However, it was difficult to compare prices, for example, because it is not an academic writing website. Ultimately, we submitted a writing request to HireWriters. The following is our review based on those experiences.
Factor 1: Types of Writing Services Offered
It's important to remember that this is not an academic writing site per se. It is simply a content writing service. This means they write articles, social media posts, provide article rewriting services, etc. We requested an original article, 500 words long to be written by a skilled writer. This is their intermediate tier.
Factor 2: Trust/Reliability
We place their trust/reliability rating as medium low. We did receive the article that we ordered. So, we can fairly say that this is not a fraud or scam. However, we feel they are a bit misleading about what you will get for what you pay. For example, they advertise 700 word articles for as low as five dollars. Unfortunately, when we were researching this company we learned that these articles are extremely poorly written. Many comments indicated that these are not written by native English speaking writers.
Factor 3: Level of Quality
The quality of writing we received could be described as mediocre at best. There were a few spelling and grammar errors. Worse, the article just didn't flow. It was as if it had been written by a high school student and not a skilled writer. We did reject the writing at first, and asked the writer to fix the issues that we had. Unfortunately, the revision we received was not much better. It's difficult to get someone to understand where there are weak points in their writing when they simple aren't a professional writer.
Factor 4: Pricing/Payment
For middle and lower tier skilled writers, prices are exceptionally low. This is not a good thing, as the low wages for writers result in some pretty low quality writing. We should note that the highest tier writers do command much higher payment. However, we would be wary of taking a chance given our experiences so far.
We looked for discounts on the website and were not able to find any. A search for coupon codes on other websites also left us empty handed. However, we should emphasize that the problem here is not with pricing. It is with quality writing and honest representation. This is not a problem that a promo code can fix.
Factor 5: Additional Important Considerations
There aren't many extras here. There is an introductory video that has fairly low production values. We also found a link to the company blog. It looks as if new posts are added about twice each month. On a positive note, the topics are interesting and the posts are well written. However, they are all about writing and seem to be aimed at the company's writers rather than those purchasing content.
Overall, the website itself has some issues. It loads very slowly and is difficult to navigate on mobile. Simply put, it's dated and needs some significant upgrades.
Concluding Comments
If you are a student, you can pretty much pass this one by because it's simply not relevant to your needs. The same can be said for job seekers. If you are a business professional, we also recommend that you go elsewhere. You may pay a bit more money, but the writing quality will be infinitely better.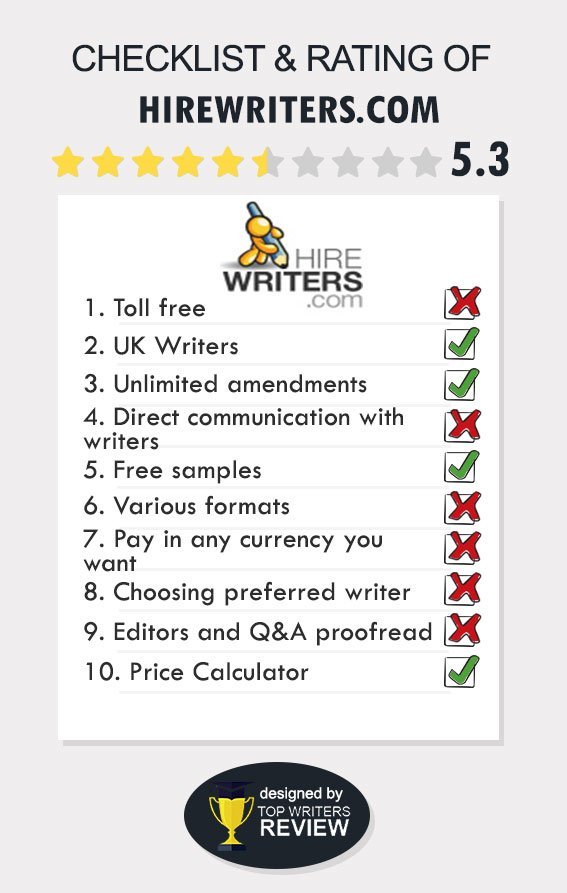 7 Customer Reviews of "HireWriters.com"
Pricing

Support

Quality

Delivery

Usability
Jorja
commented
HireWriters.com
I received my content on time, wish there were more visuals and they ignored my requirement to use keywords 2 times and more. I know some of them do not exactly stick with the topic but I wouldn't turn to a service if the work was easy. Overall, it's rather mediocre.
Pricing

Support

Quality

Delivery

Usability
Ava
commented
HireWriters.com
I`ve worked with a few writing services as a student. And when I needed to make a text at work I decided to find a writing company. Unfortunately, this one was the first I saw. They took money but did nothing worthy. Their writer delivered a text which needed revision but he actually refused to do it. All in all, not recommended.
Pricing

Support

Quality

Delivery

Usability
James
commented
HireWriters.com
The quality was quite average. Nothing really disappointing and nothing impressive either. But they need to work on their customer service and usability. The website seems outdated, you cannot contact the writer directly and in general it`s not easy to communicate with the support team while you are having your paper written.
Not scammers but the quality is terrible.

Nice website and friendly support. ...

Could have been better. Their quality sucks.
View ALL comments