Our verdict: Not Recommended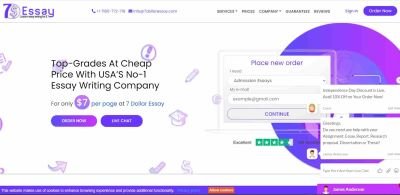 Top 3 services
VIP Support
From $14.99 per page
PhD Writers on staff: 80%
From $12.99 per page
7DollarEssay Review
7DollarEssay.com is an internet based writing service. Because we've received requests to write a review of 7 Dollar Essay, we started an investigation of this company in order to begin writing this summary. We found it difficult to research this service. First, 7DollarEssay doesn't reveal much about it's history or origins. On one hand, the site gives a New York phone number. However, a Google search indicates the company is based out of Colorado. In contrast to that, the website content clearly indicates a service that is operated by non English speaking people.
Review Criteria
It is very important to us to maintain consistent standards when it comes to rating services like 7DollarEssay.com. We want to enable students to compare services to one another. We also want them to be able to weigh the pros & cons using consistent metrics. For us, these metrics are writing quality, safety and trust, customer service, pricing and discounts, and website experience. Here are the actions we took before writing our review of 7dollarEssay.
We explored the 7 Dollar Essay website thoroughly.
An order was placed for an undergraduate essay due in 15 or more days.
We read online testimonials and customer reviews.
A check of the BBB revealed the company is not a fraud or scam.
We reviewed the finished essay for quality purposes.
Efforts were made to contact writers and customer support agents.
Reviewers compared prices with many other companies.
Keep reading for our insights into 7DollarEssay.
Factor 1: Types of Writing Services Offered
We struggled to navigate our way around this website. The website content is of such poor quality that finding information is difficult. However, it appears as if this is largely an academic writing provider. However, resume writing is also an option. As expected, they offer essays, research papers, articles, term papers, as well as other similar products.
Factor 2: Trust and Reliability
If the sole criteria of trust and reliability is the delivery of a paper on time, then yes this is a company that can be trusted. TopWritersReview don't believe this bare minimum is an appropriate standard. Because of this, we did not find this business to be trustworthy. More details are provided below.
Factor 3: Level of Quality
We separate quality into two categories. First is customer support. Here they were ineffective and rude. They lacked basic knowledge and were clearly untrained. Second, of course, is writing. We received an essay that was so full of errors that it was nearly unreadable. Our writer was clearly unqualified to do this work
Factor 4: Pricing and Payment
Pricing is indeed as inexpensive as the business' name indicates. Our college level essay cost eight dollars per page. This is very inexpensive. This may seem like a benefit at first. Unfortunately, this isn't the case. There is no way that an online service can provide quality essays that are original and written by college educated professionals at these prices. Sadly, quality was what was sacrificed here. We were not offered a promo code to use on our order. We also did not find evidence of other coupon codes. We used PayPal to place our order.
Factor 5: Additional Important Considerations
Unfortunately, this writing service provides nothing else for us to consider in this evaluation. They offer not articles, videos, blog posts or other content.
Concluding Comments
This is the epitome of a poor quality writing company. Little to no effort has been made to provide quality products, essays or the best research paper writing service. Because there are no redeeming qualities here, this company receives a ranking of extremely poor. Please read our other reviews and take this service off of your list of consideration.