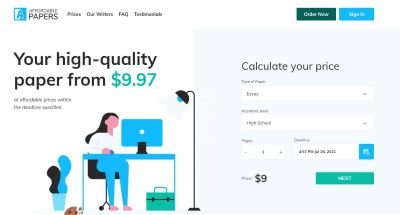 Affordable-Papers.net Review from Academic Writing Experts
We started working on Affordable-Papers.net review after getting several demands from our visitors. This firm has existed for a long time — from what we've determined, it started operating since 2009. Its performance has been relatively quiet, but since more people started using it recently, we decided to collect data ourselves. The team comprising the best academic experts tested different features for concluding whether Affordable-Papers is a company worthy of your attention. There are five stages we focused on, each having a number of points to be earned. The final rating will be between 1 and 10, which should let you know what to expect if you choose to hire these writers.
How Our Affordable Papers Review Is Structured
Before we get on with review, let us explain which features we're planning on testing. There will be five stages involved. After a brief background check, we'll start analyzing our client experience.
We look at what writing services Affordable-Papers offers to its customers. The more diverse they are, the better, especially when it comes to a firm with many years of experience.
The second stage concerns reputation. We examine what other Affordable-Papers.net reviews say and whether they are reliable.
Quality evaluation takes place next: we look into professionalism of writers and present our observations.
Then we analyze the price, checking if it's low or high as well as if it is justified by the end result.
The final stage is about extra elements that distinguish the service from others, like unique paid features or chat working 24/7.
Stage 1: Samples, Writing Services and Their Diversity
Affordable-Papers' site is very uninformative, so it is difficult to find any relevant information. It offers writing options for different kinds of essays, and the choice is really vast. Are you applying for college and want an effective paper? Should you be conducting thorough research for analysis essay? Maybe you were asked to pick a side in a debate and argue for it? Affordable-Papers fulfills all these requests. It could also help with book or movie review, narrative essay, lab report, literature review, thesis and dissertation writing, etc. But that's it — we have no idea which industries it supports. If you need complex technical assistance, this company might be unable to provide it. So, you'll have to clarify these issues in advance.
There are also re-writing and editing options, but they are hidden in the depths of the company's site, so we aren't sure how popular or effective they are. Once again, you'll have to clarify with operators. No samples are present, which is a drawback, too. The best companies always offer free examples of papers for their clients, so they could see how good essays should look like.
First section warrants 2 points in total. After our review, we can give Affordable-Papers just 1. Lack of samples and clarity about available industries and other services prevent it from getting the second point.
Stage 2: How Trustworthy Are Affordable Papers Reviews?
This part is often tricky because any semi-respectable company is going to have many reviews written about it. The question is, are they authentic or were they written by the firm's representatives? When it comes to Affordable-Papers, we had to spend awhile before we arrived at a conclusion. On the website itself, comments are fake — they sound like typical marketing ads and don't express anything that would sound genuine. On other sites, it's more complex. Some reviews seem to be true, but most others are not. That includes negative comments as well.
All in all, it doesn't look like many actual clients voiced their views on Affordable-Papers. Those whose testimonials are definitely authentic are mostly dissatisfied. Most importantly, the company misleads its visitors by displaying fake opinions on its site.
We assign 1 point for this category because reviews are subjective. Unfortunately, Affordable-Papers didn't do very well. As a result, we couldn't give it any points.
Stage 3: Service Quality
How great is quality of essays crafted by Affordable-Papers writers? This question is something that every potential customer wonders about. Because of this, we pay particularly close attention to every step involved in order placement & delivery process. To get honest, unbiased results, we asked for college application essay of 3 pages. Here's how it went:
Placing order. We discussed order details with operators. They assured us that they'll find the best expert who'll compose a powerful personal statement by taking all personal info we provided into account. So, we filled in the order form and paid the required sum. We asked for 10-day deadline. Since we requested just 3 pages, this time had to be sufficient for the expert to complete all the work.
Delivery. To our utter irritation, the order wasn't delivered on time. We got no warning and no mentions of a delay — everyone kept quietly ignoring the problem until we contacted operators. As it turned out, there was some mix-up and the paper would be ready only after 24 more hours. We were frustrated because we gave this company enough time to complete everything, and such a delay was disrespectful. Still, we agreed, and the wait resumed.
Results. Our essay came in a day later. On the good side, it didn't have grammar errors, but this is the only positive thing we could say. Application essays must be powerful and compelling — this one was anything but. It had short sentences that spoke of insecurity of a writer; structure was awkward, and content itself was extremely generic. There was no spark — it felt like our writer was begging the college to consider their application instead of showing why they would be a good fit. We weren't satisfied, so we asked for revision and the waiting started all over again.
Revision. The revised file wasn't much better. A few more personal details were added, but the rest remained the same. Writer still asked rather than showed, and they focused on general things like "I am smart enough to handle your tasks," "I can be creative," "I have a big sense of responsibility." It's a listing of facts with no real personality or examples behind them.
After this roller-coaster, we can confirm what some negative Affordable-Papers reviews: quality offered by this firm isn't the best. Deadline was missed, revision was needed, and even then, our order wasn't improved. So, out of 3 possible points, we could only give the company 1.
Stage 4: Costs & Payments
Prices are an important factor that determines whether you would be able to afford a service or not. There is a market average that we focus on, so we compare the prices against it. Some reviews of Affordable Papers noted that the company doesn't ask for much and that this is what drew reviewers in. Upon checking, we confirm that this is indeed true. This academic writing agency publishes all its prices openly, which is great, and they start with just $9. Now, this made us wary. Minimal acceptable payment for writers' work is $5 per page, and there are still operators, managers, and other people who need their salaries. So, they are likely underpaid, which is reflected in the quality of service.
Payment system is easy — credit cards of different kinds are accepted. Still, low prices can be as dangerous as high ones. Go for it if you are on a tight budget, but think twice if your task is important. There are 2 points we assign for payments category, and Affordable-Papers gets 1.
Stage 5: More Features and Considerations
As you had a chance to figure out from our previous comments in this Affordable-Papers review, the firm's website isn't ideal and leaves a lot to be desired. It has little relevant info and mostly presents recycled and generic content that students could read anywhere. Apart from prices, you won't find what type of service or industry you could ask for help. This is definitely a big disadvantage since sites like this should be informative and user-friendly. But there is info about refunds and revisions: as a client, you're guaranteed to get them in case you aren't fully pleased with what you've got.
There is 7% discount on first orders, so you could pay less if you're a new customer. This is good. Online chat works at all times, but unfortunately, communication is often flawed. Not all operators appear to be native speakers, so there was a lot of frustration before we finally got the answers we wanted. From the paid features, you could ask to see 3 samples of work done by your chosen writer. This costs $5. Such function is useful, but it should actually be provided for free because you have a right to know what you'll be paying for. Among free tools, you could use plagiarism, grammar, and citation generator. They are not perfect, but their presence is a nice addition.
2 points could be given for this section. Weighing pros and cons together, we decided that we could give Affordable-Papers 1 point. There are too many issues that stop it from earning more.
Know All Facts for Making an Informed Decision
As the result of our review of Affordable-Papers.net, we give this firm only 4 points out of 10. This isn't a good result, so we encourage our readers to think twice before hiring this agency. You could luck out, or you could be stuck with a flawed assignment. We weren't satisfied since disadvantages outweighed the benefits.