Our verdict: Not Recommended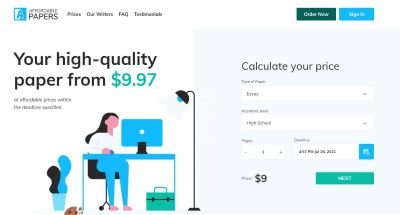 Short overview
Minimal deadline:
3 hours
Guarantees:
100% Refund, Free Revisions, Confidentiality
Payment Methods:
Available Services:
Writing, Multiple Choice Questions, Problem Solving
Extra perks and features:
24/7 Customer Support, Plagiarism Report
Summary
This Affordable-Papers review goes beyond most other reviews by presenting a customer's first-hand experience. It involved me spending two weeks just so I could accurately review each aspect of this provider's work. Eventually, I found that there are many areas for improvement that might significantly affect an average customer. There were some nice aspects to their services, but most were underwhelming or outright poor. Have a look through this review if you would like to find out more.
Pros
Smooth ordering process
Nice website design
Loyalty program
Cons
Bad customer service
High prices
Bad user policies
Top 3 services
VIP Support
From $14.99 per page
PhD Writers on staff: 80%
From $12.99 per page
Service Overview
When I first visited the affordable-papers.net website, I liked the fact that you can immediately get a price quote without you having to register on the website. This is a nice feature to have as it saves time when trying to decide if you can afford the offered writing aid. However, from here on, things weren't that great.
For one, the website had too much information on it, which made it hard to pick up on the main points. I would have appreciated it if different blocks of information were organized better and grouped together more efficiently. This would improve the user experience of an average customer. Secondly, the website design made it difficult to find the sections I was looking for when writing my review of Affordable-Papers.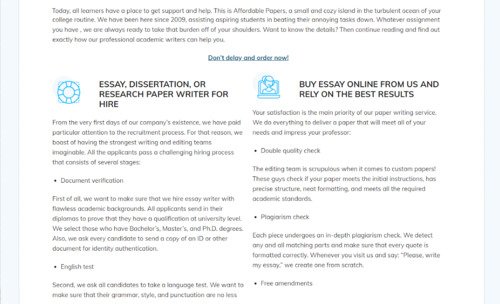 The website does look nice, but the challenges it has makes me stop interacting with it. I feel that some of these problems can be fixed with proper web design, but as things stand, I'm not impressed. Hopefully, the management will consider a different design.
Types of Services Offered
Affordable-Papers offers three main types of services: academic writing, editing, proofreading, and calculations. When compared to most writing services out there today, this is quite a small number. Most people looking for essay writing help have challenges that go way beyond the services supported on the website.
Moving on from the limited number of writing services, I was greeted with the sad reality that there were no samples available on the website. This was bad for two major reasons. Firstly, students can benefit a lot from samples, especially when writing papers themselves — it can give them ideas on what to include in their papers. Secondly, customers won't be able to rate the quality of writing before making a payment. My Affordable-Papers.net review feels incomplete without analyzing free samples of the service's writing, but, sadly, this agency was severely lacking in this regard.
Guarantees
There are three main guarantees that are given to customers who decide to use affordable-papers writing service. One is confidentiality, which means that under no circumstances will this provider share or sell your data. Second, free revisions, which would allow you to get your article edited. You have to ask for a revision within the first seven days after an order has been approved, otherwise, your request would be rejected. Lastly, their money-back policy only guarantees a 70% refund of your money if you decide to cancel your order immediately after a writer has been assigned. Like other writers of affordable-papers.net reviews, I feel like both their revision and refund policies don't seem very user-friendly.
Customer Support
Customers can contact support either by mail or phone. In my experience, both methods proved to be equally bad. My emails were never replied to. When calling, it would seem the customer support usually had better things to do, as they would take their time before answering. Every time I had to wait before I would be able to speak to someone, and they weren't always that knowledgeable when it came to answering my questions — even when it came to information on their website. One thing I did appreciate was how polite they were when responding to my questions.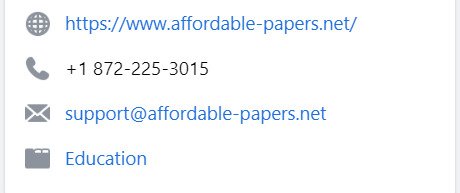 My Experience and Paper Quality
My overall experience using affordable-papers writing services was poor. Their writing was OK, but the process of using this platform left me exhausted and irritated. Additionally, they didn't offer any extra tools other services often have, like the best paraphrasing tools. For this detailed Affordable-Papers review, I had prepared 4 papers I would be using to test their writing, but in the end, I just went with 3 as I'll explain shortly. There was one editing and proofreading task, and two essay papers.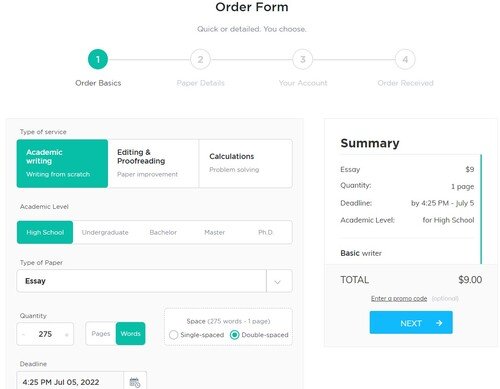 I had set the editing and proofreading task to have a minimal deadline, so I was surprised when I got it within just a few hours. However, going through the paper, I found that the writer had little or no contributions when it came to correcting the mistakes I had purposely included in the paper for the review. I immediately sent it back for revision, but there were still some issues with the paper once I received it. The two essay papers on the other hand were handled with a little more professionalism. The text itself was okay, with a few errors here and there. But, when faced with the question, "Is Affordable-Papers reliable?" I could answer positively.
Having received such a result, I wanted to test out one more writing service. After making the payment, I considered perhaps 3 papers were enough to make a fair assessment. I decided to cancel the order and ask for a refund, but I was told a writer had already been assigned and was already working on the paper. I doubted their claim because not much time has passed since I made the order. Because of this, I was only entitled to 70% of my money back, which seemed like a rip-off.
Affordable Papers Review of Ordering Process
The ordering process is perhaps the most intuitive thing on this website. The user interface makes it easy to see the prices you will have to pay depending on the specifications you choose for your paper. However, there are too many steps before you can complete an order. I did like the fact that you can choose a specific writer as well as other helpful extras. Before you can finally process your order, you would need to create an account. I found this to be an unnecessary step, as some of the best college paper editing services simply need an email address to complete your order.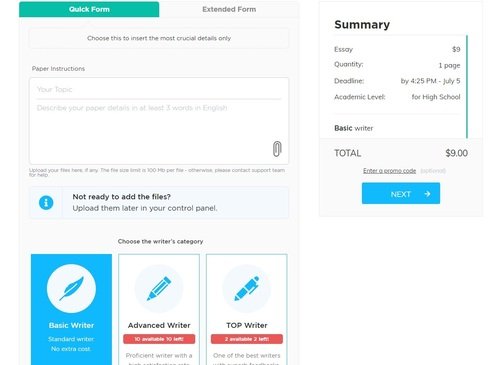 Pricing and Discounts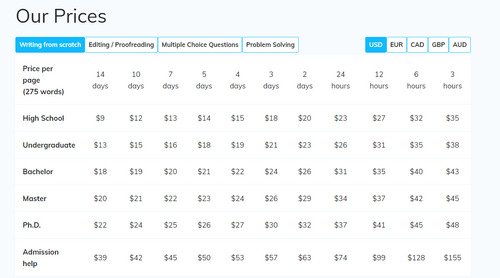 The prices for affordable-papers writing services are exactly as their name would suggest. However, this only applies to orders with extensive deadlines. When you progress to shorter deadline orders, the price increases significantly and you might start wondering "Is Affordable-Papers good?" Unless your professor will give you enough time to write your paper, you should expect to pay a premium for your paper. They do offer discounts, and at the time of this writing you get a 7% discount, but only for orders above $30. I have mixed feelings about this because a 7% discount on their 3-hour papers might prove helpful to students, but it would still be expensive.
| | |
| --- | --- |
| Services | Minimal Price per Page |
| Essay | $9 |
| Research Paper | $9 |
| Article Review | $9 |
| Coursework | $10 |
| Dissertation | $22 |
| Admission Essay | $39 |
Writer's Proficiency
The two essay papers I had ordered were written well, with a few minor issues. I made sure to check them for plagiarism and the results were okay. The writer was able to submit the articles a few hours before the deadline and made an effort to do some extra research beyond what I had instructed. However, the third order, which was an editing task, didn't go so well. The writer had made no attempts to correct the article. I wasn't happy, and I immediately requested a revision. Perhaps I'll do more reviews of Affordable-Papers to follow up on their performance.
Revisions
The proofreading paper I had requested a revision for had cost me about $58, so I wasn't in the mood for bad writing. I was asked to demonstrate how the final work they sent to me wasn't satisfactory. I replied by explaining that I expected all grammatical errors to be removed and the readability of the paper to be improved. As affordable-Papers offers free revision on orders within the first 7 days after approval, the team needed to accept there was an error on their part. The team got back to me and basically said that my initial instructions were different from what I was expecting now, and so they would be denying my revision request. This got me very annoyed, as I had shown them proof that little to no effort was done on the paper. The emails that I sent were ignored, and eventually, I had to give up so I could complete my review and move on.
Loyalty Program, Offers, and Extra Services
I was unable to find a section that talked about any loyalty program. When I called customer support, I was told their discounts are one of the ways they reward their customers. I found this to be highly disappointing, as a loyalty program is a must-have for all top-rated providers. If perhaps there was a loyalty plan, their "affordable prices" would actually be worth it.
Affordable-Papers Reviews of Online Reputation
At this point, I needed to confirm if I was the only one that was having a bad experience using affordable-papers writing service. I decided to check online forums on Reddit, as well as trusted review services like TrustPilot and SiteJabber. What I found out is explained below.
TrustPilot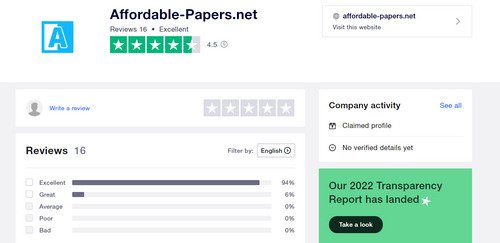 Affordable-Papers has an impressive 4.5 Rating on TrustPilot, which on paper looked very convincing. However, on further investigation, I found that not only were there just 16 Reviews of Affordable-Papers, but most testimonials seemed very vague. This was something I found hard to believe.
SiteJabber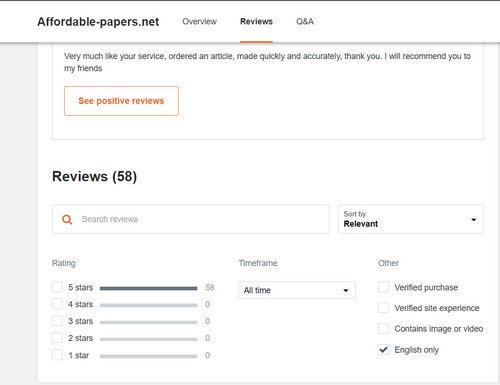 I also had the same challenge on SiteJabber, where all 58 reviews were 100% excellent.
Social media
Affordable-papers are present on social media, but their accounts don't get much interaction, unlike the best coursework help service companies who typically often post and interact with their users. There are few comments and likes on their posts. They mainly post information on how you can order their services, which makes their posts not very informative. Their blog on the other hand actually provides useful content, but it's rarely active.
Show Me Your Top Services
Faq
Is Affordable-Papers legit?
Yes, affordable-papers is a legit company. They are transparent about their location and contacts, which indicates that they are not a fake company.
Is Affordable-Papers safe?
Yes, affordable-papers is a safe online writing service. Most Affordable-Papers reviews agree that their website is secure, and user data isn't sold or shared.
Is Affordable-Papers reliable?
It's hard to say if affordable-papers can be relied upon. My experience wasn't that great, but many individuals online claim to have had a better experience.
Is Affordable-Papers a scam?
No, Affordable-Papers legit isn't a scam. While I feel that their refund and revision policy can be improved, they still processed my orders and delivered them.