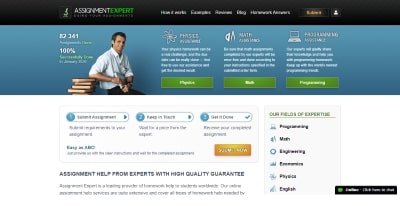 AssignmentExpert Review
AssignmentExpert.com is a writing service that we have not known much about until we began to receive comments and feedback from visitors to our site. Because of these, we felt it was time to conduct a review and determine the quality of products and services.
Review Criteria
In order to be fair, thorough, and objective, we review the best writing paper services using the same criteria. These criteria are as follows:
Delivery of a quality writing product as ordered by the customer.
A secured website that is easy to navigate.
Accessible and professional customer service.
Communicative and highly-qualified writers.
Competitive pricing and attractive discounts.
A reputation as a reliable and trusted service according to customers and consumer advocacy sites.
No evidence of legal or privacy concerns.
Clear policies that are fairly applied.
Our goal is to follow the same steps for each writing service as closely as we are able to. However, we must keep in mind that the business model of each site may vary slightly. Still, here are the steps we take in order to learn as much as possible about each writing service:
Reviewing the AssignmentExpert.com website.
Engaging with customer service representatives.
Reading policy documents.
Reviewing a completed work for quality and accuracy.
Searching for online reviews and testimonials.
Conducting a price comparison.
Seeking feedback from students who have used the service previously.
With these steps in mind, keep reading to learn more about our experiences.
Factor 1: Types of Writing Services Offered
AssignmentExpert focuses more on STEM coursework assignments than it does on other types of academic writing services. Its home page sports a large banner at the top, promoting help with assignments in math, physics, and programming. And, all of its examples relate to homework assignments in these content fields.
Almost as an afterthought, it also lists coursework help oline in almost all other academic fields – other STEM subjects, as well as English, history, management, etc. In theory, students can order any type of assignment, but the focus is clearly on STEM homework assignments and projects. This is not a site for long term projects or major assignments. So, term papers, thesis and dissertation services, and capstone projects are not available.
Factor 2: Trust and Reliability
The verdict is mixed here. Students who ordered homework completion help in math seemed to be pleased with the results. The received their assignments on time, and, when they asked for an explanation to be added, got it. In other areas, the comments were mixed. Especially in upper-level university and graduate work, there are complaints that deadlines have been missed, explanations are not clear, and, in some instances, the complexity of the assignments seemed to be beyond the expertise of the assigned experts.
Factor 3: Level of Quality
This is directly related to many of the comments we received regarding trust and reliability. High school and lower-level university students appear to be satisfied with their STEM homework assignments. Graduate levels – not so much.
Students who ordered assignments in non-STEM areas were not pleased with their products. It seems that, in its focus on math and science, AssignmentExpert.com is not careful about the researchers and writers it employs. Customers were generally dissatisfied with their written assignments, and many believed that ESL writers were begin used.
We made arrangements to review a short English research essay on the novel Moby Dick, and we encountered the same issues that other customers did.
Factor 4: Pricing and Payment
Assignment Expert prices are based upon the student's academic level, the complexity of the assignment, and the required deadline. To get a price, a student will submit an order and then receive an email with a pricing quote. In terms or discounts or any type of promo code for a first-time customer, we found none.
We were also told by the company representative that discounts are not offered.
Payment is via PayPal, which processes any major credit card, and it is fully secure. We believe that students are safe making a payment here when placing an order.
Additional Important Considerations​
There is nothing unique or worthy of special note with AssigmentExpert. It is a basic service with clear explanations of its services. Certainly, it is not a fraud or scam. The issues relate to quality.
We did find reviews on the Assignment Expert site. As expected, these are all positive, and deliberately so. There is also a blog that covers some interesting topics relating to student life. It's nice, but not earth-shattering.
As far as website navigation goes, we attempted to complete the order process. Unfortunately, the screen became unresponsive when we attempted to select a due date. Fortunately for us, we were simply conducting usability testing. The issue could be problematic for those actually placing an order.
We searched the site for policy documents but found none. We looked for a sitemap that might help us locate these, but did not find that either. We assume there are policies published somewhere, but until we can access these we cannot comment. Sadly, this means we can provide no positive or negative comment on customer data privacy, use of cookies, or whether the site is GDPR compliant.
Concluding Comments
In looking at the pros & cons, we can say that Assignment Expert offers good services to students in their STEM coursework in high school and lower undergraduate levels. Beyond that, however, we find that the company is offering products and services that it does not yet have the staff to produce well. We cannot recommend this company and have given it a rating of "fair" for higher-level STEM work and "poor" for other content fields.