Our verdict: Not Recommended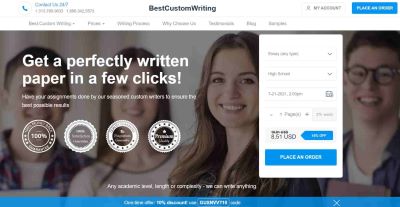 Top 3 services
VIP Support
From $14.99 per page
PhD Writers on staff: 80%
From $12.99 per page
BestCustomWriting.com Review
BestCustomWriting is a company that has been in the industry for over 7 years, or so they say. As soon as we became aware of its existence, we wanted to gauge the quality of their work, and thus review their papers and ultimately their entire service. We already heard a few things about them, so we thought they're worth looking into to create a better image of this agency. Throughout our research, we were able to determine just how reliable this website is and if it's worth the payment. So, let's launch into our normal review process and reveal the BestCustomWriting.com review.
Review Criteria
We're very serious when it comes to reviewing the best writing essay services, and for that to happen, we need to take a look at different features and see how trustworthy the agency is. With that being said, we create our reviews by:
Looking at the testimonials present on different platforms such as Reddit or TrustPilot
Analyzing the payment process and whether it's safe to go through
Looking at whether the team has experience or not
Checking out the quality of the papers, research quality, and grammar
Finding their prices and comparing them to other prices on the market
Investigating their discounts and how beneficial a promo code can be
Looking if the site has obtained a BBB membership
Analyzing how good the writers are at respecting the deadline
Factor 1. Types of Writing Services Available
For the most part, this company is focused on academic writing. They can give you essays of any type, term papers, analyses, research papers, coursework, book reports, case studies, article critiques, outlines, homework, and many others. But apart from this, you can also obtain editing services or admission services. They can work on your dissertation as well.
Factor 2. Reliability
Although we don't consider this website to be a scam or fraud, we also don't consider it to be reliable. Let's look at the policies, for instance. A money-back policy exists, but the information is not too clear. It doesn't seem to be in the advantage of the client. The customer support was contacted many times for a refund due to a paper that was delivered very late, and it was very hard to get answers from the agent. It takes very long to get any sort of response when they're confronted about something they did wrong. Refunds were obtained, but it took a lot of effort to get there.
As for the delivery, it's not as timely as they keep advertising. In many situations, customer reviews have spoken about how their papers were sent hours later after the deadline passed. They keep saying that you'll get your paper as soon as possible, but that's not true, at least not in every situation. You are left waiting and this could lead to the deadline passing, and you have to explain to your teacher why you didn't finish your assignment yet. It's not worth the risk.
Factor 3. Level of Quality
As soon as you land on their main page, the website says, "Get a perfectly written paper in a few clicks!". This is nothing more but an attempt to advertise themselves as these saviors who could give you the most outstanding essay when in reality, things are different. The essays they make are not up to standard. We were able to analyze some of their papers, and that's when we realized their reputation was not wrongly obtained. It was just as the complaints are saying: the essays are full of mistakes, a sign that the writers are either not native English speakers or that they are rushing to finish the essay. It's clear as day that the writers are not experienced, or else you wouldn't have to deal with this.
Like the writing quality was not bad enough, the formatting was not meeting our expectations either. Everything was done in a rush, and it was obvious that this wasn't a paper you could send to a teacher if you wanted a high grade.
Factor 4. Pricing and Payment Options
If there's one positive thing we could say in this BestCustomWriting review, it's the fact that they have a lot of payment options available. You could safely choose between Visa, MasterCard, Discover, Maestro, WireTransfer, Delta, Bitcoin, JCB, American Express, and others.
The prices are very cheap. They are not prices that a professional writer would charge for a high-quality essay. A one-page essay with a 14-day deadline for high-school level costs $8.51, and for a 6-hour deadline, it will cost $31.41. The other academic levels available are college, undergraduate, graduate, and Ph.D. The higher the academic level and the more urgent the deadline, the higher the price is going to be. Still, the cost is very low compared to other such platforms. There are also a few things that you get for free such as a title page, reference page, formatting, and revisions.
Additional Information
Not only are the prices low, but coupon codes are available too, which lowers the price even more. On your first order, you can get a 15% discount. The second order will grant you a 10% discount.
Apart from the promo codes you can use, there are also lifetime discounts you can obtain after ordering a certain number of pages. For 20-49 pages, you will obtain a lifetime discount of 5%. 50-100 pages will grant you a discount of 10% for life. Lastly, if you order more than 100 pages, your lifetime discount will reduce your order prices by 15% every time.
Final Thoughts
In the end, looking at the pros & cons of this site, TopWritersReview cannot give it a positive rating. Based on the things we found out regarding the quality, combined with the suspiciously low prices and the fact that deadlines are not respected, we cannot consider this platform a great alternative. Not to mention, the Best Custom Writing reviews are mostly negative as well, and we're not surprised. The testimonials on the main page are most likely made-up because everywhere else you will find disappointed customers. We cannot even trust the no-plagiarism guarantee. We have a bad opinion of this website and think it needs many improvements.