Our verdict: Not Recommended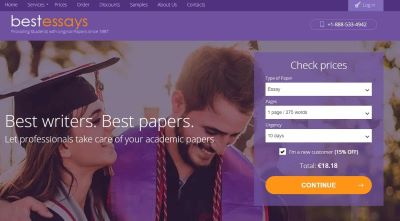 Short overview
Minimal deadline:
3 hours
Guarantees:
User Data Privacy, 100% Unique Papers
Payment Methods:
Available Services:
Essay Writing, Research Paper, Dissertation, Resume, Case Study
Extra perks and features:
Free Samples, Choose Writers, VIP Customer Support
Summary
This bestessay.com review was conducted carefully and without any bias to give readers the best quality information. I considered many reviews as well as my own experience before rating BestEssays writing. I found this service to have a mediocre performance due to many factors, which we will be going over in this review. Most of the challenges I faced had to do with the management of their business, and, as you will see in this review, a lot of mishaps were easily preventable.
Pros
Straightforward ordering process
Intuitive website
Wide range of services
Cons
High prices
Bad revision and refund policy
No loyalty program
Top 3 services
VIP Support
From $14.99 per page
PhD Writers on staff: 80%
From $12.99 per page
BestEssays Reviews of Service
BestEssays has one of the best-looking websites I have ever seen. The chosen color scheme made it easy to look at the screen without feeling any discomfort. I found the user interface to be very intuitive in design, so it made it easy to navigate the page. While all the necessary information was present, it was not well organized.
Aesthetics aside, I need to check the performance of the website and I can safely say I wasn't disappointed. The website was fast, which made it easy to conduct my review in good time. Before my review, I was asking myself "Is bestessay.com reliable?", and having checked the work of their website I can give an affirmative answer to this question.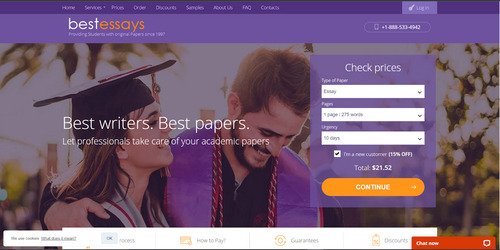 Types of Offered Services
This provider offers different academic services to their customers which include essay, resume, term paper, coursework, dissertation, case study, and research paper writing, as well as admission services. I liked the fact that these services covered a wide range of academic needs students might have.
They also offer an impressive 22 samples that cover a number of writing topics students are bound to find helpful.
Title: Strategic Planning at the Chronicle Gazette
Length: 18 pages
Analysis: I reviewed the sample titled "Strategic Planning at the Chronicle Gazette", as well as a few other samples, and most of them were written very well. Except for a few grammar and typographical errors, there wasn't too much to complain about. A student looking for a sample to serve as inspiration for their own paper will likely be satisfied with what they find.
Quality: Good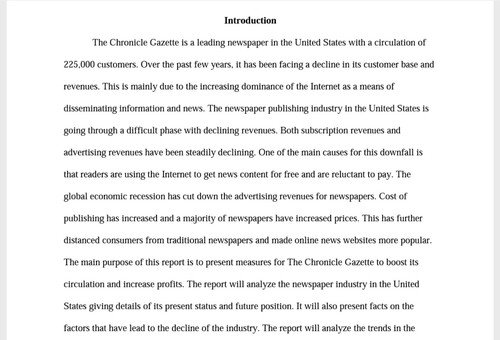 Guarantees
There are several main guarantees that are given to clients. The first is the 100% article uniqueness. The second is the data security of every customer that visits or registers on the website. Lastly, customers are promised a secure payment process. While I consider the established guarantees helpful, I was shocked that there weren't any guarantees on refunds and revision of articles. Most professional resume writing services today have such guarantees in their policies, so I think it was very disappointing of this provider to leave such details out.
Customer Support
I had a hard time trying to contact customer support. To make my www.bestessays.com review more informative, a reached out to them with an inquiry regarding the refund policies. They took a long time to respond to my email, so I had to call them by phone, which led to a much faster reply. Even though I was able to get the necessary details by phone, it included multiple steps to get the information that could simply have been put on their website.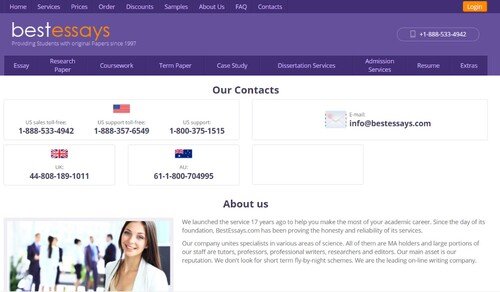 My Experience and Paper Quality
I prepared an assignment for two papers and a resume edit for the purpose of this review. I wanted to test how well their writing skills were, and how fast they could deliver. Since a resume involved making a few edits to the typos I had introduced, I had set a 3-hour deadline for it, while the other two papers were given a 48-hour deadline. In the end, two of my papers were submitted on time. The resume was edited poorly and arrived after the deadline. If I was a student, such service might have cost me a good mark. The other two papers I requested were satisfactory and submitted before the deadline.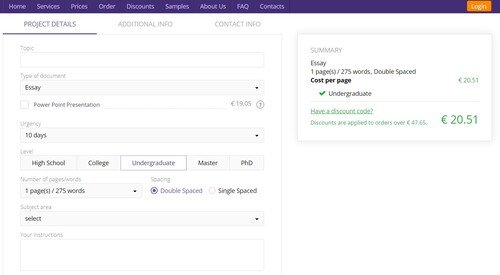 BestEssay.com Reviews of Ordering Process
The process of making an order was very straightforward and didn't take much time. Once you provide the needed information such as the type of document, how soon it's needed, and other standard requirements, your order will get processed right away. You need to provide your contact information so they can reach you when your order is ready. This includes your name, email address, and phone number. I didn't like the fact I had to provide this much personal data, but it's understandable why they ask for this. In my experience, some top dissertation writing services only need your email address to have your order completed. But at least you don't need a bestessay.com login to make an order.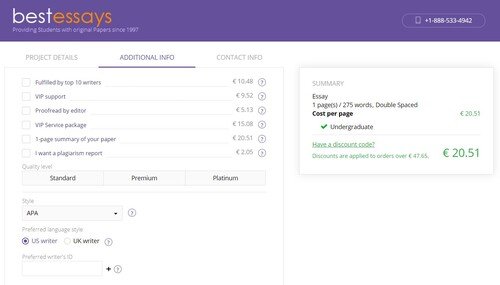 Pricing and Discounts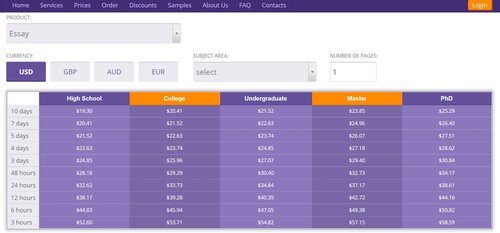 I found the prices that this provider offers to be some of the highest I have seen from an online writing service, as most www.bestessays.com reviews agree. The lowest price you can pay is $19.30, which is simply unreasonable when you consider how poor the writing quality can be, and also how little most top writing services charge their customers. BestEssays does offer discounts to help reduce the costs - new customers get 15% off their first order. However, that doesn't help because the prices are still way above the average cost of $12.99 most students get at any top writing service. Even if the discounts were more substantial, it only affects the first order, which means that bestessay.com prices for subsequent orders will still be substantial.
| | |
| --- | --- |
| Services | Minimal Price per Page |
| Essay | $19.30 |
| Research paper | $19.30 |
| Coursework | $20.99 |
| Case study | $20.99 |
| Dissertation | $29.96 |
Writer's Proficiency
I had mixed feelings when it came to the writer's proficiency. On one hand, I had two of my orders written rather well, but my resume didn't receive enough attention and was delivered two hours past the deadline. This made me wonder why a company would allow bad writers to spoil their image. Looking back at my experience, I feel that customers should expect an average result when it comes to writer's quality. You might be lucky to get an exceptional writer to handle your task, but it is not a guarantee. I checked many reviews of bestessay.com, and I noticed that many users had the same problem.
Revisions
BestEssays has one of the worst revision policies I have ever had the misfortune of experiencing. In the course of this review, I had sent back one of my orders, a resume, for revision. However, absolutely nothing was done about the mistakes. My initial response to the way my order was handled was to ask for a refund. When that failed, I felt it would be best to get a revision, so I could at least grade how well this agency performs in that category. Unfortunately, I was disappointed with the outcome.
Loyalty Program, Offers, and Extra Services
BestEssays doesn't have a loyalty program, which is unfortunate, as the high prices they offer are completely unsustainable without a program that rewards students for paying a premium for their essays. With a bestessay.com account, you can join their affiliate program, but it doesn't offer achievable goals for the discounts they promise. They do offer some extra services like choosing your own writer, 100% unique articles, and free samples. But these are standard services that you might have come to expect from a top paper writing service. The idea that these features are considered extra services is unsettling, and this fact alone would lead me to believe that this provider is not reliable.
Online Reputation
One way to make a fair assessment of anything is to consider the opinion of others, and this is exactly what I did. After I was done with my review of bestessay.com, I decided to check what other reviews were saying about BestEssays writing services. Great places to go for honest user testimonials are TrustPilot, SiteJabber, and online platforms like Reddit which have a lot of student forums.
SiteJabber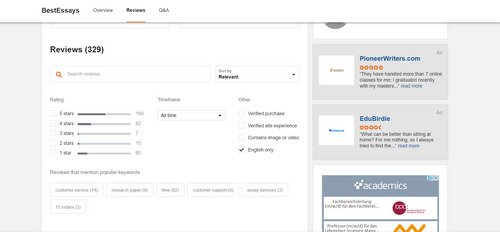 Reviews of BestEssays on Sitejabber were fairly good. It has a rating of 3.92 which is okay. One thing I noticed was a very high number of users with bad experiences, much like the one I shared in this BestEssays review.
TrustPilot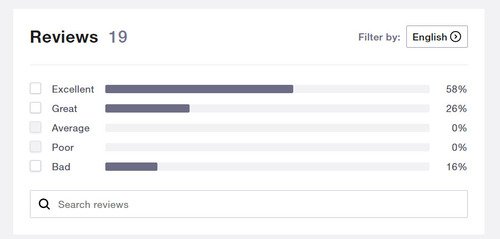 The rating on TrustPilot is slightly better at 4.2, but this could be attributed to the fact that not that many people voted on this platform. Going over the reviews on this platform, I noticed the same trend of users having very bad experiences. Yes, there are more good reviews than bad ones, but it goes to show that BestEssays still has a lot to change about its business.
Social media
I wasn't able to find any social media accounts that belonged to BestEssays. So, I headed to Reddit so I could get some reviews from students that have used the service in the past. Most of the students I met had mixed opinions, so I wasn't able to draw any viable conclusions. A modern service that doesn't care about its media presence is not going to be relevant among the youth, and this is something this provider needs to consider if they wish to have a good reputation among students.
Faq
Is bestessay.com legit?
Yes, bestessay.com can be trusted as they are a service that has been around for more than a decade. According to information on their website, they are located in Cyprus.
Is bestessay.com safe?
Yes, Bestessay.com is a safe-to-use writing service. They encrypt user data and only use secure payment methods for transactions.
Is bestessay.com reliable?
No, Bestessay.com isn't a reliable service. Yes, they are capable of producing good results, but the inconsistency of their services makes them unreliable.
Is bestessay.com a scam?
No, Bestessay.com isn't a scam. While they have a bad policy when it comes to customers, they have fulfilled my orders and that of many other customers.