Our verdict: Not Recommended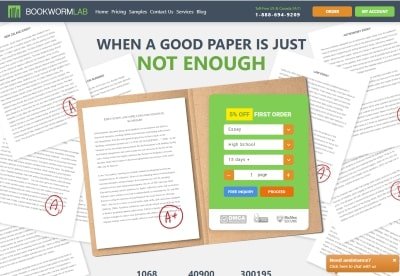 Top 3 services
VIP Support
From $14.99 per page
PhD Writers on staff: 80%
From $12.99 per page
BookWormLab Review
BookWormLab.com opens to a clean and easy to read, logically fashioned website, that is easy on the eye, and gives most of the information on the first page.
BookWormLab.com is a division of USA Writing Solutions LLC, which is a holding company based in Hollywood, Florida, U.S.A.
In BookWormLab customer reviews there are comments about the prices charged for its services; these are considered to be higher than most in the marketplace, but the resulting essay, it seems is not always what it could be.
Book Worm Lab Services
Services include PowerPoint presentations, case studies, college writing, Capstone projects, research proposals, lab reports, resumes, movie reviews, coursework assignments, book reviews, book reports, paper writing, theses, dissertations, term papers, research papers, and general essays.
Comments on BookWormLab have been extremely complimentary regarding the range and scope of services that are provided.
Quality of Products/Writers
In a recent review of Book Worm Lab services, some doubt was cast on the suitability of the writer; company insists that their authors identities remain confidential. Contact is only available via the website, unless they deem it to be a particularly complicated assignment; in which case they will find a writer who will accept direct contact.
Book Worm Lab testimonials appear on the homepage of the site, and are based on a 5-star rating; at the time of writing, there were 583 overall votes resulting in a score of 4.84 out of 5
Prices and Ways of Payment
BookWormLab.com pricing is expensive by comparison with most other essay writing websites, read more college essay writing service reviews here. A 4th-year undergraduate level essay, with a deadline of 15 days, comes in at $240 before any discounts. The prices run from high school papers through to Ph.D. papers - and to give an idea, the approximate price, for one page, for a high school paper, is $20 and for a Ph.D., is $32
Payment can be made by Visa, Mastercard, American Express, Discover, and PayPal. The checkout is secure and encrypted, and the information that you give is subject to a captcha screen. Personal student information is never disclosed to third parties.
BookWormLab.com review sites have remarked on the high costs of their services Essays and papers.
Service's coupon codes do not seem to be available on the site, despite there being a field on the order form for such coupon codes.
Discounts
Discounts by BookWormLab are extensive and complicated. There is 4% off if you have ordered more than 15 pages, 8% for more than 50 pages, 15% for 100 pages.
There are one-time discounts of 10% for between 20 and 50 pages within one order, 15% if your order has more than 50 pages and 10% for every 15 pages ordered within 30 days.
Extra Treats
We could find no freebies listed anywhere on the website
Final note
BookWormLab.com pros & cons are that of a little form over substance - The website looks great, and everything about the product looks good, but, in the final analysis, it is extremely expensive, and the discount structure is confusing and difficult to understand. There are also a few niggling little points; like there being a field for coupon codes in the order form, but no coupon codes mentioned anywhere else on the site at all.
Book Worm Lab rating sites give the company a middling score - which - considering their prices - should be far higher than that given.
There is no BookWormLab BBB, (Better Business Bureau) accreditation or affiliation.
If you were looking for a reasonably well performing essay writing company, we feel that you could find better value elsewhere.
This service is extremely expensive and does not deliver with enough consistency to warrant the high charges, and the commensurate lack of access to the writers who are tasked with these essays.