Our verdict: Not Recommended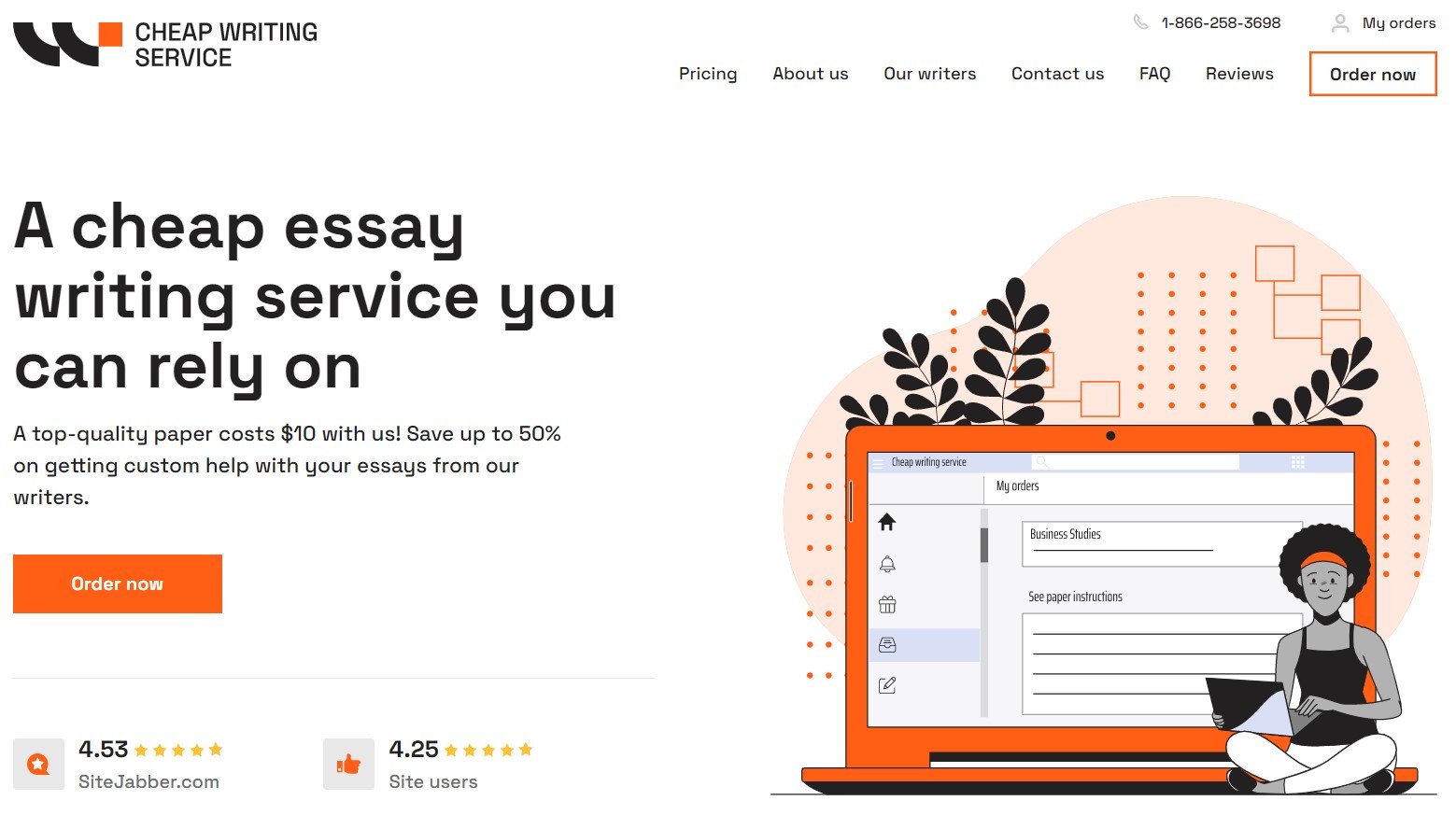 Short overview
Minimal deadline:
4 hours
Guarantees:
Money-Back, Revision Policy, Confidential Service, 100% Original Papers
Payment Methods:
Available Services:
Essay Writing, Essays For Sale, Research Paper, Term Paper, Assignment, Dissertation, Homework, College Essay
Extra perks and features:
Samples, Free Inquiry
Summary
My CheapWritingService review does not recommend it as a reliable service for top-quality academic papers. Based in Limassol, Cyprus, the service uses ESL writers with substandard academic qualifications and writing skills. This company has its ups and downs. The website is well-designed. Customer service agents work promptly, although managers are not very helpful. It is unrealistic to expect refunds for poorly written papers. Quality is a general issue with CheapWritingService products, so you might be asked to pay extra if you request revisions. Writer profiles do not tell you much about their real track record in academic writing. I like the FAQ section, which provides detailed information about all sorts of customer questions.
Pros
Well-designed website
Detailed FAQ section
Cons
Cagey about using ESL writers
Faulty customer service
Low paper quality
Ineffective refund policy
Writers with low qualifications
Top 3 services
VIP Support
From $14.99 per page
PhD Writers on staff: 80%
From $12.99 per page
Service Overview Based on My CheapWritingService Review
CheapWritingService is a Cyprus-based service that has been in business since 2005 (or so it claims in FAQ section). Its website was created only in 2013. The site is well-organized. It is not overloaded with much information that hardly anyone would bother reading. This is important. Some feel the urge to stuff websites with all their data instead of focusing on key points. There is a price calculator. A cost estimate is one of the first things customers are looking for. So, it is nice having it handy.
Is CheapWritingService legit in terms of writer credentials? CheapWritingService must be more forthcoming about its writers if it wants to be considered the best writing service. Apart from touting qualifications and expertise, it must explicitly say that it hires ESL writers as standard practice while offering native speakers at extra cost. There is an explanation in FAQ, but this needs to be more visible. Once you enter your order details, you'll see a list of additional paid services. One option is to choose a native English speaker for an additional 30%. I think CheapWritingService needs to be forthcoming about this when it comes to relying on ESL writers in other parts of the website.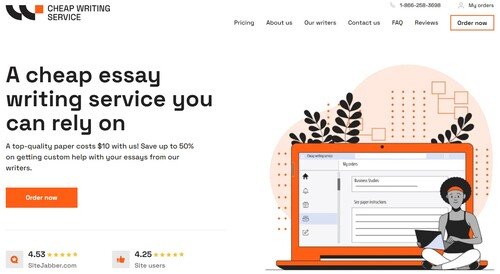 Types of Services Offered
CheapWritingService offers many services, including essays, research papers, term papers, assignments, dissertation writing, and homework. I found it strange that some services are repeated unnecessarily. How is 'Essay Writing Service' different from 'Essays for Sale,' for instance? What difference does it make to 'Buy Essay' versus 'Pay for Essay?' They need to edit this to avoid customer confusion.

There are 4 samples available for customers. I looked at the one below.
Title: Mentoring in the Workplace
Length: 4 pages
Analysis: Overall, it's not a bad paper, but it is obvious that it was written by an ESL writer. I spotted a few grammatical errors, too (omission of articles). The paper does not have a proper introduction or a conclusion. Basically, it has two large paragraphs, which makes it unwieldy to read.
Quality: Medium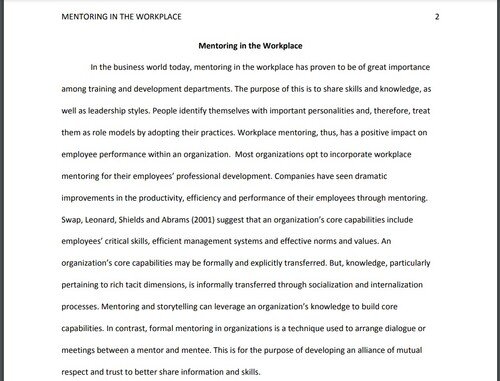 Guarantees
CheapWritingService guarantees refunds, revisions, confidentiality, and 100% originality of papers. It does not offer plagiarism reports, however. Despite a commitment to make full refunds if papers are submitted past deadlines or if they fail to follow instructions, they simply never happen. CheapWritingService reviews clearly show that once you make a payment, chances are you will never get your money back. The only chance you have is if you paid twice accidentally or if you act promptly to contact the company immediately after placing an order.
Customer Support
Customer service agents work fast at CheapWritingService. They are also friendly and do their best to help with questions. The live chat box is really convenient, and you can reach out for help any time, 24/7. Email address and a US telephone number are also provided for inquiries. What I didn't like was how slow managers are. Sometimes, agents are not qualified to answer all inquiries, which means they refer you to relevant managers. That's when things started getting complicated during my review of CheapWritingService. All of a sudden, promptness was lost. Especially if you have a refund claim, want to voice your displeasure, or want to sound off about low paper quality. Don't expect quick clarification or practical solutions. At worst, you might end up paying more.

My Experience and Paper Quality
Is CheapWritingService reliable in terms of paper quality? How does it stack up with competitors? To find out, I placed an order. I went for a 3-page essay at the undergraduate level in English. I set a 7-day deadline. With CheapWritingService, you don't get to pick writers like with other services using bidding systems. It assigns writers using its own judgment. You can request an advanced writer (+25%), a TOP 10 writer (+40%), or a native speaker (+30%). This is a bit confusing, though. Only TOP 10 writers seem to be native speakers. If you pick TOP 10, the native speaker option is deactivated. I went for the best available option.

The total of $42 looked fine, although I was really surprised to see that CheapWritingService has so many extra charges for every little detail. Some other CheapWritingService reviews noted that as well. The lowest price of $9 stated on the site is virtually unattainable. What I received was a poor-quality essay, which I could not possibly submit if I needed to. When I got into lengthy debates about revisions and refunds, I realized this could become a never-ending story. I was even asked to make an extra payment if I wanted my paper rewritten. I could have also gained from free tools, such as the best free paraphrasing tool or conclusion generator, but they were lacking.
Ordering Process
Is CheapWritingService good when considering ordering steps? I trust it is pretty decent in that department. There is a simple price calculator to help with estimates. Overall, it is an easy process.
Set up your account.
Fill out the order form. Add specific instructions about the type of paper, number of pages, and desired deadline, plus any additional instructions.
Once you are happy with your order and price, you should make payment.
Then, CheapWritingService assigns a writer to your order.
You can reach out to the writer directly through your personal account.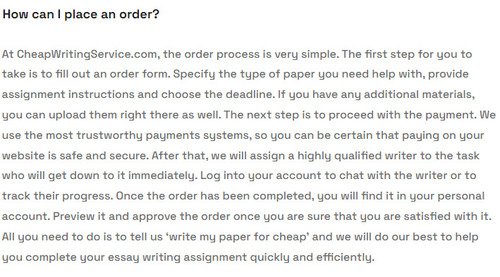 Pricing and Discounts
Prices start from $9 at CheapWritingService, but don't count on that. As my detailed CheapWritingService review found, you will most likely end up paying much more than that. Depending on the type of paper, deadline, and some other parameters, your cost will increase. CheapWritingService does a great job of enticing you to keep adding extra services. There are no discounts on offer. This is a real missed opportunity for a company striving to be a top professional coursework writing service because most rivals have discounts.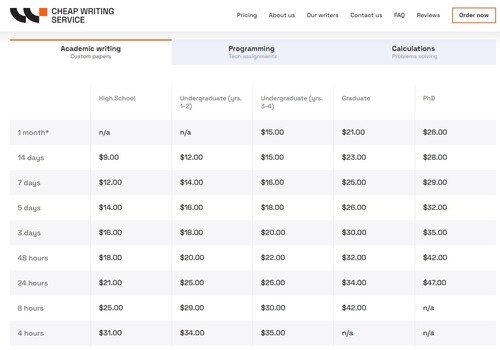 There is a broad range of paid services. Many cheapwritingservice.com reviews recommend thinking twice before you pick any of those. They might not be worth your effort and money. Especially given that you cannot recuperate your funds once payment is made.
| | |
| --- | --- |
| Services | Minimal Price per Page |
| Essay (any type) | $9 |
| Advanced writer | +25% |
| Top 10 writer | +40% |
| Native speaker | +30% |
| Smart paper | +20% |
| Writer samples | $5 |
| Copy of sources | $14.95 |
| Progressive delivery | +10% |
Writer's Proficiency
CheapWritingService claims it employs writers with academic degrees, including professional essay writers for college admission. It also cites several selection criteria for choosing them. These include academic and professional experience, test results, and ratings in respective fields of study gained while working for cheapwritingservice.com. The last one must only apply to existing writers. My experience shows that writer qualifications are low, and I doubt they have academic degrees from reputable universities. Not sure if it makes sense to pay extra to get a native speaker. This might be a pig in a poke.
CheapWritingService invites customers to place a free inquiry to ascertain the qualifications of writers before placing orders. Since writer profiles are largely made up, this seems a sneaky way to coax you to make your payment.
CheapWritingService Reviews of Revisions
Revision policy is tricky. Customers can communicate with assigned writers by sending messages from personal accounts. This might help you safeguard against surprises when you actually get your paper. If you still get surprises, you have 7 days to return to the website requesting revisions. The catch is that your request might be turned down if CheapWritingService decides the writer fully followed your instructions. Now, this can be a contentious one. You might be dragged into protracted communication about who is right. It may go on for days, making it worthless to get any revisions due to tight college deadlines. In the FAQ section, CheapWritingService talks about charging extra fees if you need your paper rewritten. Based on my CheapWritingService.com review, I have concluded that customers are most likely to be charged additional fees if they decide to ask for refunds. The best solution is to work with writers directly to address issues before final paper submission.
Loyalty Program, Offers, and Extra Services
I could not find a loyalty program with CheapWritingService. There are lots of additional services. These are all paid ones, but they are not always worth extra spending. There are no promotions either. Reviews of CheapWritingService indicate that this service is not very active on social media platforms, where it could use its promotions to attract more customers.
Online Reputation
SiteJabber
CheapWritingService is doing pretty well on Sitejabber. With more than 42 reviews, it gets a rating of 4.62, which is pretty high. Not sure if all reviews are genuine, though. Unfortunately, there was no review of CheapWritingService on Trustpilot.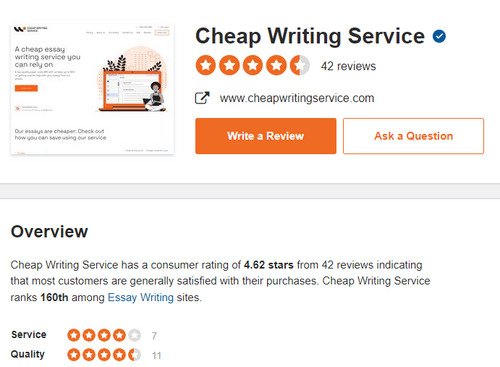 Social Media
Reviews of CheapWritingService find that it does not have much presence on social media platforms. It is not very active on Facebook. With the latest post dated May 2019, it's hard to attract too many followers. 13 likes of that post as a good indicator of that.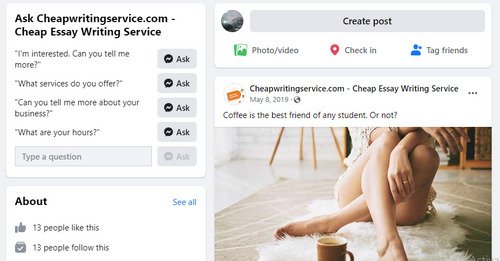 I found a Reddit review that ranks CheapWritingService low. The customer complains about inflated prices, poor quality, and ESL writers claiming to be native speakers. Refund policies seem confounded and tricky.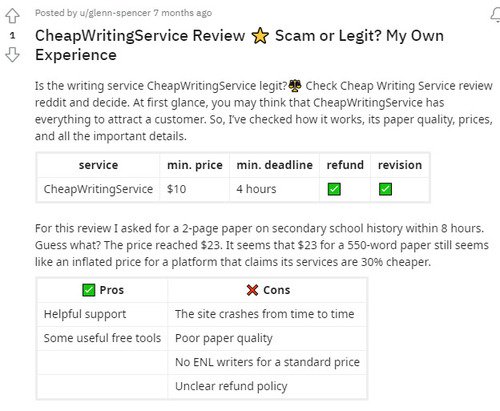 Show Me Your Top Services
Faq
Is CheapWritingService legit?
I think it is a legit entity. CheapWritingService reviews show CheapWritingService is based in Cyprus, and it has a registration number.
Is CheapWritingService safe?
Company services are safe to use. It relies on secure payment systems based on sophisticated encryption protocols.
Is CheapWritingService reliable?
Reliability is an issue with CheapWritingService. If you're looking for top-quality papers, I advise you to look elsewhere.
Is CheapWritingService a scam?
Although I have concerns over reliability, I don't consider CheapWritingService a scam. Nor do other CheapWritingService reviews, for that matter.