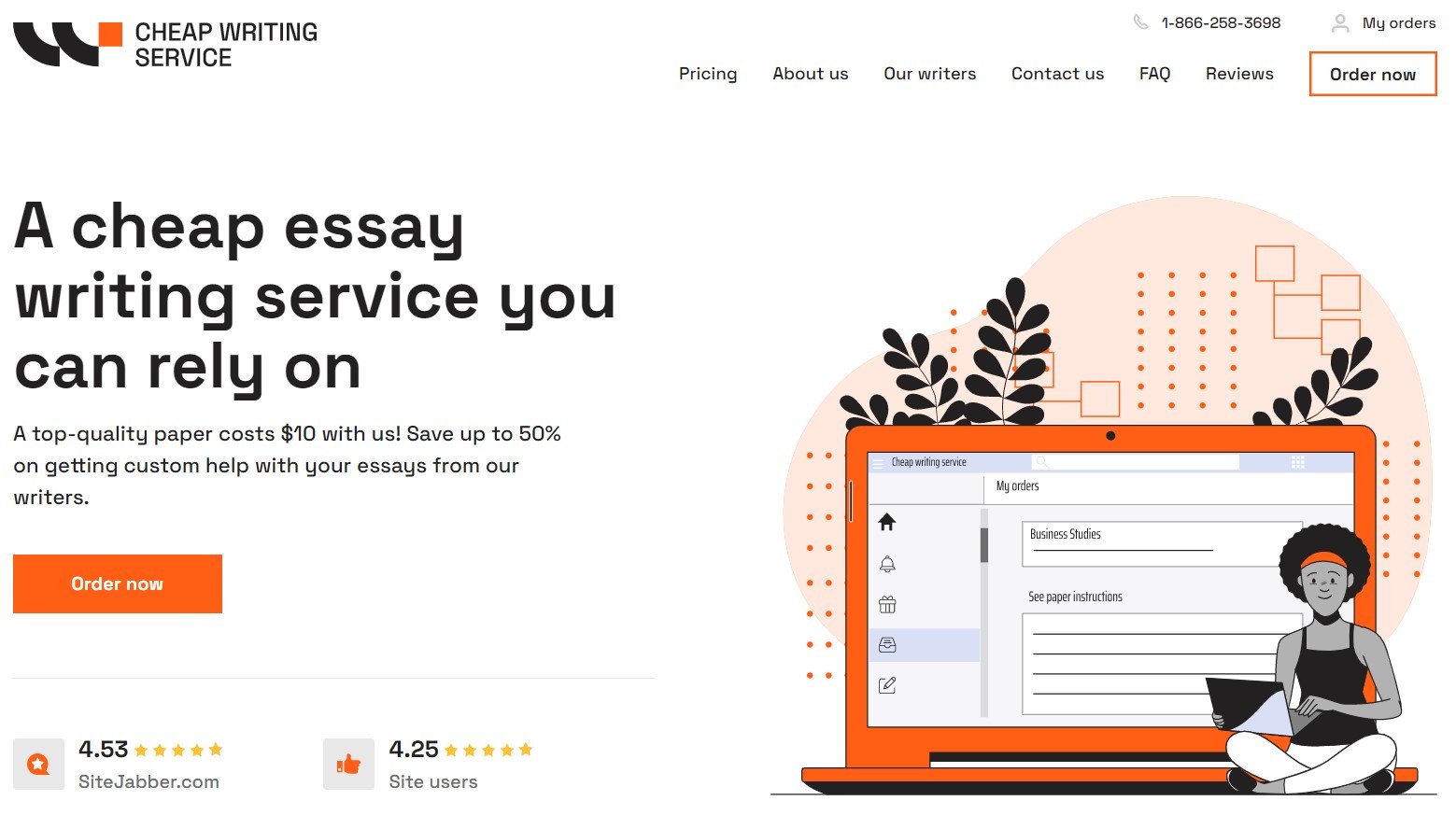 CheapWritingService Review Done by Professionals
Helping students sort through endless academic firms has always been our goal, and CheapWritingService review is one more step in this direction. The team of TopWritersReview united once again to do research and deliver the freshest updates to you, and our choice stopped at this company. It is registered in Cyprus: it's been working since 2008, so its experience is inspiring. Its website has an adequate black and orange design, but content could be confusing — it's not organized in a clear manner. Interestingly, the agency has photos of its multiple employees, from writers to managers and even operators. We've never seen it before, and it's certainly a nice touch. But how about actual services? Stay tuned to find out!
Steps Involved in Creating Our Cheap Writing Service Review
The purpose of our review team is to find the best essay writer service and recommend it to students like you. We all have different voices, and to keep our research objective, we stick to pre-set requirements. First, we investigate company's past, its website, and its reputation among clients and employees. Then we analyze prices/deadlines ratio and place our personal order, chatting with writers and/or operators in the process. As we wait, we look at samples, policies, and other important aspects. After getting a paper, each expert reads it and notes down their impressions; then we compare and discuss them until we reach a common conclusion.
First Factor: Services and Their Diversity
To start our CheapWritingService review, we looked at what kind of services it provides. There were plenty to choose from, which is always a good thing. The worse thing is that you can only see the number of these options in a scroll-down list on the front page, and it doesn't work properly. It takes ages to load and it might lag a couple of times. All in all, services fall into four categories.
Academic writing. CheapWritingService.com supports numerous types of papers. Its writers could write a reflection or research essay, article review, annotated bibliography, analysis paper, case study, report, proposal, summary, and many other pieces. Whatever your professors assign, these people will be glad to take your task.
PPT presentations. If you need a great-looking presentation with references, interesting backgrounds, and relevant pictures, this company would be happy to help. Just specify the number of slides you need and the formatting style for your project.
Dissertations. As we learned from some reviews of CheapWritingService, its writers could create dissertations in pretty limited timeframes. They work on similar large projects as well, so all you need is to dictate your requirements and set the size. The experts will do the rest.
Others. This includes a business plan, CV, creative writing, blog posts, and many other options customers might want.
Our team enjoyed what we saw in this category for the most part. Technical stuff like slow loading of a page is an issue, but we hope it's temporary. Diversity of CheapWritingService is impressive.
Second Factor: Reliability & CheapWritingService Reviews
Studying policies of a company is vital for understanding what you might expect from it. In the case of CheapWritingService, they are very clear, but they are not entirely honest. For example, the website states that clients could receive refund of up to 100% if writers failed to meet their demands. In reality, we didn't find even one instance confirming that it is possible. On the contrary, reviews we saw mentioned that refunds are rare and very small because managers try to find ways around their own policies. Our experience proves this unfortunate fact, but we'll discuss it later. The point is, while policies are comprehensive, you aren't safe from this company misusing them.
Reviews of Cheap Writing Service are mostly positive, which is a good thing. We found that several of them are fake: it's clear from the tone and the fact that management didn't bother replying to them like they normally do. Some negative reviews are there as well. People mostly complain about unfair policies, low refunds, and low quality. We had mixed opinions about this part, especially since there are too few reviews for a company that has been working for 14 years. It's a strange situation that makes it seem like some of the comments might have been deleted.
Third Factor: Quality of Essays & Samples
Quality means everything for each client, and our CheapWritingService.com review centers on this notion. Our experts asked writers of this company to prepare Business research paper on uni-level: we ordered 6 pages in APA style with a deadline of 2 weeks. During the waiting period, we checked out samples. These are free papers the best companies publish on their websites to help students for free. They are the evidence of quality you could expect if you choose to place an order here. Good news is, CheapWritingService does have samples. Bad news is, there are just 4 of them. TopWritersReview team thought there would be more, considering the intimidation tactic the provider used in its refund policies. It stated that if clients reject the paper, it immediately goes live for commercial purposes, such as advertising. We cannot believe that for more than a decade, only 4 made the cut. As for their quality, it was very average. Samples had mistakes in language, content, and formatting, and writers often used old or non-academic sources.
But what about our paper itself? It was a heart of our review of Cheap Writing Service. Unfortunately, there is nothing good to report here. Order arrived one hour late — it isn't much, but it is still unacceptable. It had enough pages, but the structure was terrible and content barely met high school level demands. It sounded childish, unprofessional, and had weak references. Review team asked for revision, but it was taking ages, so our team members tried ordering a refund. After endless arguments, we got 10% of money back. This is far from what the policies promised. We were disappointed.
Fourth Factor: Customer Support Service & Managers
The thing most CheapWritingService reviews never mention is customer support. We feel like these guys deserve a separate mention. They are nice and friendly, and they try hard to address clients' questions. But managers don't do a similarly good job. They are evasive & sometimes go against policies of their company, so we weren't happy with their work.
Fifth Factor: Cost of an Order
The name of an agency speaks for itself. It offers cheap prices as long as your deadline is long enough. Minimal price is $9 per page, which is some of the lowest we've seen. Our team had no issues with this side of company's work.
Sixth Factor: More Things to Know
At this stage, TopWritersReview considered other aspects of CheapWritingService's work. There aren't as important, but they play their part. Free stuff is misleading: the company boasts of providing free revisions & checking papers for plagiarism, but that's a basic minimum for all firms. We found no info about discounts and we didn't receive them.
Summing It Up
Time has come for summing our conclusions up. Look at this list. It outlines our major findings.
Pros
14 years of experience
Mostly good CheapWritingService.com reviews
Cheap prices
Cons
Bad quality & late arrivals
Few online samples
Elusive managers
Insincere policies about refunds
Get Information and Make Safe Choices
Our experience with CheapWritingService wasn't the best. Paper quality was low and we didn't appreciate approach of managers. Our essay also arrived late. You could get an essay cheaply here, but results might disappoint you. We give this provider 3 stars out of 10. If you need the best dissertation writing services or are looking for research writers, we recommend trying other companies first. Anyway, it's up to you, since no you can make an informed decision.