Our verdict: Not Recommended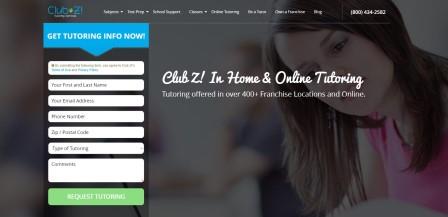 Top 3 services
VIP Support
From $14.99 per page
PhD Writers on staff: 80%
From $12.99 per page
ClubZTutoring Review
ClubZtutoring.com is a company with much the same business model as other tutoring services we have reviewed. It has a corporate headquarters and sells franchises to individuals throughout the U.S. and Canada. Each center operates independently under the umbrella of the corporation.
In providing this Club Z Tutoring review, we explored the content on the website and reviewed the testimonials contained on it. We also sought out and found ClubZTutoring customer reviews on the web and called the company to discuss services and buying a franchise.
This is the result of our investigation.
Services Offered
All standard tutoring services are offered by the company, K-12 and college levels. Students have the option of person-to-person tutoring at home or at the location. There is also online tutoring available for those not in close proximity to locations or tutors. In addition to individual tutoring, Club Z Tutoring holds classes at its centers – SAT and ACT prep and summer reading camps for K-12 students.
Prices
ClubZTutoring prices are not published on the site. No one will receive a firm price until the form is completed and a tutor or location has been identified. This is normal for national tutoring services, because of the big difference in geographic locations and the going rate for tutors. In terms of discounts, we did ask the company about this. We were told that occasionally first-time online customers will be provided a promo code for a discount and that individual locations may provide coupon codes for discounts during their marketing.
The one set price is $499 for SAT and ACT classes.
Quality
Customer reviews were mixed on this. While many were fully satisfied, others stated that their tutors were not a good "fit" and they had to request changes. There were also some parents who did not feel the summer reading program was worth the money.
A common complaint was that all of the processes of getting an actual tutor took some time, and students with urgent needs (e.g., preparing for a final exam) lost valuable time. This appeared to more common with online tutoring services.
Trust and Reliability
In reviewing all of the customer reviews, we did not find any concerns with the reliability of the company or its franchises. Those wanting services filled out a form on the website with their needs, and the company responded with phone calls from the nearest franchise. Specific locations are not listed on the site. All customers do state that they were assigned a tutor within a short period of time after contact by the local offices.
We can definitely say that ClubZTutoring.com is not a fraud or scam. Further, it does have a BBB membership.
Additional Important Considerations
We provide the same advice here that we do for anyone looking for tutoring services. Be careful in selecting a reliable service, and if your tutor is not a good "fit," take the initiative to request a replacement. Tutoring costs are relatively high, and you don't want to waste your money.
Conclusion
This Club Z Tutoring review provides all of the information we have been able to gather. As far as pros & cons are concerned, we find both. If students want to oder the top essay writing sevice they should consider using other companies. ClubZTutoring is well-established and trustworthy, and customers do get tutors assigned. The quality seems to vary a great deal, and that is always an issue with tutoring services. Overall, we are giving this company a rating of "Fair."