Our verdict: Not Recommended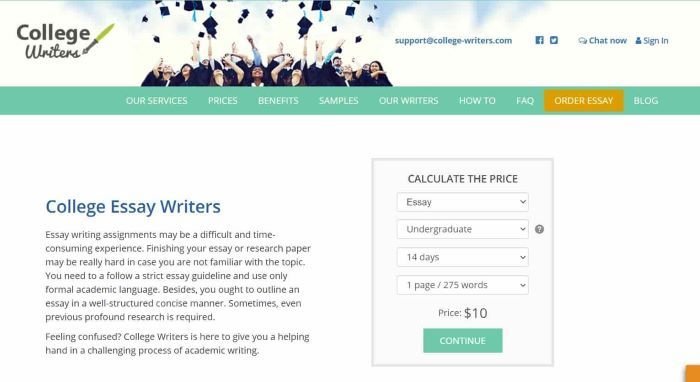 Top 3 services
VIP Support
From $14.99 per page
PhD Writers on staff: 80%
From $12.99 per page
CollegeWriters.com Review
CollegeWriters.com has been in the writing service for several years now, and we have received enough comments, feedback, and requests for a review, that we have done as asked. As always, we provide this summary of College Writers after a pretty thorough investigation. This includes the content on the company website, including posted testimonials, sample writings, customer reviews that have been sent to us or found on the web, pricing and benefits, and, as always, the results of our experience ordering a short research paper. Here is all that we learned.
Factor 1: Types of Writing Services Offered
CollegeWriters provides all sorts of academic writing and serves students at all grade levels – high school through Ph.D. programs. So, you an order anything from an essay or paper, to book reviews, presentations, lab reports and case studies, a thesis or dissertation, and even multiple-choice test-taking. They also offer admissions essays, college paper editing service and proofreading.
For businesses, College Writers will create copywriting for web-based business and other relevant products.
CollegeWriters.com boats that it uses only native English-speaking writers with degrees from known universities – all levels of degrees, to support all levels of study.
Factor 2: Trust and Reliability
The trust factor. For customers of writing services, it means that they can place an order in confidence that it will be completed as they want and delivered on time. Also, it means that their privacy will be maintained. CollegeWriters does a good job of this much, according to customers who have given feedback.
And no one has expressed any concerns about the security of their financial information. They do offer a secure payment method.
All in all, the company is legitimate, not a fraud or scam. It does not, however, have a BBB membership.
Factor 3: Level of Quality
We were disappointed with the CollegeWriters.com website content. Frankly, it is poorly written – lots of mistakes in word usage and grammar. This indicates it is owned by non-native English speaking individuals. That in itself is not bad, as long as they employ ENL researchers and writers.
Unfortunately, to look at some of the sample writings on the site, it looks like ESL writers are also used. Not a good thing.
There are customer complaints about the quality of both research and writing, especially for college-level customers. They say that resources are more for high school than college and that there are composition errors.
We found the same issues with the research paper we received.
Factor 4: Pricing and Payment
CollegeWriters prices are in the average range, from about $13/page at the high school level up to about $54/page for graduate/professional academic writing with a more urgent deadline. Admission essay costs are high. Like at most websites that write essays for you, the price increases with academic eve and deadline urgency.
Loyal customers are given discounts and promo codes for them. These go from 5 – 15% and are based on how much total money the customer has spent on orders. We did not find any discounts or coupon codes for new customers, like many services offer.
Factor 5: Additional Important Considerations
CollegeWriters provides free revisions. We requested them but had a difficult time explaining what needed to be fixed to our writer. In the end, we gave up. Title and bibliography pages are also free.
Concluding Comments
We always try to list pros & cons of the companies we review. In this case, we really only have cons to list. The real proof of any writing company is the quality of its products, and that quality is just not there. Overall, we recommend reading our dissertation editing services reviews. Our rating of CollegeWriters is "poor."