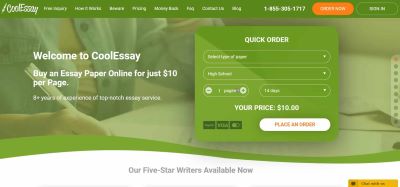 CoolEssay Review
This report is a summary of our investigation and evaluation of Coolessay.net, an online writing service that has been active in the industry for 6 years. Our report is based upon the same criteria and factors that we use for reviews of all the best online essay writing service websites. The information provided on the website itself, communication with the customer support department, Cool Essay testimonials, customer comments found elsewhere on the Internet, a review of actual samples published on the website, pricing, discounts, and any additional features. What follows is a summary of our CoolEssay review.
Cool Essay Services
Primary services are academic, and they include service to students at all academic levels from high school forward. Products include typical coursework assignments that any student might receive – essays, papers, reviews, case studies, projects and presentations, lab reports, and graduate-level theses and dissertations. CoolEssay also offers admissions essays, editing, proofreading, and re-writing. In the area of business writing, it appears that the only offering is a business report.
A customer support department operates 24 hours a day, and when we tested this statement, we found it to be true. Representatives are available via phone and live chat around the clock.
Quality of Products and Writers
To assess product quality, we looked at several things, most importantly what customers have had to say, and a review of several of the samples Coolessay.net has published on its own site. Quality does seem to vary.
In reviewing the comments and feedback we could find on the web and that customers have submitted to our site, the verdict on quality is mixed. ESL students, as well as those in high school, seem to have the highest satisfaction levels with the writing pieces they receive. Students in college and grad programs are more critical.
We carefully reviewed three samples – one research work on violence in schools, one personal essay, and one analysis of the book, Fast Food Nation. We did note some obvious word usage and grammar issues in the pieces, to wit:
​Here is a direct quote from the piece written on violence in schools: "Violence amid adolescents and children lingers as critical trouble in the United States' schools. Information is normally available on risk facets and warning indicators of youth violence in their respective schools, together with the means to avert observed the violence (Seifert, 2006)."
The personal essay was actually

a piece on Shakespeare – it was miscategorized and there were some grammatical issues

The analysis of Fast Food Nation

also contained similar compositional errors and, in terms of structure, was probably attempting to cover too many facets being covered by the author. Narrowing the focus would have resulted in a better piece.
Cool Essay states that all writers possess either a Master's or a Ph.D. and that all are native English-speaking scholars. Given the content writing on the website itself and the samples we read, we believe this is a bit of an exaggeration. It is fine for writing companies to use degreed ESL writers, but they should tell their customers upfront and perhaps have an editing department to fix those typical ESL writing errors.
All in all, however, we have to say that when students order pieces of writing, they provide the details and deadline date, and CoolEssay does deliver. In this sense, it is a trusted and reliable writing service.
A CoolEssay BBB membership was not found; however, there were no complaints filed either, and indications are that the company does operate as a legal entity, based in the UK. We can certainly say that CoolEssay is not a scam.
Prices and Ways of Payment
CoolEssay.net prices are average for the industry as a whole. They range from $10.00/page for a high school essay with a 14-day deadline to $49.00/page for graduate-level writing with tighter deadlines. An 8-page college-level paper, with a 7-day deadline and four resources, will run $151.20.
In terms of making a payment, the company does provide for secure payment processing. Customers may use major credit cards; however, they are all run through either PayPal or G2S, both of which are fully secure. By using these two payment processors, the company never has any financial information of a customer, so customers can feel safe that their financial information will not be compromised.
Discounts
At first glance, CoolEssay discounts do not exist. They are not published anywhere on the site nor is there any type of welcoming discount with a Cool Essay promo code. However, on the order form, there is a place for coupon codes to be inserted. We contacted customer support to inquire about this. It appears that customers will be given a small discount with CoolEssay.net coupon codes provided by that department. This is not publicized on the site except during a short video that explains the production process to customers. They are told to contact customer support if they want/need a discount, and they will receive a code to enter into their order forms.
Extra Treats
This area is a bit confusing. There are certain things that are offered for free – revisions and title and bibliography pages. It is also stated that plagiarism reports are provided for free; however, there is a $14 charge for one that can be added during the ordering process, if a customer selects that option. Customers may also upgrade their writers – there are three levels. Moving up to the 2nd or 3rd level comes with an additional fee, but the end product is of higher quality.
Final Note
CoolEssay.net is obviously a legal and established online writing service. As we look at CoolEssay.net pros & cons, however, we do have some concerns. Some contradictory information is provided on the site, such as the number of writers and access to plagiarism reports. Overall, we have given Coolessay.net a rating of 3.