Our verdict: Not Recommended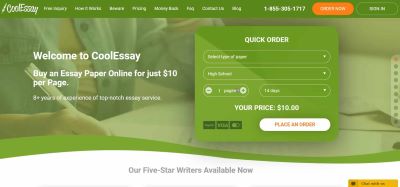 Short overview
Minimal deadline:
4 hours
Guarantees:
Timely Delivery, High Quality, Confidentiality, 24/7 Support, Revisions & Refunds, Cheap Prices
Payment Methods:
Available Services:
Writing, Editing, Proofreading , Rewriting, Business Writing
Extra perks and features:
Samples, Blog Articles, Plagiarism Checker
Summary
Starting CoolEssay review was exciting because many of you wanted me to explore this company. Finally, the time has come, and I gladly delved into my research. CoolEssay has been working for over 8 years, and from the immediate upsides, it has an office in Great Britain. It also employs numerous freelance writers like other academic services, but the fact that you could visit it physically if you wish is a definite advantage. Its prices are delightfully low, reviews are mostly positive, and lots of services are on offer. Everything looked perfect, but from experience, I knew that there might be some hidden drawbacks. That made me even more curious, so I placed my order and learned everything about CoolEssay as a client.
Pros
Good privacy policies
Samples & Academic tools present
Affordable prices
Mostly helpful operators
Cons
Quality is unreliable
CoolEssay reviews are dubious
Revisions might be slow
Top 3 services
VIP Support
From $14.99 per page
PhD Writers on staff: 80%
From $12.99 per page
Interface, Design, and First Impressions
Assessing interfaces of the best essay writing websites instilled certain standards in me. That is why when I accessed the website of CoolEssay for the first time, I felt disappointed. It's not a horribly-looking platform, but there is nothing special about it either. Writing is art, and art should be creative. It doesn't look like managers of this company cared about this. Green, orange and white are the chosen color combination. Pictures are generic and there is no original logo that could distinguish this agency from many others.
CoolEssay.net is informative, which improved my impression a little: it lists relevant information and explains how it works with a satisfying amount of details. Prices, policies — everything is transparent. The content has some mistakes that makes me believe managers didn't bother to proofread it, but these issues are small and they don't detract from the main point. If I had to describe the design and homepage of CoolEssay, I would say that it's not the best company I've visited but it's also far from being the worst.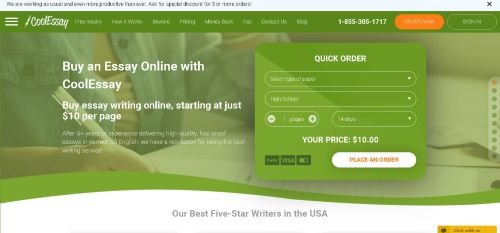 Ordering Services & Reading Free Samples
Various CoolEssay reviews I read mentioned different services. It's a good sign, and I had a chance to verify this personally when I checked how many academic options this company provides. It serves students and other types of clients. You could order a basic high school essay, a term paper for college with lots of research, literature review, critique or a summary; dissertation, or any other university project you are having trouble with. Editing and proofreading are also among available options, just as re-writing. It means that multiple clients will be able to find the assistance they need. What I liked, even more, was that CoolEssays helps business people, too. There is a special category of business writing for those who seek creative approaches, and while I have no idea if its quality is good, the fact of its presence is satisfying.
Then there are samples. Is CoolEssay good at showing that it cares about its clients beyond the offers of paid help? Yes. Samples are not visible immediately, but you can find the link to them at the bottom of the homepage. These are essays that students can access completely for free if they want to get ideas for their studies or check how writers of this company perform their work. From bad news, there are only seven samples available. This is neither here nor there — few people will find them useful. Still, it's good that they exist at all. But what about their quality?
Title: Youth Violence in Schools
Length: 5 Pages
Analysis: This random sample I picked for analysis in my detailed CoolEssay review has terrible quality. It's painfully clear that its writer wasn't a native speaker — mistakes and unnatural constructions are everywhere, in almost every sentence. This line: "Information is normally available on risk facets and warning indicators of youth violence in their respective schools, together with the means to avert observed the violence" should tell you everything you need to know. It is a word soup. Ideas are not well-conveyed and this paper would receive a failing grade from professors.
Quality: Low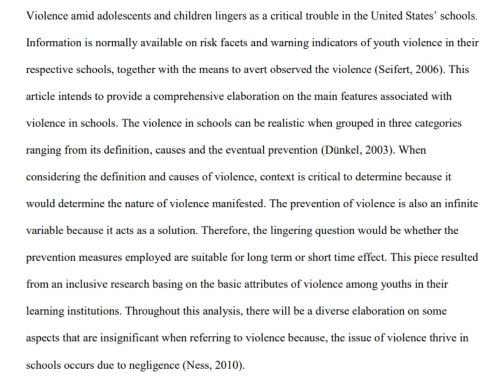 Policies on Confidentiality, Revisions, & Refund
CoolEssay offers strong policies on privacy of its customers. It outlines what info it uses in detail. Not everything is flawless: contact with third parties is possible in marketing purposes, but as long as you are careful, you won't have anything to worry about. Refunds and revisions are available within the first 10 days after essay submission. This is fair and I saw no reasons for criticism.
Cool Essay Review: Pushing Online Chat Button
Any best dissertation writing help service should have a responsive team. During my CoolEssay.net review, I contacted operators to see how quickly they responded and whether they were helpful. I had only the best impressions. I didn't have to wait even for twenty seconds before a company's representative replied, and their answers were complete, polite, and relevant. They weren't as helpful with my revision request, but I understand that they don't have ultimate power over writers. As operators, they do their job well.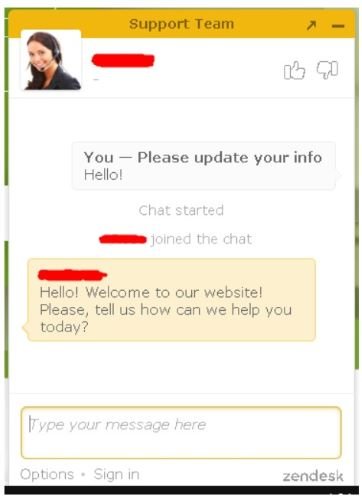 Essay Quality I Discovered
I placed an order with these writers since I wanted to know how they work. Quality is the most important part of every service, it has the power to make or break one's experience, so I had high hopes. I asked for an essay of 5 pages on a generic business topic. MLA formatting, deadline comprising 2 weeks, and I paid $50 in total. This is a low price that most students would find affordable.
Reviews of CoolEssay are positive for the most part, but I can't say I agree with them. My writer submitted a paper on time, but the quality was mixed. There were 80 issues with language and some serious problems with content. Instead of performing a wholesome SWOT analysis, the writer focused on three first points. Threats weren't analyzed, which is a big mistake. One source was not academic. This result was similar to the company's interface: I've seen worse papers, but this one wasn't anywhere as good as it had to be.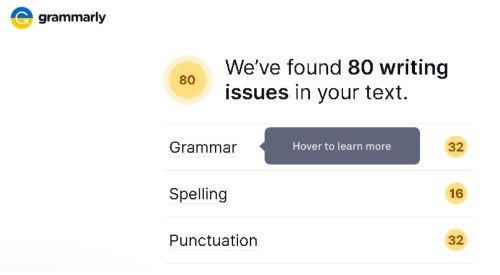 How to Order an Essay in This Company
Order placement should always be easy. I'm going to outline these steps here since other reviews of CoolEssay don't talk about it. This is what you'll have to do:
Use quick order form. Select your essay type, deadline, and essay size.
Provide more details. This is a more developed step. It looks somewhat overwhelming, but all you need is to read carefully and pick relevant options. Decide on the specifics you require: upload files and choose your formatting style. Determine how many sources you want your writer to use.
Consider extras. For extra money, you could ask to see your expert's samples, order summary, use editor's services or buy plagiarism report. I consider the last two options offensive. They should come for free since the company promises plagiarism-free, high-quality essays.
Create an account. Fill in the form with your contact info and create your account.
Pay via the method you like. Choose a payment platform and buy your essay.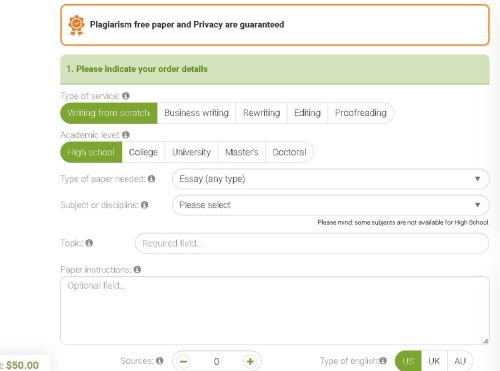 How Much Do These Services Cost?
It's an interesting paradox: all students want to know more about prices yet no Cool Essay reviews discuss them. I'm going to do it because I know how important this topic is. Even the best coursework writing services don't have to overcharge their clients, and CoolEssay doesn't do it either. If anything, it asks for too little for writing help.
| | |
| --- | --- |
| Service | Prices per Page |
| Simple essay | $10 |
| Proofreading | $5 |
| Rewriting | $15 |
| Editing | $10 |
| Business Writing | $20 |
Now, prices for editing and re-writing are too high. These services shouldn't cost as much or more than writing from scratch. Another thing is that sometimes the website glitches and automatically add an extra page of content to your order. Be careful with this or you'll end up paying more. You can see prices for extra options I listed above on a screenshot.

How Good Are These Writers?
As you saw from my review of CoolEssay, my experience with a writer wasn't the best. For my paper to look good, I'd have to use other term paper editing sites for additional improvements. But not all writers in this agency are like this. After I placed revision request and asked for reassignment, another specialist showed excellent results. So writers could be talented — it depends on which one a client ends up with.
Revising Problematic Essays
The company offers revisions for essays within 10 days after you receive it. I used this option and I was happy with results. Another writer did a much better job on my essay. Why only 6 stars, then? Because revision was slow. I had to wait for four more days on top of my 2-week deadline. Most students won't be pleased with this outcome.
Additional Options for Clients
Some CoolEssay reviews praised plagiarism checker, and I agree with their conclusions. This tool is effective, and you could use it without having to pay. The company also has samples that I've discussed. Their quality is low and they are few in number, so I cannot call them useful. At last, there is a blog with academic articles, and many of them have the same problem. Their quality suffers occasionally.
Letting Other Cool Essay Reviews Say the Final Word
When I performed closer analysis, I noticed an interesting pattern. Most positive reviews about CoolEssay are from its own site. Independent platforms are more critical and/or have almost no reviews.
Review Services
SiteJabber
Some comments on this website are good, others are bad. They create a contradictory mix, but what's telling is that no managers reply to them. This shows the lack of care and it is a bad trend.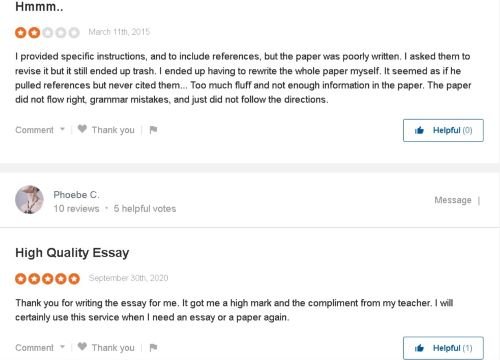 TrustPilot
I found no reviews on this site.
Reddit
Another site with no CoolEssay.net reviews. It doesn't appear like the company is popular.
CoolEssay
Naturally, the website itself has only positive reviews, and almost none of them sound realistic. Check this one out. It resembles an ad instead of a real opinion.

Social Media
CoolEssay has Facebook, but it hasn't been updated in years and I didn't notice any interaction with customers. Its Twitter page is also abandoned and has only around 100 followers.
Show Me Your Top Services
Faq
Is CoolEssay legit?
Absolutely. This company has a physical office in the UK and it has been serving students for almost a decade now. It provides real services on a legal basis.
Is CoolEssay safe?
Mostly yes. You still need to be careful about what data you share, but the company takes responsibility for protecting clients' information and it doesn't share it with anyone.
Is CoolEssay reliable?
Not entirely. Quality fluctuates based on what expert you get. Some of them have excellent qualifications and knowledge, but others still need training. There is no guarantee which expert you'll be assigned.
Is CoolEssay a scam?
No. This writing company is legally registered in the UK and it has an official list with employees like managers. Most writers work on a freelance basis, and they'll provide you with the paper you need.