Our verdict: Not Recommended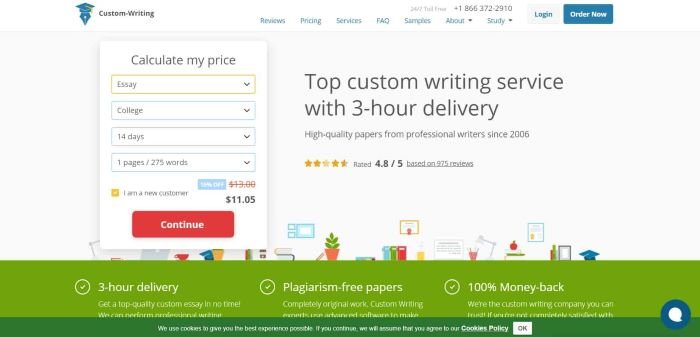 Top 3 services
VIP Support
From $14.99 per page
PhD Writers on staff: 80%
From $12.99 per page
Custom-Writing.org Review
Custom-Writing.org is an academic writing site that has piqued the interest of several of our readers. In order to write fair and thorough writing services reviews, we have taken several steps to learn as much as possible about this company and the services they offer. Before writing this review, we:
Explored the Custom-Writing website.

Received an essay to review for quality and accuracy.

Compared prices and discounts to other sites

Researched Custom-Writing.org online.

Obtained information from other students about their thoughts and experiences.

Noted the services offered.

Read policy pages relating to security, trust, and data privacy requirements.

Engaged with customer support.
Is it safe to use Custom-Writing.org? Keep reading to learn more about our experiences.
Review Criteria
In order to treat all writing services fairly, and to provide you with accurate information, we judge every service we review by the same criteria. This way, you know that you are working with a trusted, reliable business. Here are some of the things we look for as we investigate:
Does the company provide quality, academic writing?

Are products delivered on time?

Is the website well-designed and easy to navigate?

Do customers feel safe placing an order and making payment?

Is there other content on the site that is helpful to students and contributes to them improving their lives?

Are prices reasonable with discounts available?

Are the policy documents easy to find, and easy to understand?

Is the company clear about the way it handles data privacy issues such as GDPR, cookies, the right to be forgotten?

Are writers professional and communicative?

Is customer service accessible and helpful?
We also conduct research to ensure that there are no major legal issues or consumer complaints.
Factor 1: Types of Writing Services Offered
We checked the services offered page, and also clicked into the order page. Based on the information we obtained, this appears to be an academic writing service only. So, if you need help with business writing, or with your resume/CV, you will have to look elsewhere.
Further, it appears as if the available services are somewhat limited. Students who place an order will find fifteen or so options available to them at the undergraduate level. Still, the major writing assignments such as essays and research papers are covered here. We did verify and thesis and dissertation services are available. We did not see any listings for admissions related writing such as personal statements.
For this review, we were able to obtain an essay that had been written for a college student. This paper was written for an English composition style class, so not too complex, but enough to judge writing skills, ability to follow instructions, and research capabilities.
Factor 2: Trust and Reliability
Whether or not a service can be trusted is dependent on two factors. The first is more technical. For example, does the company have a safe way for students to make payments? Do they have policies that comply with privacy laws and regulations? Have there been allegations of fraud and data loss? In this sense, there are no issues with trust or reliability that we have found. Students are able to place an order, make payment, and they receive the product they have ordered. In addition to this, they have clear policies regarding their use of cookies, they disclose the type of information they collect and store, and they are GDPR compliant. Students may obtain information about their personal information, and request that information be deleted.
The second factor is a little more subjective. For example, can the writers be trusted to communicate when they don't understand something? Are the writers as qualified as the site claims they are? Will customer service handle problems professionally and quickly? In this area, things are a bit less clear. We received mixed feedback from students in these areas.
Factor 3: Level of Quality
The paper that we were able to review was well-written in terms of subject matter knowledge. The writer cited sources correctly, and made good decisions with regard to the sources they selected to research. Unfortunately, the paper was in dire need of editing. There were several spelling and grammar issues. Although grading is subjective, we believe these were significant enough that they would have impacted the student's grade had this paper been turned in for a college class.
Factor 4: Pricing and Payment
Prices here are quite reasonable. For a paper done in 14 days, the price ranges from 12 to 28 dollars per page for an essay depending on grade level. Prices are determined by grade level, deadline, and the type of writing. For example, thesis and dissertation papers are significantly costlier than essays.
Payments are made using standard means, and standard payment instruments are accepted. The process is like placing an order online at any other business. Discounts are available. These are detailed on the website. First-time orders receive 15 percent off.
Factor 5: Additional Important Considerations
There are some extra features here that are worth mentioning. The blog posts are well-written. Writing samples are available. However, we did not see an option for students to order a draft version of a paper before committing to a full order. There's an online writing 'tool', but the cost for that is 11 dollars per page, and the benefit to using that appears to be dubious at best. There are some free essays available for download. Students should be aware that these are not intended for academic use. Unfortunately, the site is not very clear about that which could lead to some risky behavior.
Concluding Comments
We give this service 2.5 stars as a final rating. There are definitely some positives here. It is a safe and secure site. The writing is of good quality. Unfortunately, quality control is lacking. Students who do choose to place an order should set their deadline date early enough so that they can personally edit and proofread any work they receive.