Our verdict: Not Recommended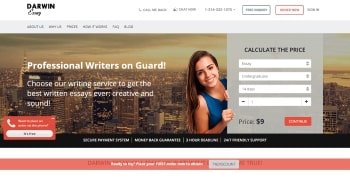 Top 3 services
VIP Support
From $14.99 per page
PhD Writers on staff: 80%
From $12.99 per page
DarwinEssay Review
DarwinEssay.net is not a new writing service. And yet, we haven't gotten around to reviewing the service until now. But we have received a number of requests from our site users who have ordered and received their products, and we do want to accommodate those requests. We have used all of the standard criteria we use for all of our reviews:
We read through all of the content on the Darwin Essay website, including all of its explanations, information, policies, footer pages, and several blog posts.
We read on-site testimonials from happy customers
We reviewed the comments and feedback that users of our site submitted
We looked around on the web to find feedback from other customers
We checked out pricing, discounts, payment methods, and any added benefits
All of these things have gone into this review.
Darwin Essay Features - Standard Academic Essay Fare
The focus for academic writing assistance is on college and graduate student needs. These include all of the standard writing fare – essays, papers, presentations, analyses and critiques, reports and reviews, case studies, lab reports, admissions and scholarship essays, and even graduate and professional school projects, such as theses and dissertations.
The company also offers editing and proofreading.
Many of the services come with add-on fees that can be ordered at the check-out process. We will get into these later.
Here we have to address product quality because this is really the crux of any writing service review. Unfortunately, we were highly disappointed in all that we found.
The website content is poorly written. It is full of grammatical and word usage errors – errors that indicate ESL writers.
The footer pages that provide more detailed product descriptions are also obviously produced by non-native English speakers/writers.
We read several blog posts. Again, while the topics were interesting, the writing was so poor, it was a distraction.
Customers who submitted comments to us were not pleased, except those that paid large additional fees for professional essay writers and for editing and VIP services.
The company insists that it uses only ENL writers. This is clearly not the case
We found a few references to DarwinEssay.net on the web, and they were not complimentary.
The main issue with writing quality – it is just not good. All customers did state that they received their orders on time, though. In this respect, then, Darwin Essay can be considered reliable and trusted.
Customer Protection and Security
This is always a concern when using a writing service. Students do not want anyone to know they are using a writing service, and they have the right to expect confidentiality. Fortunately, DarwinEssay.net does protect customer identity, so customers can feel safe in providing their personal information.
In terms of making payments, the company accepts all major credit cards and PayPal. It uses a third-party SSL-certified payment processor – one that provides a secure method when providing financial information. DarwinEssay.net does not collect or store financial information on its site.
DarwinEssay.net Prices
There is a link to prices on the home page. When we accessed it, though, the chart of pricing was totally blank and we were not able to view the pricing structure. We did contact customer service about this and they stated they would inform the site administrators so that it would be fixed. At the same time, they were able to give us some information:
Prices begin at $9 a page for a basic essay with a 14-day deadline.
The priciest products are admissions essays, and the go all the way up to $98 a page if there is a really short deadline of just hours.
On the pricing page, there is also a listing of extra add-ons that will cost extra. These include choosing a "preferred" writer, VIP service, a plagiarism report, a table of contents, and an abstract. Students who choose these extras will find that their order is far pricier than they first anticipate.
There are discounts available too, and they range between 5 – 10%. First-time customers will get a 7% discount, as long as their orders are more than $30. Loyal customers can get up to 10% discounts, and these are based upon the total amount spent on the site.
Customer Service
We did contact customer support by phone and live chat. Email is also available though we did not use that method.
We asked detailed questions about products. Some of the information was given readily. At other times we were told to check the policies and take up any issue with our assigned writer. We were also told that a full Ph.D. dissertation could be produced within 7 days – that would be miraculous, to say the least.
Conclusion
DarwinEssay.net is a legal writing service that does deliver products based upon customer orders. Beyond that, we have little positive to say. The company uses ESL writers and places a lot of additional charges if customers want decent quality. It should be offering decent quality through its basic writing services. We are giving this service a 2, on a scale of 1-5.