Our verdict: Not Recommended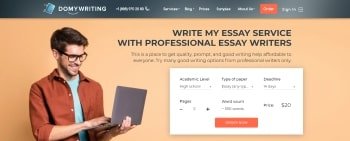 Top 3 services
VIP Support
From $14.99 per page
PhD Writers on staff: 80%
From $12.99 per page
DoMyWriting Review
We are writing this review of DoMyWriting.com because we have received several inquiries from students who want to know if using this service is right for them. Other users have provided comments and feedback on their experiences with the company too. Based on both of these things, we decided to conduct our normal review of Do My Writing.
According to the Do My Writing website, this is an academic writing service that is based in English. It is our sincere hope that the information about DoMyWriting contained in the following paragraphs leads students to make the correct decisions about their academic writing needs. Our final rating will be included at the end of this piece.
Review Criteria
We have standardized criteria when it comes to analyzing academic writing companies such as DoMyWriting.com. These include the following:
Website content, ease of use, and contact information
On-site testimonials
Customer comments and feedback on the web or submitted to us.
Information about writers
Evaluation of sample writings
Pricing, payment methods, discounts, and other benefits
Written policies
Professionalism and expertise of customer support agents
Overall, we are looking for trusted and reliable writing agencies that deliver high quality products and services, deliver them on time, and provide policies that protect privacy and guarantee satisfaction.
Factor 1: Types of Writing Services Offered
DoMyWriting.com is strictly an academic writing service. It provides a comprehensive set of writing products, including essays, papers, reviews, lab reports, critiques, case studies, projects, presentations, homework help, test-taking, and graduate level theses and dissertations. Admissions and scholarship essays are also offered. Students from high school through Ph.D. programs are served.
In terms of content fields, they are all covered.
Unfortunately, students don't have any of this information until they get to the ordering process. There is no listing of these services anywhere on the website pages. And that, we believe, is a mistake. Customer want to see if what they need if actually offered before they get to the ordering stage.
Factor 2: Trust and Reliability
Because this company is not based in the United States, a search of the BBB was meaningless. However, we did uncover some information that cast doubts on the reliability of this writing service. The location information provided on the website is that of a rented mailbox. This means that, in spite of their claims, the company does not have offices or employees in England where they claim to be located.
In addition to this, they are flagged as being listed on the Panama Papers. This is a document that indicates offshore companies that may be dishonestly obstructing their location information.
Still, based upon customer reviews, they do place orders and those orders are filled and delivered to them. So, in those terms, at least, the company can be considered to be legal.
Factor 3: Level of Quality
Our assessment of quality is based on several factors, and here is all that we found:
Customers do complain about the quality of writing. While DoMyWriting boasts only native English-speaking writers with Masters and Ph.D. degrees, we are not certain this is true. The types of word usage and grammatical errors that customers have complained about would not be produced by such writers.
Customers also complain about outdated resources for their research papers.
The samples, while reflecting decent English, lack thesis statements and do not have logical flow of ideas.
The blog has a lot of interesting articles with good tips on writing a variety of essays. But there are glaring word usage and sentence structure errors.
In terms of customer service, we did contact the department and ask specific details about products. Based upon the vagueness of responses, we suspect that Do My Writing is using an answering service. At one point we were told that a full Ph.D. dissertation could be produced within several days – that would be a miracle, to be sure.
Factor 4: Pricing and Payment
Prices begin at $10 a page for a high school essay with a 14-day deadline. Obviously, prices go up with shorter deadlines and higher academic levels. We wish there were a pricing sheet available on the site. Customers will not know their cost until they complete their orders.
Many writing services offer discounts. DoMyWriting doe have a 5% discount for new customers. It states that sometimes it offers special pricing, but we did not find any discount program on the site. Customer support did tell us that students with large order can request a discount.
In terms of payment, customers can use any major bank card (debit or credit), or online services such as PayPal. Because there is a third-party payment processor in place, payments are secured, and you can feel safe giving your financial information when ordering.
Factor 5: Additional Important Considerations
It looks as if title and bibliography pages are free. Beyond that, on the ordering page, there are fee-based upgrades for higher quality writers. A Plagiarism report will cost an extra $10.
The company states that every order is checked by an editor to see that customer instructions are followed, that there is no plagiarism, and that the piece is well-researched and written. Again, this is probably an exaggeration. If expert editors were in place, the end products should not have errors. And yet they do.
Concluding Comments
After weighing all of the pros and cons of Do My Writing, we do not feel that TopWritersReview can recommend this writing service. There are several red flags here. First, the company is not honest about its physical location. Second, customers have a number of complaints about quality. Third, we doubt that every piece is put through a rigorous editing process. In all, we are giving DoMyWriting a rating of 2, on our 1-5-point scale.