Our verdict: Not Recommended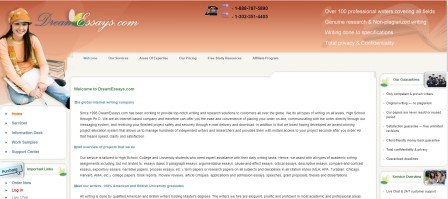 Top 3 services
VIP Support
From $14.99 per page
PhD Writers on staff: 80%
From $12.99 per page
Dream Essays Review
According to its website, DreamEssays.com has been in the writing service business for 10 years. And this is probably true, since we have been able to find comments and feedback on this agency that go at least eight years back. We are just now getting around to conducting a review of Dream Essays, because some users of our site have requested it. We have used the same criteria as for all writing service reviews. Information and other content on the company website, published testimonials, writer samples, prices and benefits, and, of course customer reviews and comments posted elsewhere on the web. Finally, we did order a short research paper, in order to go through the process and receive a produce we could then evaluate ourselves. These are our findings.
Factor 1: Types of Writing Services Offered
DreamEssays provides all types of academic assignment products and services and lists them all on its website. these include essays, papers, presentations, lab reports, case studies, book/movie reviews, as well as graduate level projects such as theses and dissertations. They also provide editing and proofreading.
In the area of business writing, the company offer copywriting services for online companies, as well as marketing materials, business plans, reports, etc. for business professionals.
Factor 2: Trust and Reliability
Customers who have ordered products or services from DreamEssays.com state that their orders are processed promptly and that they do receive their ordered products on time.
We should also note here that customer privacy is respected and that both personal and financial information is protected.
Our experience was the same. We can therefore state that Dream Essays is not a fraud or scam.
Factor 3: Level of Quality
At first glance, we were quite impressed with the content on the website. It is well-written, organized for easy navigation, and is quite professional. But the true measure of quality is in the products produced and delivered to its customers. Here, the issues begin.
We reviewed a sample essay, term paper, and movie review. Unfortunately, they were old and sub-standard and had a copyright from another writing service. The "argumentative essay" was in fact a character analysis from a short story. It was written at about a 6th grade level of sentence structure and contained numerous grammatical errors. The term paper was not better. And the movie review was written in the year 2000.
Customer feedback on DreamEssays is not highly positive. Complaints range from old and outdated resources to poorly written content. While the company insists that it only uses writers with at least a Master's degree from an English-speaking university, we have to question this.
The paper we ordered was replete with grammar and usage errors, and the resources were just too elementary for a college-level piece of writing.
We are clearly disappointed that actual products do not reflect the promises on the website.
Factor 4: Pricing and Payment
Dream Essays prices fall within the high average range, beginning at $17.95/page for a high school essay with a 7-day deadline. They graduate up to $53/page for doctoral level work with an urgent deadline. Business writing runs between $53 - $63/page, depending on the type and deadline. What we found ridiculous is that the company promises delivery of an entire doctoral dissertation within 7 hours for $52.95/page – fantasy!
In term of discounts, there are price break with promo codes for loyal customers. These range from 5 – 15%, based on cumulative amounts spent. There is also an affiliate program which provides discounts when referred customers place orders.
Factor 5: Additional Important Considerations
There are the standard free pages, as well as any type of formatting and a no-plagiarism guarantee. Revisions are also free, along with title and bibliography pages.
Concluding Comments
Our rating of this writing service is "poor." We have assigned it after looking at pros & cons. While the company is legitimate and does deliver products on time, it has exaggerated the quality of its writers, the products reflect ESL writers, and we are appalled that they promise a doctoral dissertation in 7 hours.
We cannot recommend this writing service.