Our verdict: Not Recommended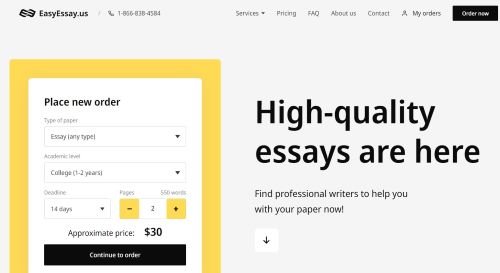 Top 3 services
VIP Support
From $14.99 per page
PhD Writers on staff: 80%
From $12.99 per page
EasyEssay Review: Writers, Quality, Prices
If you're thinking of hiring this specific academic service, EasyEssay review will help you make your decision. You can't trust just anyone with an important task like homework, so learning experts' opinions and seeing bare facts is essential. This company emerged in 2008, and during years of its work, it wrote around 100K pages. Its 500+ writers work on 70 subjects, and its site looks cozy and welcoming. Its content is pretty fluent, something our review team appreciated. At the same time, we found almost no online reviews from customers — this fact made us suspicious. Join us as we make our way through this company and analyze each aspect of its performance.
How This Easy Essay Review Came to Exist
TopWritersReview is always on the lookout for the best essay writing services that could meet any students' needs. EasyEssay wasn't an exception, and we followed the same criteria that constantly govern our work. We studied the background and experience of this company; we looked at what subjects it covers and what its website looks like. Then we placed our order for a research paper in Literature and paid for it, comparing prices with market numbers. Our experts read reviews, spoke with operators, and analyzed results. This helped us reach a conclusion and give EasyEssay a rating.
First Point: Range of Services
The first aspect of our EasyEssay.us review is writing services. We wanted to know what they are and how many types of papers this agency can write. Here's a list with all options:
Academic writing. As we mentioned, Easy Essay supports around 70 subjects along with numerous types of papers. Academic writing is its core service, so you could find nearly anything here: discussion essays, research papers, literature analysis, summary, reflection, speech, dissertation, etc.
Programming. Some reviews of EasyEssay mentioned tech assignments, and that's what the category of programming is for. If students need help with Java, SQL, Python, or other web tasks, they could place their orders — they have great programmers.
Calculations. Problem-solving in Math and similar disciplines fall under calculations sector. We liked the fact that EasyEssay provides this kind of service because a lot of students need it.
Presentations. If you need a PowerPoint presentation, EasyEssay.us could craft it for you. It has specialists who specialize in such tasks and approach them with all their creativity.
There is also an option called "other." It means editing and proofreading, as well as other tasks that don't fall under the options we described. Our team was more than happy with EasyEssay at this stage — it covers lots of services and it has established itself as a diverse as well as helpful academic provider.
Second Point: What Other Easy Essay Reviews Say
To establish the reliability of a company, we examine what students and other customers say about it. This is where we faced our first problem. Despite its many years of work, we saw next to no online reviews about this writing agency. Its website has different comments, but they don't look very convincing. When feedback is 100% positive, chances are, managers filter it and leave only good opinions. In a worse scenario, they write such reviews themselves, so it's impossible to say how many clients really said anything. From what we've found, we cannot confirm whether EasyEssay is reliable and what its customers really think.
Third Point: Sample and Essay Quality
As we were waiting for our paper, we decided to check samples. It's an important part of review of EasyEssay because it helps us see what quality these people consider superior. Our opinion was mixed. There are only three samples available, meaning that their presence is basically senseless. It's great when companies have large databases with free papers for students, and it surprised us that EasyEssay has so few despite working for over a decade. We still checked those three samples. They were mostly of good quality, but they weren't perfect. There were some formatting and proofreading issues, and their practical value was small because they covered similar topics.
Since EasyEssay reviews on a company's site are positive, we hoped for good quality, though we didn't believe in their authenticity. Unfortunately, we were in for a bad surprise. The paper arrived four hours late. We got an apology from support team, but it didn't matter much because if we were real students, we would have failed our assignment. The quality wasn't great either. Our essay had major content and structure errors, and our writer used sites like Wikipedia, which is unacceptable in any credible academic work. We placed a revision request, and two days later, we got an improved version. It looked better, but it still had many mistakes. Our review team was deeply disappointed.
Fourth Point: Writers and Customer Support
When we recommend the best admission essay writing service to our readers, we look at writers and operators. In this case, we didn't like the work of writing experts, but we appreciated how friendly customer support team was. They tried to answer all questions and apologized when we voiced our dissatisfaction. Writer, on the other hand, was late and said nothing. Their work was hardly professional.
Fifth Point: Prices and Their Specifics
No EasyEssay.us reviews talk about prices, but it's one of the most critical aspects of a company's work. Students hate overpaying and they always hope for lower prices. We have mixed news for them: this company asks for average prices that are on the verge of being high. One page of high school content with 2-week deadline costs $15. In comparison, in some other companies, the price is around $12. It's not outrageous, but it is a lot. If you are on a tight budget, you might have to look elsewhere.
Sixth Point: Additional Considerations for Students
There are more things that our team looked at when working on our review. EasyEssay hires writers from all over the world, not just English native speakers. On the one hand, it's good because many people know English no matter where they live. Some of the best writers might be among non-native speakers. On the other hand, this increases chances of bad work and odd grammar constructions. Also, EasyEssay supports hot deadlines, which is great. It accepts orders under 4 hours, but since our paper was late, we cannot comment on whether you'd get yours timely. If you need discounts, you should discuss them with operators because there is conflicting info about it on a website.
Weighting Advantages against Disadvantages
Now it is time to sum things up. During our analysis, our review team paid attention to both positive and negative factors, and we're going to list them below. Use this list in case you don't want to read the entire review or hope to refresh your memory.
Pros
Friendly support team. These guys are friendly and helpful, and they try to be supportive at all times.
Welcoming site. Design is nice and pleasant.
Many academic services are available. Students could choose between any writing services.
Cons
Lack of trustworthy reviews. We found no reviews of Easy Essay US that seemed real. The only comments from clients are on a company's website.
Dubious quality. Papers don't always have acceptable quality.
Failed deadlines. Orders might arrive too late.
Somewhat inflated prices. EasyEssay doesn't have the lowest prices even with possible discounts.
More Reviews = More Information About Academic Writing
Our review on EasyEssay started on a positive note, but eventually, it turned sour. Bad paper quality, high prices, and late deadlines are serious problems that can't be compensated even with solid work from operators as well as good array of services. We give this company 3.1 points out of 10, but we're going to revisit it later to see if it improved. Stay tuned and read other reviews to find your perfect academic assistance.