Our verdict: Not Recommended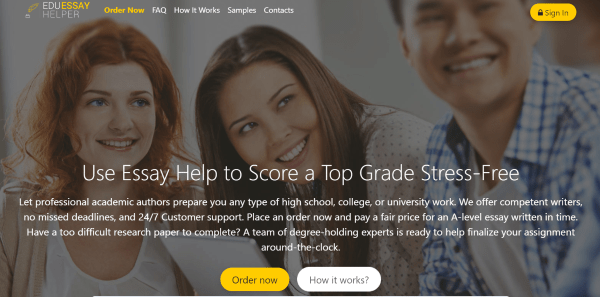 Top 3 services
VIP Support
From $14.99 per page
PhD Writers on staff: 80%
From $12.99 per page
Edu Essay Helper Review: Learn the Truth Before Hiring
Each of our research is dedicated to our visitors and Edu Essay Helper review isn't an exception. You asked for our opinion on it, so here it is. This company has been operating since 2014, serving clients from US and other countries. Interestingly, most of its orders come from abroad, so its specialization lies with international students. It has 310 professional writers. To date, Edu Essay Helper has completed more than 60K orders, and it claims to have a rating of 4.73 out of 5. We don't know on what basis it made this conclusion, so we cannot tell you how true it is. Its website is nice, but it's a bit overwhelming. There is a lot of information, and sometimes it repeats itself. Texts are more or less fluent, but they have some mistakes that made us think they weren't written by English native speakers. For example, "feel free to spend the time remained today" is obviously incorrect, just as "let professional academic authors prepare you any type of..." But we were curious what else we could uncover, so we eagerly dived into our exploration.
Our Criteria for Writing This EduEssayHelper Review
We want our visitors to know how exactly we evaluate companies in our search for the best paper writer service because this creates an atmosphere of transparency.
We looked at what kind of experience EduEssayHelper has, how many reviews its clients left online, and what its website is like.
Then we studied prices and payment methods, comparing them with market standards.
Our team always places an order in some subject and watches how they perform from that moment up to the delivery.
Communication, reputation, accuracy, diversity of writing services, and timely paper arrivals form the core of our review process.
First Point: What Services Students Could Order at EduEssayHelper
One of the first things people wonder about is what kind of services they could order from a specific company. This is what our review of EduEssayHelper focused on. From experience, we know that most agencies prefer to support all possible academic tasks. Others choose a niche, but it seems like EduEssayHelper went in a different direction. Its core services are limited in a way that's not explainable. For instance, it offers writing, editing, and presentation. No info on proofreading or re-writing is given, though they are common and simple academic tasks. Confusingly, when you place an order, you're taken to another website called Study Crumb. Its order form does offer to proofread, but rewriting is still absent. We weren't certain what's going on and why two platforms are available at the same time when they have different information.
What we liked was how many essay types a student could order. They include dissertations, research & term papers, reviews, critiques, coursework, and many other things. The list of subjects that writers of this agency cover is also endless. Social Sciences, Arts & Humanities, Sciences, Law, Business, Technology, and several other forms of content writing are present. Students could select practically anything, so our team appreciated this fact.
Second Point: What Edu Essay Helper Reviews Say
At this stage, we checked whether this service has a solid online presence. To our disappointment, we barely managed to find anything. There are no reviews on popular websites where students usually exchange their opinions. Out of curiosity, we checked comments on both companies (EduEssayHelper and Study Crumb), but results were the same. This is a bad sign. Reliable companies that have been working for 3+ years must have at least some reviews. It's odd when there is nothing.
As for policies, they aren't bad. You could find them in the FAQ section. Still, some of them are too vague, and to us, it seemed like the company wasn't willing to provide revisions and refunds. If 14 days pass since the moment you got your essay, chances of getting money back or improving it will be non-existent. It's not very fair, considering that most professors took a while before offering their feedback.
Third Point: Basics of Quality
Quality is the essence of EduEssayHelper.com review. We placed an essay on Sociology, and as we waited, we looked at the samples. These are free papers written by writers or successful students that the company liked enough to display for its visitors. You can draw inspiration or ideas from them. We were happy to see that EduEssayHelper has samples, but when we looked at them, it was underwhelming. There are very few papers available, and their quality leaves a lot to be desired. These are certainly not academic works.
Our essay arrived in 10 days, as we needed it, but it was two hours late. It's not a big delay, but it is still unpleasant because what if we had no time to spare? What is this deadline was the longest we could afford and we had to submit an essay right away? No delays are acceptable when it comes to academic writing services people pay for. Sadly, we don't know if our order was an exception or if more people suffered from it since there is a serious lack of EduEssayHelper.com reviews. Our experts started checking quality, and to their concern, it didn't meet any acceptable criteria. There were too many direct quotes; paragraphs started inappropriately; thesis was absent and random sources like blogs were chosen. Two points out of five weren't addressed; one point was mentioned in one sentence only. This work was completely unsatisfying, so we placed a revision request. It took a long time, and two days later, we got a pretty much identical paper. This told us everything about quality standards.
Fourth Point: Support from Writers & Operators
We weren't happy with writers' work — essay and revision weren't good. Operators were better, but they weren't ideal either. Their replies took lots of time, and they couldn't answer even basic questions. They were eager and nice, but they needed more knowledge on their company's policies.
Fifth Point: Prices
EduEssayHelper.com has pricey services. One page costs $15.00: it isn't a fortune, but it's more expensive than what lots of other companies offer. There are some extra options, too, and this is where real problems begin. Like every other student, you probably want your paper to be 100% unique. And that's understandable: who wants to pay money for some plagiarized work? But at this company, you'd have to pay $20 for plagiarism report! This is outrageous — we aren't surprised there are next to no EduEssayHelper reviews: people likely see this condition and just close the tab. Normal companies provide plagiarism report for free because it's their responsibility to submit unique essays. Some of them ask about $10, which we don't approve of. But double that sum? It's ridiculous. From payment methods, there are MasterCard, Visa, and American Express available.
Sixth Point: Other Feature
EduEssayHelper offers samples and such extra stuff as additional quality check. Clients could also choose one of top ten writers. If they need a summary, they could order it separately, but of course, all of it costs money.
Summary of Results
Now let's see what strengths and weaknesses EduEssayHelper has. Our review was quite long, so you might have forgotten some bits already. Here is a helpful summary.
Pros
Many types of essays available. Students could pick between any paper type they need in multiple subjects.

Revisions, refunds & confidentiality guaranteed. Company's policies cover these promises, although there are some conditions. Read them carefully.
Cons
No reviews of Edu Essay Helper. This company has been working for seven years now, but we didn't find any reviews about it online.

Low quality. Writers don't need academic standards. They might also deliver papers late.

High prices. Essays are costly; services that should be free, like plagiarism report, are even costlier.

Confusing platforms. When students try to place an order, they are directed from EduEssayHelper to another site, Study Crumb, which also has no reviews.
Closing Words & Advice
After finding no reviews of EduEssayHelper, we were happy to create ours. This company has good experience, but its quality is low while its prices are higher than normal. Writers don't do their jobs properly. We give it 3 stars out of 10, and we cannot recommend it. If you need help, try reading our reviews on other services.