Our verdict: Not Recommended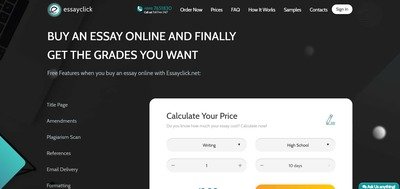 Top 3 services
VIP Support
From $14.99 per page
PhD Writers on staff: 80%
From $12.99 per page
EssayClick.net Review​
EssayClick.net launched its writing service in 2014, and the website states that its physical location is in Atlanta, Georgia. During these almost six years, there have been enough comments and discussion about Essay Click on our website, that we believe a review is warranted. To complete the EssayClick review, we used our standard criteria:
We want to see a company website that is well-organized and easy to navigate
We want to see all of the products and services clearly listed for customers to see
We want information about the writers a service uses
We want to see customers saying they are satisfied with the products and services they receive, that their instructions have been followed, and that delivery is on time
We want to see prices that are reasonable for high quality and that vary based upon clear factors
We want to see a professional, responsive, and reliable customer support department
We want to see sample products, in order to gauge writer quality
We like to see a blog with interesting and informative topics and content
We want to see clear legal policies related to terms and conditions and privacy, as well as secured payment methods.
This is a lot to look at, of course. But if we don't dig deep and get the details, our visitors and users will not have all of the information they need to make good choices for the best and cheapest essay writing service.
Here is everything we found out about Essay Click.
Factor 1: Types of Writing Services Offered​
EssayClick.net focuses on academic writing – both products and services – for students from high school through Ph.D. programs. Additional services include editing and proofreading, help with homework assignments, admissions and scholarship essays, and visual presentation materials. We did not learn this from the company website. We were given this information by a customer support representative.
There is no listing of products and services, even on the order page. In fact, that page doesn't even make it easy for anyone to order more than a type of essay or paper, editing/proofreading, or a presentation. This does not make sense to us. How does a student order help with a project, a book review, or a case study? How does a grad student get research and other help with a thesis or dissertation? We were told these types of orders could be placed through customer support. This is a major inconvenience, not to mention that nowhere on the site does it say this. If we were new customers just having a look, we would look at the order form and assume that only those three things are provided.
Factor 2: Trust and Reliability​
The factor of trust relates to what the website states and what it actually practices. For example, it states it uses only native English-speaking writers. And yet, the website content is filled with grammatical and word usage errors that indicate an ESL writer has composed it. It is not the quality one would expect from a company that uses only native English-speaking professionals.
Another concern is that there are no policies on the site – no terms and conditions, no privacy policy, etc. This is a major issue. The only reference to these policies is that a customer checks a box stating that he agrees to them. And yet, there is no way to access those policies on the site. How can a company be trusted if it will not publish its policies?
Factor 3: Quality​
Quality of products is another concern we have with EssayClick.net. We base this on the following:
Customer reviews are predominantly negative. Customers complain about bad writing, old and poor resources, and difficulty getting revisions that make the final product submissable.
The website content is relatively well-organized, although there is not a lot of "meat" about the specific products for the reader to view.
There are samples. We were able to access the page, but only got 404 error messages when we clicked on a piece to read. We have seen these same samples on other websites, and they are poorly written.
There is also a blog. The article topics are great, but the content very thin.
Customer comments on EssayClick are very mixed, but most were negative, at least in part. The most common complaints were poor writing and resources. A small number complained about getting revisions, and only a few stated a deadline was missed.
Factor 4: Pricing and Payment​
Essay Click prices are within the average range. A high school student will pay $12/page for a basic essay with a two-week deadline. Prices range up to $50/page for Ph.D. level work with more urgent deadlines.
We looked for discounts but could find none. Nor was there any coupon code that might be provided for a newcomer discount. When we asked the customer support department about discounts, we were told that they were sometimes granted if customers requested them.
Payment procedures are completely secured and customers can feel safe providing their financial information.EssayClick.net uses a third-party processor that many other online retailers use safely.
Factor 5: Additional Important Considerations​
EssayClick offers the standard free pages plus formatting and email delivery. Other than that, revisions can be requested. We did not find any other unique features or benefits.
Concluding Comments​
We are definitely not impressed with Essay Click. In considering the pros & cons, we find very little, if any, to compliment. And there are a number of cons that concern us – poor quality and lack of policies being the largest. Overall, our rating is 2 on a 5-point scale.