Our verdict: Not Recommended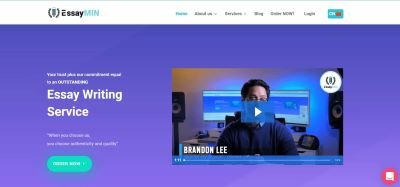 Top 3 services
VIP Support
From $14.99 per page
PhD Writers on staff: 80%
From $12.99 per page
EssayMin Review That Will Shed the Light on This Service
Our review experts decided to write an EssayMin review after we started getting more and more requests from our visitors. In a way, it's not surprising: EssayMin is an old company that has been working since 2006. For more than a decade, it's been expanding its base of clients. Things quietened down for a while, so we almost forgot about this service when its presence suddenly began to grow again. Our goal is to help you find the best writing services that won't leave you bankrupt. Is EssayMin among these top options? Let's find out together!
Our Criteria for Writing Essay Min Review
Our review team placed an order with EssayMin, asking for a research paper on the topic of English Literature. Deadline was 2 weeks; we wanted 5 pages to be written on a Master's level. Before making our evaluation, we looked into the services' background, checked their prices, guarantees, and communication channels. We studied EssayMin.com along with its history — it helped us establish that the company has been working long enough to be credible. Finally, we assessed its quality and made our verdict.
Criterion 1: Diversity of Services
Some students are interested just in finding the best assignment help website, but others are more demanding. They want their ideal company to be diverse, and that's exactly what EssayMin guarantees. It offers many different services: they range from papers on any subject, admission essays, case studies, complex research, dissertation, annotated bibliography, literature review, business proposal, speech, presentation, and so on. The choice is big, and numerous EssayMin.com reviews expressed satisfaction with this fact. We were pleased, too. You can truly find any kind of academic service in this service, so we give it 1 point, which is the highest mark in this category.
Criterion 2: Reliability & Trust
Background and first looks matter. The website of a company gave us insights into quality we might expect. Here, our impression was mixed and closer to being negative. There are four fixed reviews of Essay Min displayed on the home page, and they clearly weren't written by real clients — three out of four sound absolutely fake. You can use a chat option to speak with operators 24/7, but no other contacts are mentioned anywhere. We still have no idea whether EssayMin even has an office or if it is an online-only company.
The design of a website is acceptable, but its content is full of embarrassing errors. For example, the first thing we did was check mission statement — we wanted to see how the company presents itself. To our reviewers' disappointment, it had very short and awkward sentences. There was a lot of repetition and some glaring mistakes, such as "is offers," "facilitate for the effective management," etc. In FAQ section, one of the answers had the wrong name of a company! It means that EssayMin didn't bother hiring professional English-speaking writers when it was filling its website with content. If it doesn't care about its image, how can clients trust its services? Because of this, our reviewers cannot give it any points for this category — the service doesn't look trustworthy.
Criterion 3: Quality of Essay Writing and Samples
This is the most important element of our work. Quality determines how successful your paper is going to be, so all your requirements must be met 100%. But as we were waiting for our Literature research to be delivered, we checked the available samples. Some Essay Min reviews indicated that they are flawed, so we wanted to take a look at our own. On the one hand, the thing that samples are present is already great. But unfortunately, they are really not the best. Most of them are in Harvard formatting, which is limiting; formatting along with the text has multiple issues. Some samples are better than others, but for the most part, they all have grammar issues, awkward constructions, and pretty informal language.
Our writer delivered our paper on time, which was a great sign. Our reviewers analyzed it on a basis of standard academic requirements, and here, our opinion was mixed. The content itself was good — all questions from instructions were answered and MLA formatting was respected on all accounts. But the style was not Master's like we ordered. It was amateurish and of a high school level at best. EssayMin claims that it hires only native speakers, but it is obviously not the case. So, we didn't really get value for our money. While we consider every aspect of their performance before giving it a final rating, quality is a decisive factor. Out of 3 possible points, we give EssayMin 1.
Criterion 4: Prices and Payments
This is a vital aspect of EssayMin.com review because all customers always want to know how much they'll be paying for a writing service. The company doesn't disclose its costs openly — it only gives some vague hints, which isn't a good practice. Based on our order, prices are far higher than the norm. We paid $30 for one page of content — in other services, it would be by about $10 lower. Since we weren't fully pleased with our essay, we can say that price-quality ratio wasn't appropriate.
Payment system is secure. EssayMin offers several options, such as PayPal and various credit cards. American Express, Visa, Discovery, and MasterCard are all supported. Based on all these payment-related aspects, we assign the company 0.5 points.
Criterion 5: Additional Factors
The rest of factors that we noticed also affected our review of Essay Min. We'll mention them all. Of course, what we experienced isn't universal, but it's still a good indication of what you could expect as a client.
Online support. Our reviewing experts tested the company's team of operators to check how diligent their work is and if they are ready to offer top-level of assistance even at night. We remained pleased. We got quick replies to our questions, even though the system itself was difficult to navigate at first. People working for EssayMin know what they are doing, and they are helpful, which is essential in a service like this.

Guarantees. Our expert reviewers checked what promises the company makes to its clients to verify their truthfulness. This includes info about revisions, refunds, confidentiality, etc. Overall, we remained satisfied. EssayMin provides its clients with free revisions, although it might take your writer some time before they deliver an improved version of paper. Refunds are provided as well, but a bit reluctantly — managers will keep encouraging you to give them another chance. Privacy is secured.

Blog with useful advice. EssayMin has a blog full of helpful tips for students. Like with every other piece of content, fluency and style suffer — it is painfully clear that only non-native English speakers work for this company. Still, the texts are comprehensible.

No plagiarism. This service ensures that all its works are original. It uses its own tools, but unfortunately, it doesn't have a free plagiarism checker that customers could use.
We were satisfied with these extras. The fact that this academic provider works with short deadlines also pleased us. That's why we give it 2.5 more points.
Read More EssayMin Reviews and Make a Decision You Won't Regret
TopWritersReview has been working hard to provide you with the freshest info. This year, EssayMin got 5 points out of 10. We don't recommend its services because while they aren't the worst, they are not worth their price. There are far better companies out there. If you're interested in more academic options or would like to read something like resume writing services review, scroll down our website. We have all the recommendations you might need!