Our verdict: Not Recommended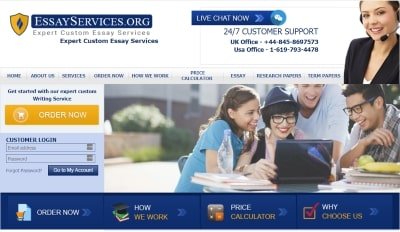 Top 3 services
VIP Support
From $14.99 per page
PhD Writers on staff: 80%
From $12.99 per page
EssayServices.org Review
The following is our review of Essayservices. This summary of quality of services is the result of our ordering writing services, and analyzing the final product for accuracy and quality. In addition to this, we have explored the writing service website, researched the company through several different channels, and read other customer reviews.
Review Criteria
Our number one criteria is writing quality. If a company cannot be relied upon to produce quality products we cannot give our endorsement. After writing, we look at quality of customer service. We expect customer service agents to be knowledgeable, courteous, prompt, and helpful. Price and value is our next concern. Finally we consider other factors such as reputation, website navigation, quality website content, and any bonus considerations.
Factor 1: Types of Writing Services Offered
From what we were able to tell, this company only offers academic writing services. We placed an order for an essay to write this review. However, the standard other types of writing such as term papers, research papers, etc. are also offered.
Factor 2: Trust and Reliability
We did receive the paper that we paid for, and did not find accusations of fraud when researching the company. However, before we say that Essay Services is not a fraud or scam, it should be made clear that the company is listed as out of business by the BBB. Previously, it was not accredited by the same organization. This means there may have been a change in ownership, or an attempt to deceive or cover up prior complaints.
Factor 3: Level of Quality
SOP at essayservices.org is to provide a short draft of the paper they are writing for the customer to review. The customer can then decide to proceed with their order or request changes. Our rough draft was very well written. So, we went ahead with our order.
Unfortunately, what we received as a final draft in no way measured up to the quality of the rough draft. It was poorly written with several spelling and grammatical errors. It was not at a college grade level either. In order to make this paper 'right' would have required an almost complete revision.
Worse, when we approached customer support about this, they were simply unhelpful. Overall, quality here does not seem to be a priority on any level.
Factor 4: Pricing and Payment
We paid sixteen dollars a page for our essay from Essay Services. Compared to other writing services, these prices are pretty average. Unfortunately, due to the fact that the quality was below our standards, and customer support was lackluster, the value here is pretty low.
They do offer discounts and we were able to use a promo code to save a bit of money. However, coupon codes don't really make up for lack of quality. It would be more satisfactory if they would simply improve service and screen their writers more carefully.
Factor 5: Additional Important Considerations
It doesn't appear that EssayServices has much else to offer beyond writing services. We were unable to find articles or blog posts anywhere on the website. There were also no videos or any other bonus content that can make sites like this engaging or interesting. As of the time of writing this review, links to writing samples were broken. We can say that extras would be wasted here as the real issue is writing quality and customer service efforts.
Concluding Comments
In the end, when writing essay and research paper writing service reviews we must make quality the number one consideration. In spite of a few positive testimonials about Essayservices.org, our experience was largely negative. Therefore, after weighing the pros & cons, our final recommendation is that students look for another writing service provider. This one is simply not up to par.