Our verdict: Not Recommended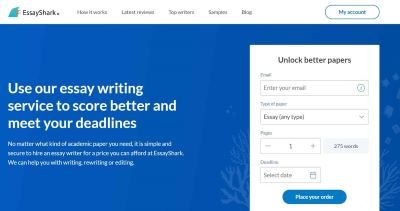 Top 3 services
VIP Support
From $14.99 per page
PhD Writers on staff: 80%
From $12.99 per page
How EssayShark Welcomes Its Visitors
For a company among best academic writing services with such an interesting name, I expected a better interface when I started my EssayShark.com review. The blue background is fitting, but the images are too vague and only a couple of them are present. The major parts of design comprise plain text. It's mostly fluent but it sounds as boring as it looks: simple short sentences, repetitions, the same info as on any other platform. There is no individuality to it. The layout is not clear: clients won't immediately see what services they could order and how much they'd have to pay for them. They'd have to browse the site until they find all these options with explanations. All links work well, though, and some info is useful. You can learn how many writers are online to better evaluate your chances of getting assistance ASAP.
Essay Shark reviews are closer to the bottom of the page, and I had big questions about them. After I placed my order, I had no way of leaving a public comment like this: it makes me think that reviews are either fake or monitored heavily, with only positive ones making it through. Lack of online chat makes instant communication impossible. But I liked the list with writers and their grades — this could help you get an idea of who you could choose for your project.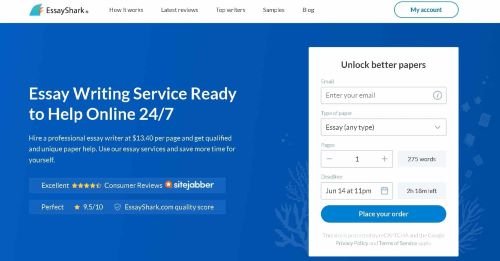 What Types of Papers This Service Covers
EssayShark offers numerous services, although you won't see half of them in the order form. Students could ask for writing of essays, research, analysis, reviews, reports, dissertations, and other projects with different levels of complexity. "Other" option hides such services as rewriting, editing, and proofreading. This is a standard range and I wasn't surprised to see it.
Another important aspect is essay samples. Not all companies provide free essays for students, but EssayShark is among those who care. Its collection is big enough to be useful, and though the sorting system is lacking, it offers instructions in addition to paper text. This way, you could compare how well a writer coped with their task. I picked one random sample to evaluate its quality.
Title: Admission Essay Sample
Length: 4 pages
Analysis: For detailed EssayShark review, I performed an immersive analysis. The client of this sample order asked for 2 pages, and the writer wrote 4. Sometimes it could be beneficial, but not always, and definitely not when it comes to admission papers. They have strictly limited length and if you submit a longer paper, you might fail even before anyone reads it. The text itself is vastly uninspiring. This is a good example of how not to write college applications: no one likes generic papers with vague details. Language is overly simple and writer makes mistakes. "Abroad programs," confusion between "that" and "which" — most sentences are awkward and unpolished.
Quality: Low-to-medium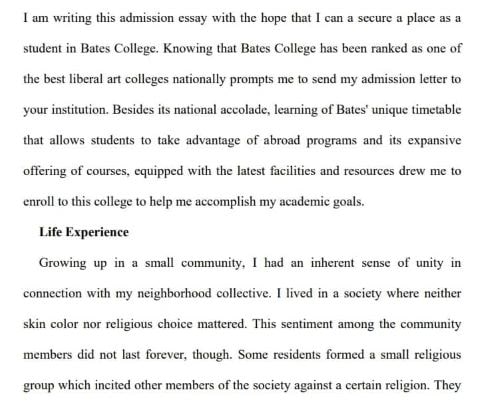 Privacy and Quality Guarantees
Is EssayShark reliable? It outlines its policies thoroughly, but I cannot say they inspire trust. Any personal info customers provide is going to be stored on company's servers and shared with multiple third parties. In turn, they might use it for marketing, security, or something else. I don't appreciate such an approach because it isn't reliable. Revisions and refunds are available, but they come with annoying stipulations. If you accidentally release payment to a writer, it means automatic acceptance and you won't be able to complain about quality. If you approved of most essay sections but hated the rest, the same principle applies. I think it's exploitative and not very honest.
Online Chat with Operators
Is EssayShark good at communication? Not really. It has only email for contact unless you create your account. Once you do, you'll be able to access ticket-based support. You ask a question, get a ticker, and at some point, someone gets in touch. The lovely shark-like creature is a definite plus here: I loved this part of the design, but communication itself left a lot to be desired. I had to wait for an answer for over 20 minutes. The first operator was cordial and helpful, but two others I contacted later were a nightmare. Their replies were snappy, they got arrogant and their English was bad. Such an approach didn't inspire me to initiate more contact.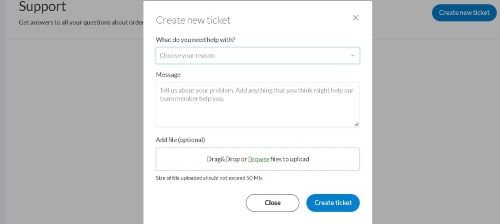 Essay Shark Review: Establishing Quality
Whenever I look for the best coursework help service among endless options, I pay most attention to quality. Students have different budgets, but each of them hopes for top results. With EssayShark, I had a chance to select my own writer, and that was a difficult task. Many people placed bids on my order. This was a simple English essay with 5 pages, and I wanted a 2-week long deadline. I chose an average expert: their messages were not the most fluent, but they were okay. I didn't want to settle for the best or worst writers because the middle always shows the most.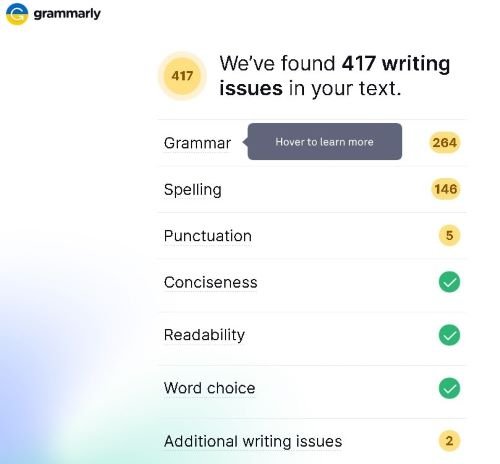 On the fourteenth day of my review of EssayShark, my final deadline arrived. I didn't want to check sections of the paper: I agreed to review the entire project. To say it was terrible is to say nothing. Look for yourself: my paper had more than 400 language issues! They ranged from problems with grammar to punctuation and stylistic choices. Despite the simple task, my writer failed to answer key questions. Everything was vague and conclusions looked like a child wrote them. I refused to make the final payment and asked for revision.
How to Place an Order for Essay Writing
If students want to order research paper editing services or project help, they need to follow certain steps. EssayShark.com asks for the same thing, but the process is somewhat complicated.
Create an account. You need to share your email, confirm it and use a generated password to log in.
Describe your task. Indicate your topic, discipline, type of paper, length, deadline, and academic level. Choose format & share instructions and decide if you want bids or for managers to find writers for you.
Pay for your order. EssayShark reviews often express confusion over this. Basically, you reserve your money for a writer: they don't access it until they finish their work, but you also cannot return it unless you request a refund.
Select a writer. If you decide to look for writers personally, see what bids they place and reply to messages of those who interest you. Be careful here. Writers might flock to you in great quantities, which could be overwhelming: look at the quality of their messages. If they make mistakes or are too pushy, it might be better to avoid them.
Keep track. Ask writers for updates, review parts of their papers and essays in their entirety. Don't release payment until you feel satisfied.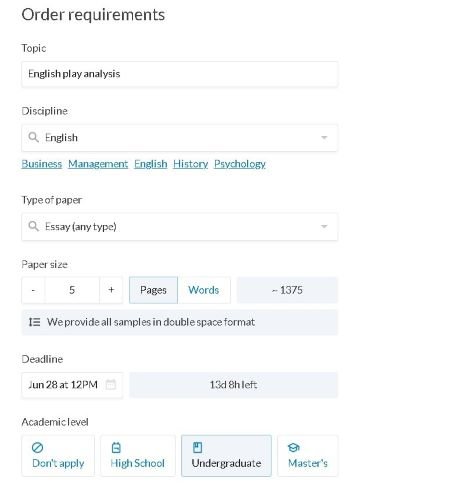 Overpaying, Underpaying, or Paying the Perfect Sum?
Like numerous EssayShark.com reviews will tell you, the company has a bidding system. It means that writers charge from small to high amounts — you have a right to pick them on this basis. On a website, there is a promise that the smallest price is $13, but this isn't true. I checked: automatic writer assignment is at least $20 per page. This is higher than normal. No control over writers exists and they could charge you whatever. I ended up paying over $100 for 5 pages.
How Writers Come Across
Essay Shark reviews differ when it comes to writers. Some are happy, others are not. Bidding allows speaking with candidates, but I have to say that most of them didn't impress me with their language skills. Desperation and poor grammar were prominent features. My writer seemed average at first, but they produced a terrible paper with unacceptable quality; they didn't follow my requirements in the least. I was deeply unhappy with their work.
Could Revisions Turn Bad Essay into a Masterpiece?
Short answer is, I have no idea! Upon hiring the best dissertation writing service from anyone, I like to give people chances to improve their work in case it isn't perfect, but here, I didn't get a chance. Like some EssayShark reviews complained, managers argued that the paper is acceptable since I approved of it. I didn't. Soon enough, I gave up, and naturally, I got no money back. The best thing I can say about revisions here is that this option exists.
Academic Gems for Students
Students could use samples for their papers. In addition, EssayShark has a free title generator: if you cannot come up with a name for your essay, this tool will do it for you. Plagiarism checker is also available, and it could show how original your content is. The presence of such tools is highly positive: the only drawback is that samples do not have the best quality. Managers should watch out for what they include in their collection.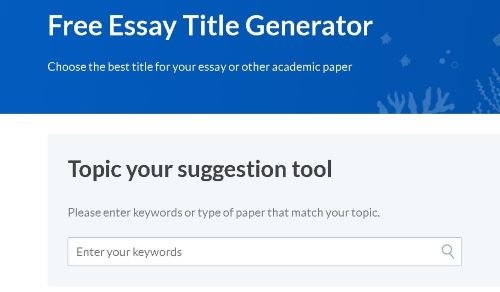 What I Learned From Essay Shark Reviews
Most reviews about EssayShark are positive, but a lot of negativity is present as well. The funniest thing is website comments: no clients can post anything there. Here is what independent platforms say:
SiteJabber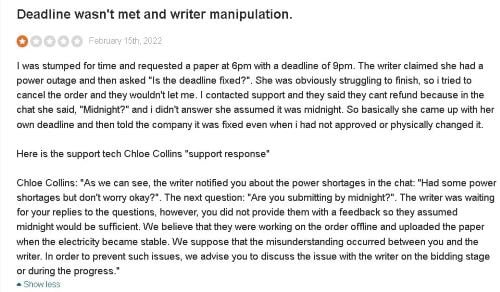 This is an example of a recent review. Client also had a negative experience with operators and their writer. It's authentic since this specific support representative interacted with me, too —the refusal to admit that the writer was wrong is maddening. Most other reviews are positive, though half of them sound like managers wrote them. Management replies to many comments, which is good.
Reddit

Reddit reviews are majorly negative, though to be fair, I couldn't verify how real the posters are. One was suspended, the other one had nothing but reviews of EssayShark in their profile.
Social Media
EssayShark has Facebook account that is active and interesting, though students don't seem to interact with it. Twitter is the same, but Instagram gets feedback. The company tries to care about its image.
Show Me Your Top Services
Faq
Is EssayShark legit?
It has a real address and it has undergone an official registration process. This is a legit business that provides real services.
Is EssayShark safe?
Your paper won't have plagiarism in it, but your safety might be under threat. Too many third parties have access to clients' info.
Is EssayShark reliable?
So-so. Everything depends on people you're going to end up working with. Some writers and operators are great, others are awful.
Is EssayShark a scam?
It's definitely not a scam. The company is real, plenty of reviews of EssayShark exist, and you could order various types of writing.