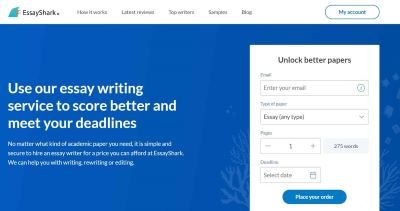 EssayShark Review
EssayShark.com has been in the online writing service business for 9 years, according to its site. It has a unique business model, in that, rather than the company assigning writers to specific product creation, the customer places and submits an order and then waits for bids to come in from the writers who are registered with the company. Once those bids come in, it is up to the customer to select the writer. The company really only acts as a clearinghouse for writers and people who need them. This EssayShark review will include the information that we have been able to gather from the website, Essay Shark customer reviews and comments that have been found in other places on the web, and the product we received from a student who agreed to act as our source, placed an order, and "employed" a writer.
Products and Services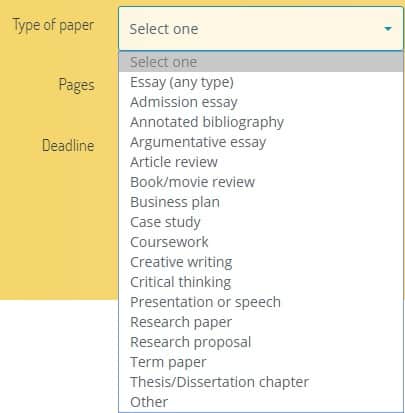 Essay Shark offers the same basic services that other best academic writing services do – essays, papers, book reviews, case studies, and other academic writing from high school forward. It also provides research and writing for graduate-level theses and dissertations.
In terms of services, the company does maintain a customer support department, but it does not operate as other similar departments in other writing agencies. This department exists to answer questions prior to order placement, but once the bids have been made and the customer has chosen a writer, this department does very little else. In fact, any complaints are generally met with the claim that the customer must address the issue with the writer.
There is no quality control department to check pieces of writing before delivery to a customer. If a customer is unhappy, s/he must take it up with the writer. Upon finding out this information, we were filled with disappointment. Every writing service must do something to make sure the clients are not unhappy and that they receive the high-quality paper they paid for. The lack of quality control is mind-blowing because a student would end up losing his/her money and not be able to recover it, while the customer support doesn't care. We think the staff cares more about getting money than helping their users have a good experience.
The only positive is that students may stick with a writer for future orders, should they find one that they like. So, anyone who is fortunate enough to find a quality writer will be able to request that writer in the future.
Trustworthiness
Can this service be trusted? We consider several things in this category – whether or not they are reliable in getting the product to the customer on time; the expectation that customer instructions will be followed; privacy and confidentiality, and security of both personal and financial information.
On-site EssayShark testimonials are all quite complimentary. That is to be expected, and why we explore multiple sources when we research writing services. When we read the feedback and comments elsewhere on the web, there were a number of concerns expressed, to include missed deadlines and instructions not followed. The tone and sentiment of these reviews were certainly different than the on-site testimonials.
For instance, we checked out the EssayShark Reddit opinions to find out whether this company could be trusted or not. We noticed a few people asking things such as "Is EssayShark legit?" and we were curious to see what other people had to say about the service. It turns out that a good number of people consider it to be an untrustworthy website and are certain that the work is plagiarized. For the most part, they do not recommend that anyone uses EssayShark.
The company does have a privacy policy and guarantees that personal and financial information are heavily protected. We were able to find that the company does comply with GDPR regulations. Students can request that their information be deleted under their data privacy policies. Disclosures about cookies are available as well. There is indeed an SSL certified payment processor, so customers can feel safe using their credit cards or PayPal.
We could not find an EssayShark BBB registration. However, that is not necessary to receive our endorsement.
Writing Quality and Writer Expertise
We performed an EssayShark sign up in order to test some of their products and services and see if they're worth the time and money. Overall, the process leading to the EssayShark account login was pretty simple, and we didn't experience any issues on our way to opening an account.
We assessed writer quality by samples on the website, samples that existed by clicking on any of the "top writers" who are featured on the "Writers" link. Overall, we find the quality quite disappointing. Many of the writings were poorly structured from a content organization perspective, and there were simply too many grammatical errors. We have no idea what EssayShark grammar test answers these people offered that allowed them to become writers on a platform like this and write such bad texts.
So, after an assignment EssayShark request, we were able to take a look at an actual work done by one of their writers, and we were able to assess the quality they offer overall. The research paper we received, at a college level, was not well-written, and the style was far too immature for undergraduate work. This called into question the qualifications of the writer who had bid on our work.
Another issue with this model is that there was no control over the writers who bid in regards to their degrees. We wanted a writer with a master's in political science for our paper, and none of the first batch of bidders had that. We had to go back in for bids again.
While our order was being processed, we called customer service, stating that we were unable to get our writer to respond and were told to keep messaging the writer until we received a response. This did not engender a great deal of confidence in the company itself, and we were unsure whether we should even use our EssayShark account anymore in the first place. After all, the simple fact that the customer service doesn't seem to care to solve the customers' issues is a sure way to make them want to leave your website, so it was a shame to see them acting this way.
On top of being completely unhelpful, it also took a while for us to get in contact with the customer service. We did send a few queries and waited to hear back from someone working for the company. In the end, someone did reach back to us, but it took days. It's a harmful behavior because if a student is going to wait for an answer and not look for other services in the meantime, he/she is getting closer to the deadline and might miss it.
Still, we did receive our product and so we can say that Essay Shark is not a scam. Unfortunately, we believe they know that they are under no legal obligation to help students who receive poor quality help.
Prices and Discounts
This is a very simple area to assess. There are no published EssayShark.com prices because of the bidding process. Students paid $163.00 for and 8-page paper, and it was in the middle range of the bids. As well, the customer must understand that there are no EssayShark discounts, no EssayShark.com coupon codes for being a first customer and no EssayShark coupon code to use to reduce order cost.
We were very disappointed to see that using an Essay Shark discount code was not possible. Students are already dealing with enough challenges as it is. They are drowning in piles of papers, books, and other materials for their studies, while some are also trying to handle having a job simultaneously. On top of that, if they have to purchase an essay and cannot even get a little discount for it to save some money, it will take too much cash from them. The lack of EssayShark coupons might even be a deal-breaker for some students, who would direct their attention towards other services instead.
Students reported feeling safe making payment. Our investigations also indicate that this is a relatively 'safe' company in terms of financial data processing.
Conclusion
Pros:
Payment in advance is not needed

Possibility to chat with writers and discuss specific details of the order

Website and blog are constantly being updated

Security is guaranteed in terms of both privacy and payment processing
Cons:
A bidding system may not be convenient for every customer

No discounts are offered

Off-site reviews are not integrated, on-site ones are rather generic
EssayShark.com pros & cons are easy to enumerate. The writers do deliver products to customers and usually by their deadline requirements. However, there is no quality control, very little customer service, and writing quality is a concern. Our overall EssayShark rating is "Fair-to-Poor."