Our verdict: Not Recommended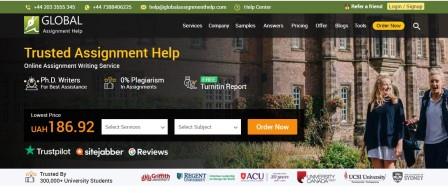 Top 3 services
VIP Support
From $14.99 per page
PhD Writers on staff: 80%
From $12.99 per page
Global Assignment Help Review
The following is our review of GlobalAssignmentHelp.com. This writing service is among the newer ones that we have encountered, and several students have messaged us for more information. As always, we are happy to investigate Global Assignment Help and report back.
Here are the steps we took to write a fair and thorough review:
We read several customer reviews of Global Assignment Help

We placed an order for academic writing services.

We explored the GlobalAssignmentHelp website

We compared costs with other writing services

We double checked reputation indicators such as customer testimonials and BBB feedback.
The rest of this review is based on our experiences with this writing service.
Review Criteria
We assign each rating service a final rating based on the same criteria. This ensures that all of them are fairly evaluated. It also helps us to let students know exactly what they can or cannot expect from a writing provider.
Our number one concern is quality writing. We expect every service to deliver quality papers that are 100 percent original. In addition to this, we also evaluate on time delivery, customer service, writer ability, website quality, and prices. If a writing service offers any extra services or bonus features, we consider this to be icing on the cake.
Factor 1: Types of Writing Services Offered
GlobalAssignmentHelp.com offers academic writing services. We placed an order for a college level essay. We selected a due date that was over a week in the future. It is important to note that the listing of services here is quite disjointed. This makes it difficult to identify all of the available services. Based on our research, it does not appear as if resume or copywriting are available here.
Factor 2: Trust and Reliability
Global Assignment Help is not a fraud or scam. They did provide us with a completed essay before the due date. We did not read anything that accused the company of misleading people or engaging in dishonest practices.
Factor 3: Level of Quality
Two factors lead to low rating here. The first is that the website is difficult to navigate. It was difficult to determine the services offered and to place an order. The second and most important issue was writing quality. Our paper was not written at a college level. The writer made multiple spelling and grammar mistakes. This was not a paper that anyone should expect to pay for.
Factor 4: Pricing and Payment
We paid less than ten dollars per page We took advantage one of the many discounts as well. We did this by entering in a promo code. We also noted that several coupon codes were made available to us. Our major concern about prices this low is quality and writer pay. It is our experience that when rates go below ten dollars for a finished page, writers are often paid sweatshop wages. Quality also goes down.
Factor 5: Additional Important Considerations
There is a blog here along with a few writing samples. However we were not too impressed with either of these. The writing is not very well done. The subject matter of the blog isn't particularly interesting either.
Concluding Comments
We have considered the pros & cons. This writing service just doesn't measure up. There are too many issues with writing quality. Please check out our other paper writing services reviews. We think you will be able to find a great writing service that works for you.