Our verdict: Not Recommended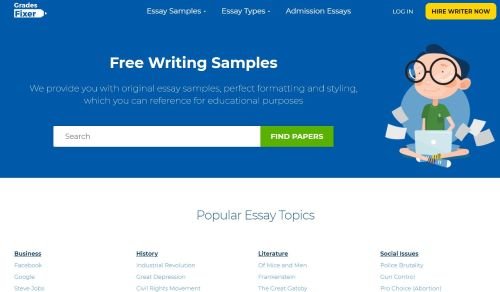 Short overview
Minimal deadline:
3 hours
Guarantees:
Money-back Guarantee, 100% Plagiarism-free Сontent, Professional Writers
Payment Methods:
Available Services:
Essay Writing, Editing, Rewriting
Extra perks and features:
Large Database of Samples
Summary
After receiving tons of requests for GradesFixer review, we've decided to finally get down to it and see what we can do to understand the writing service for students better. In doing so, we were as objective as possible. As with any other writing service, this one has some positive and negative sides. The biggest plus is definitely the ability to chat with writers and answer their questions as soon as any appear. It may be troublesome for some, but in our case it has proven to be a valuable asset of this website. Other pros include the ability to choose your writer, seeing pricing before hiring anyone and a chat function, which with us, worked 24/7. Cons of using this service, according to GradesFixer reviews, include pricing that is almost double from industry standards, no essential information on the website, having to register and log in to get an idea of pricing and the inability to confirm whether writers are what their avatars say they are. All in all, a decent website, but with a lot of potential for growth. Our overall grade is 4/10.
Pros
Ability to choose writer
Website acts as a platform rather than as a service
Available chat 24/7
Cons
Pricing is higher than expected
Website lacks a lot of essential information
Unclear whether they are who they say they are
Top 3 services
VIP Support
From $14.99 per page
PhD Writers on staff: 80%
From $12.99 per page
Basic Service Overview
Service provided by GradesFixer seems to be decent enough. The website is informative and nicely styled. The doodles that you can see here are cute, clearly aimed at high school students. The landing page itself includes popular essay topics (there are many, mostly school subjects), the help section (not very useful), information about their essay writing service, a section with top-rated writers, reasons to choose this service, and information about payment and memorandum.
The website also says that there are 698 writers that are active, 120+ online now writers, as well as the average response time of 1.5 minutes. With this many writers, it would be a surprise that at least some of them are not foreigners who could help explain the very short response time. As they live in different time zones, there is always someone who could reply to your messages and take the order in. Is GradesFixer good with their customers? Let's read on.
Now comes the problematic part: average quality score. The self-stated score says it is 9.5/10. This is very high, even for a writing service, as most of them usually score between 8 and 9. This is, however, self-reported and we are not sure what is meant by quality, or how this average is calculated.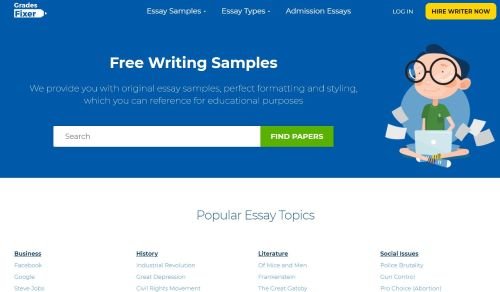 Types of Services Offered by Writing Service
GradesFixer states it offers three types of services: writing from scratch, editing, rewriting.
They also predominantly focus on writing for students and essay writing. Reviews of GradesFixer mostly come from this age group.
Samples are among strongholds of the website. There are over 1,800 samples provided. If nothing else, this means that this service is legit. Nobody could write all of these just to put them on the website as fake samples of previous work, and scraping Web for any of these would risk a massive lawsuit that could threaten the company itself. We analyzed one of their samples for quality.
Title: Instructional Strategies for Students with Disabilities
Length: 4 pages
Analysis: The sample had to be exchanged for an email address. We could see it online, but downloading the PDF version, for the ease of print and grading required contact information. Once the doc was there, we had quite a lot of errors to fix: 94 of them, to be more precise. Yes, there were 94 grammar and punctuation mistakes in a 4-page sample. The sample itself was on 'Instructional Strategies for Students with Disabilities' and it involved information on different types of disabilities, social interaction and a myriad of other useful resources. This was an article an English teacher would appreciate, but the mistakes were horrendous. The correction itself took over an hour, and we could all agree that the writer was not a native English speaker. On the other hand, we could not detect any plagiarism.
Quality: Low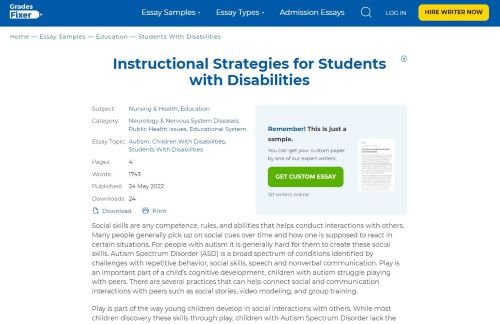 Guarantees and Money Back
GradesFixer names three guarantees:
Money-back guarantee,
100% plagiarism free content, and
Professional writers.
This should be enough for a decent service. However, upon a closer look, we find problems. Reviews of GradesFixer name a lot of problems with these guarantees. Money-back guarantee is never expanded on, and it remains unclear at just how this website plans to refund you. In most cases, writing services will give you a credit towards new articles and essays to be written, but what if you do not want this.
Plagiarism-free writing guarantee goes without saying, but the professional writers part is something that we have a lot of issues with. All writers use their nicknames, so the website abounds with Dr's, tutors, and professors. How their identity is verified and how they ensure the quality of education remains unclear as well.
Customer Support and Assistance
Customer support was there for us when we needed it. It was not exactly a good experience, as they made the first move and kept suggesting different writers to us. Although a welcome change, to have somebody walk you through different writers they work with, it was still unnecessary, especially as we could see those same writers on the page before us.
On the other hand, when we requested editing to be made for our detailed GradesFixer review, customer support took a bit longer to reply to our messages. The answers were there, but it simply took noticeable longer for them to reply. Without any further ado, we give them a 5 - just enough to pass. However, they were fast enough to send emails, as we've received 4 marketing emails within the first hour of registration. Some of those were even clickbait, saying that our project was ready, although no final arrangements have been made.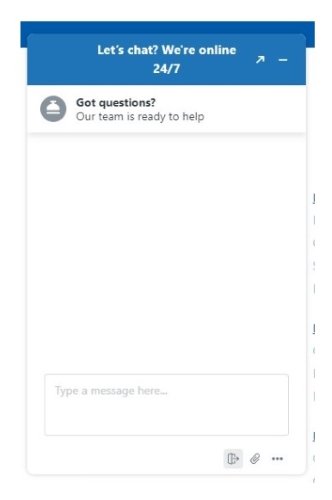 Our Experience and Paper Quality at PapersFixer
We studied other gradesfixer.com reviews and decided to order our paper. We wanted to learn more about ecology in Central Asia. The subject that we chose was that of environmental issues, 5 pages with double-spacing, and we chose an appropriate deadline of 24 days. When choosing the writer, we had to browse three different categories: 'All levels', 'Gold', and 'Platinum'. It is unclear how writers are categorized, but Gold category costs 10% more, while Platinum costs 20% more than the regular service.
We also asked for 10 references, and we've set the formatting style to MLA. After putting in additional instruction, we're taken to a new page, where we had to sign up. We used our regular Google account (this is suspicious, it seems like they're just trying to expand their email list), and were then taken to yet another page with writers we had to choose from.
System suggested Prof. Nerd (?), and other writers who were placing bids on our article were all either professors or doctors. Quite an educated gang there. Bids ranged from $89 to $125, so some $17 to $25 per page, quite frankly one of the most expensive services we've seen. However, if the writing is of good quality, there's no issue there. What raises suspicion according to GradesFixer reviews is that all the names are American, and all avatars are very handsome, almost model-like.
Besides this, paper we received (2 days before deadline) was stylistically good, although our editor noticed 22 grammar and 17 punctuation mistakes. Considering we went for a more expensive option, this was really out of the question. Barely passing grade here.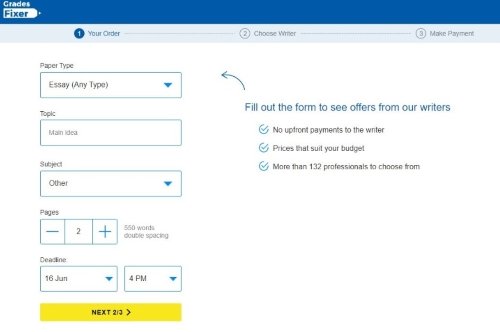 Step-by-Step Ordering Process
GradesFixer ordering process is not as streamlined as it is in other writing services we frequently review. Most of them have a single page to enter all necessary information, and then a single payment page. However, with this service you should put in:
Paper type,
Topic,
Subject,
Number of Pages,
Deadline (Date and Time).
After this, you are taken to registration page for new users or simply to the page where you can see how much writers bid for work that is to be done. The best cv editing services offer a more streamlined approach. Their pricing is high, and choosing better writers means paying more - 10-20% more. So in our opinion and according to other Grades Fixer reviews this makes them one of the most expensive services we've seen.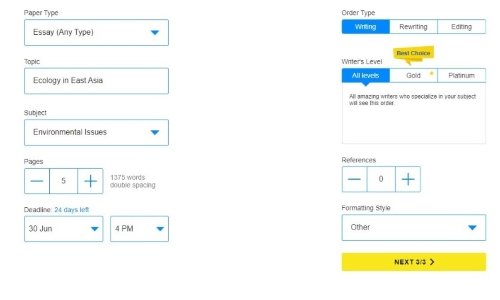 Pricing, Discounts and Incentives
This is one of rare writing services that does not openly present its pricing. Namely, as you enter the ordering page, you are asked to submit details, sign up/log in and then, you are taken to the page that displays bids by various writers. According to GradesFixer, there are many of them, but we saw no "Write for Us" button or even a "We Are Hiring" banner. The question of where they source their writers from remained unanswered.
As writers place their bids, you can see their grading (stars, max = 5 stars), their name (or nickname), as well as their asking price. You can chat with them or hire them right away. The asking price GradesFixer offers in most cases was too high. While most platforms charge about $12 per page with double-spacing (an equivalent of 275 words), the per page charge we were offered by reviews and writers was between $17 and $25 per page, so almost double. Although there were no discounts, upcharges were clearly visible: 10% for the best 50 writers to see your offer and 20% for the best 20 writers to see and bid on your order.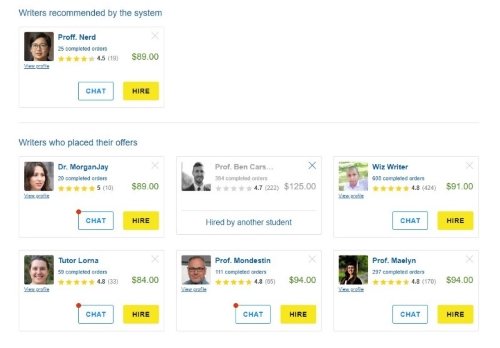 Writer's Proficiency
Now, for the most important part: review of GradesFixer writing abilities. Finally, after 22 days of waiting (our deadline was 24 days), we got our paper back. Let's consider first what we look for and what we think is important in academic writing:
Grammatical accuracy,
Punctuation should be impeccable (there are tons of free software solutions that help with this),
Tone and wording should be appropriate for this level,
Paragraphs should be of appropriate length; they should also connect to one another,
Formatting should be done right,
Bibliography, references and tables should be well organized.
Now let's take a look at what we got. Although this text was fairly good and easy to read and understand, sheer amount of basic mistakes was crazy high. This means that no software or editing of any kind was used or that GradesFixer.com personnel really lacks in English grammar and punctuation. That resolves suspicion behind all American names on their Writers' Page.
The whole text contained 22 grammar and 17 punctuation mistakes. Some paragraphs were too short (the shortest was 2 sentences only - not enough for academic writing). One paragraph was almost a page long, where several paragraphs with proper subheadings would have sufficed. Overall, this text was not good enough, although we liked the information presented there.
Revisions
When it comes to revisions, we asked for a simple revision of the mistakes that have been made. Our writer took three days to finish (it took our editor around an hour to find and correct them). Any best paraphrasing tool can be used to speed up this process. Not all mistakes have been corrected though, especially with punctuation. It remains unclear why, as the software that detects these mistakes is cheap and even Grammarly free finds most, if not, all of them.
However, while preparing GradesFixer.com review, we already knew that many writing services avoid running their text through similar software because subscriptions cost and editing takes time. They think that simply writing a good piece of text is enough to get paid. It may be so, but the number of returning customers is going to be null. It is better to hire services that edit college essays for money. Considering that 80% of a company's revenue comes from 20% of customers, it is unclear why this has become a common practice, especially with prices they charge.
Loyalty Program, Offers and Extra Services
We could not find a loyalty program on GradesFixer website. There are no discounts, no rebates and no refunds that we could see. Again, company acts more like a platform that connects writers and clients than an actual writing service. Furthermore, the only contact we had with customer support was them suggesting individual writers. Writers have also contacted us over the chat function.
However, as the platform connects you to many writers, it also categorizes them: into regular, Gold and Platinum. The Gold category is composed of 50 best writers. Hiring one of them will add 10% percent to their asking price. Hiring someone from the Platinum category will cost you an additional 20%, but will also provide you with access to the top 20 writers. GradesFixer reviews say that all three tiers provide same-quality service.
GradesFixer Reviews and Online Reputation
Sitejabber.com gives GradesFixer 4.5/5 stars. Maybe a bit too high, in our opinion, but service is still quite popular. Sitejabber reports as much as 140 reviews. TrustPilot gives it 4.⅗ stars, while Reddit has mostly bad comments. It goes without saying that somebody has been meddling with results.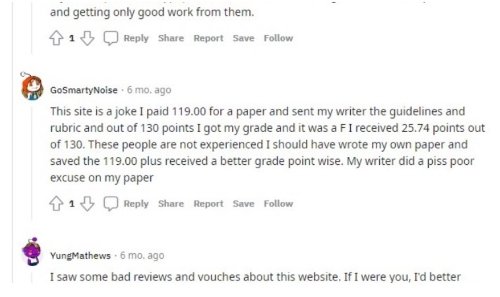 Social Media
GradesFixer is on Facebook, Twitter as well as Instagram, or this is what its website says. However, all three pages are suspended. Is GradesFixer legit? This is not enough to make it to the best essay writing sites. It remains unclear why, as it is to social networks terms and conditions to shut down inappropriate pages. Still, online exposure is quite bad, as it is non-existent.
For a good writing service to even be considered serious, some form of social media use has to be present. This is not so much about posting every day, as it is about properly funneling the audience. Three social network accounts mean approaching three different audiences, and three additional possible conversion points. We could not figure out why GradesFixer has no social networks.
Show Me Your Top Services
Faq
Is GradesFixer legit?
Yes, GradesFixer is legit. The work we received was delivered on time, but had some mistakes. Overall, they got a passing grade for the writing part.
Is GradesFixer safe?
Yes, GradesFixer is safe. It is a writing platform that we have used, reviewed and paid. The payment processing went fine, and we got the work we asked for.
Is GradesFixer reliable?
In our experience, GradesFixer is reliable. We got the work we asked for 2 days before the end of the deadline. Most services are late with these.
Is GradesFixer a scam?
GradesFixer is not a scam. It is a genuine service that we have reviewed. Although reviews say it may be a scam, we verified it as real.