Our verdict: Not Recommended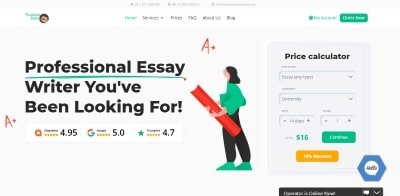 Top 3 services
VIP Support
From $14.99 per page
PhD Writers on staff: 80%
From $12.99 per page
HandMadeWriting Review
HandMadeWriting is a writing company that was established in late 2013 by two people. They supposedly had their first customers in 2015. They claim to be real experts in the industry, but is this true?
We've done some research to give this website a rating and also review it, and we found out some very interesting information. We took a good look at the content on the website, read HandMadeWriting reviews, and reviewed their samples and an actual essay they wrote.
The below information is what we can confidently tell our readers about this platform.
Review Criteria
Before we move forward, we'd like to remind you how we find out if a website is legit, trustworthy, and not a scam.
We read all the testimonials we come across, whether they're on TrustPilot, Reddit, or any other place
We check out the prices, the discounts, and how many coupon codes can be used
We look at how many types of services are available
We analyze how reliable the writers are and if they can respect the deadline
We read through the samples and their finished essays to see if they have good grammar and know how to write an essay
We review the policies and guarantees
Factor 1. Types of Services Offered
HandMade Writing offers some of the very common types of services any other similar site offers. But the list is not as long as you usually see on similar platforms. The things they offer include:
Essays
Biographies
Annotated bibliography
Article review
Capstone projects
Book/movie reviews
Case studies
Business plans
Dissertations (complete or only chapters)
Critical or creative thinking
Lab report
Java programming
Presentation or speech
Personal statement
Thesis
Term paper
Research paper
Research proposal
Resume/CV
Wedding/Graduation speech
Web-design
Factor 2. Reliability
First of all, we looked at whether the site had a BBB membership, and we didn't find any, which was pretty concerning.
The communication between customers and agents can be pretty good and the responses the customer receives can be very nice and helpful. We experienced this as we contacted the customer service more than once. But we found out that what some of the testimonials said was true. While at first our communication was good and we had no issues, things changed when we confronted the agent about the lack of quality in papers.
The communication stopped and it was hard for us to get any response from a customer service agent after we exposed them. When you claim to be a professional, you shouldn't run away from these things, but confront them and wish to fix them for the future.
They don't deliver their papers on time either. Many customer reviews have been talking about how the deadline was not respected and the writer delivered the work later than he should have. This is not something that would happen if they had the best essay writers online claimed. Besides, the website itself has some testimonials but as expected, all of them are positive. There's no way to check how legit they are either.
Factor 3. Level of Quality
Quality is what customers are always interested in. We always want to make sure a website is good at what it does and that it has a good reputation among customers when it comes to quality.
But sadly, we cannot say anything positive about quality in this HandMadeWriting.com review. While reviewing their paper, we saw not one, but a lot of grammar errors that a professional writer should not be doing in the first place. The formatting was completely wrong, and the information was lacking. The word combinations used were abnormal and the sentence structure was weird too. It looks like the writer didn't even perform proper research to write this paper, and as a result, it ended up sounding terrible. He just threw whatever he found on the internet without checking how correct the information is, to begin with.
Let's also not forget the fact that we got a lot of complaints from people who used this website in the past, claiming the platform is not safe if you're looking for quality writing. We cannot ignore that.
Factor 4. Pricing and Payment Options
The cost of your order will form as soon as you introduce the necessary information about your paper, including the type, academic level, pages, and deadline. The prices are not too high from what we were able to see. For a high school essay with a 14-day deadline, you'd pay $10 for a single page. The most advanced academic level available is Ph.D., and if you order a Ph.D. essay with a 3-hour deadline, one page will cost $68.
While we were not able to calculate the price in the same form using a promo code, we did discover that there is a discount program that is based on how many orders you've had. After placing 3 orders, you get a 5% lifetime discount. After 10 or 20 orders, you will get a discount of 10% and 15% respectively. More than that, people who order for the first time receive a 10% discount, so at least that's a good thing.
For payment, they accept MasterCard, Visa, American Express, and Discover.
Additional Information
We found a few guarantees on the main page. One of them is the 100% money-back guarantee, which says you can get a refund in case you are not satisfied with the order. But no customer told us that they were successful in their attempts to get their money back. Free revisions are being offered for clients who found mistakes in their work, and people's information will be kept confidential. On top of that, you get a free title page.
They also claim to be 100% original and have no plagiarism in their work.
Conclusion
After looking at the pros & cons of this platform, we don't consider it a good alternative. The quality is simply not good enough for us and we don't think it's worth it, even if the prices are low. So far, the cons outweigh the pros. While it operates legitimately, we just cannot trust it to do a good job at writing.