Our verdict: Not Recommended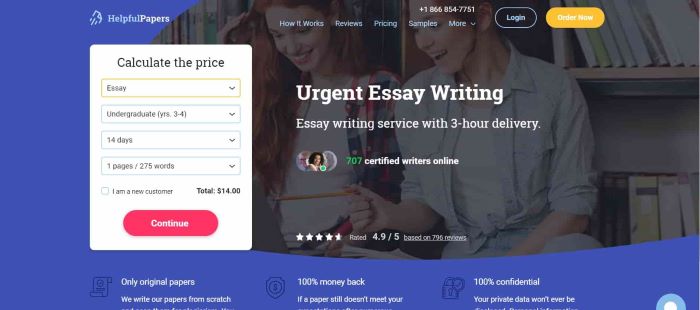 Top 3 services
VIP Support
From $14.99 per page
PhD Writers on staff: 80%
From $12.99 per page
HelpfulPapers.com Review
We have received many questions and comments from our readers about HelpfulPapers.com. They want to know that Helpful Papers is not a scam. They also want to know if this writing service is a good value for students. This is we have decided to research HelpfulPapers, consider the Pros & Cons, and write a review. Here are the steps we took.
We read customer reviews of helpfulpapers.com

An order was placed for college level writing services

We reviewed the paper we received for quality and adherence to our instructions

We compared prices to other writing services and looked for coupon codes

We double checked with the BBB for consumer complaints

We read online testimonials

We explored the Helpful Papers website.
Review Criteria​
Here are our review criteria. These are the same for all writing services.
Writing must be at the appropriate academic level and follow the customer's instructions.

Papers must be delivered on time.

Customer support should be knowledgeable and helpful.

The website should be well designed

The company should maintain a good reputation with customers across the board
Factor 1: Types of Writing Services Offered​
This service officers a variety of academic writing services. In order to write this review, we placed an order for a college level essay. We selected the longest possible due date. We did not order any extras or additional products.
Factor 2: Trust and Reliability​
It does appear as if cutomers who place orders do receive papers. We have not received any reports of direct fraud or identity theft. In that sense, the company can be declared trustworthy. However, this does not mean there are no concerns. Quality and the company's claims about their location raised some alarm bells and we will address those below.
Factor 3: Level of Quality​
Writing quality was alarmingly low. We expect some errors. However, in this case there excessive mistakes. It was clear that we weren't dealing with an experienced writer. They did not appear to understand academic writing or research either. This was not a paper a student could have turned in for a grade, or used as a study guide. We were thoroughly dissatisfied with this part of our experience.
Factor 4: Pricing and Payment​
We were charged 18 dollars per page. This is average. Unfortunately, due to poor quality it was not a good value. Discounts are available. Unfortunately, a promo code did little to compensate for poor writing, website design, or customer service.
We can say that we paid via paypal and did not encounter any issues with it.
Factor 5: Additional Important Considerations​
As far as extra features or interesting content, we did find a blog. Unfortunately, the posts are very poorly written. It is immediately clear that the writers are not native English speakers. This leads us to our next concern. In spite of having an address in London, it appears that this company is located in Cypress. While we did not experience any kind of fraud, this kind of misrepresentation is always cause for concern.
Concluding Comments​
Our final rating of HelpfulPapers is poor. Students should entrust only the best essay services with their assignments. The largest factor in this is the poor quality writing. However, other factors played a role as well. The website is very poorly designed. This made placing an order and finding information difficult.