Our verdict: Not Recommended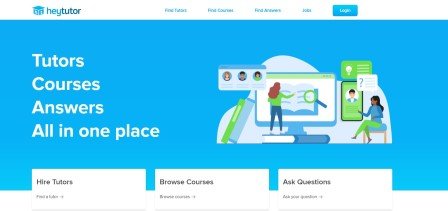 Top 3 services
VIP Support
From $14.99 per page
PhD Writers on staff: 80%
From $12.99 per page
HeyTutor Review
While much of our previous focus has been on writing essay and dissertation services reviews, we realize that students seek many forms of academic assistance. That is why we have decided to begin offering reviews on tutoring and other services. As a result of this policy, we are presenting this review of HeyTutor.com. Hey Tutor is an online service that matches students with tutors. This matching service includes both in-home tutors and online tutors. HeyTutor.com is a company that is based in California, and largely serves American students. We are offering this review to provide students with a clear and accurate picture of the services offered.
Review Criteria
Before we dive into this review, here are some of the steps we took as we researched Hey Tutor.
We read customer reviews, and consumer information sites to determine whether or not this service is trusted and reliable
We interviewed a student who connected with and used the services of a tutor through the Hey Tutor website
Explored the HeyTutor.com website, contacted customer service, and reviewed online policies
Conducted a comparison of prices between Hey Tutor and other comparable tutoring, referral services.
After gathering all of the information we could by reviewing the service, we have the following writeup to offer.
Factor 1. Types of Writing Services Offered
As mentioned above, this is a tutoring matching service, they do not offer paper writing services. Students place an order with their location information, subject matter, contact information, etc. They are then contacted by tutors who are willing and able to help them. Matching is for both online tutoring, and in-home tutoring. However, we did find out that in-home tutoring offerings are quite limited. This is because of a shortage of available tutors who are willing to work with students within any particular geographic area.
Tutoring services are available from pre-K through college and grad school levels. And it appears that a lot of parents who homeschool their children do make use of these services.
Factor 2. Prices
There are no pre-set prices here. Tutors establish their own prices, but students may be able to negotiate with them to improve their final price. However, students should be aware that they will be expected to purchase a set of tutoring hours. These come in 10, 20, or 30 hours. Tutors also set their own policies with regard to cancellations. We recommend spending time reviewing each tutor's policy on this before purchasing a package.
Because there is no established price structure, there are no discounts or coupons. Any money saved will be the result of the student negotiating such with the tutor before they make a purchase. Be prepared to haggle!
Standard payment methods are available. As always, the most secure and safe method will almost always be PayPal. They also accept debit and credit cards, and no customer has expressed concerns about financial information breaches.
Factor 3. Discounts and Additional Features
As mentioned above, there are no discounts available. We did check the website for additional features. We found some reviews and testimonials. They were predictably positive. However, there was some useful information, such as each tutors' specialties, and the number of hours they have worked. Anyone who wishes to become a tutor here can find some information on doing that as well. Students can also search for tutors by subject matter.
We did find their blog to be interesting. They cover a lot of topics that students will find interesting, such as how to get into the best colleges. These are well written and informative.
We also took the time to review the site's policies including terms of use and privacy. These disclosures were very standard. They make it clear how they use student's data is used, and how cookies are implemented.
Factor 4. Customer Support and Site Usability
We found the site to be very easy to navigate. It's easy to find information here, search for tutors, and place an order. The site appears to be professionally designed and functions well.
Factor 5. Writers
Rather than working with writers, students select a tutor out of their list of available selections. Our findings are that the quality of these tutors can vary widely. Some students are absolutely satisfied with their tutors. Others felt as if they received little-to-no useful help. Since tutors are paid in blocks of time, there were several complaints that tutors seemed to intentionally stretch out tutoring sessions to maximize their pay without providing much value.
Because of this, we strongly urge students to be very selective with the tutors they use. Success here seems to be based upon your ability to find a dedicated and qualified tutor.
Conclusion
Our final conclusions on HeyTutor.com are a bit mixed. Ultimately, this is a safe company to use. If they are able to, they will match you with a tutor who will work with you online or in person. We did not encounter any customers who felt as if their personal or financial information had been misused. However, while everything here appears to be legal, that doesn't mean that there are not issues. There certainly are.
This service provides students with almost no guidance when it comes to selecting the ideal tutor. They also don't do much in the event that the student is not satisfied. The prevailing policy here is that a student's order is satisfied if they receive any sort of tutoring, regardless of the quality of that tutoring. It is on the student's shoulders to determine if a tutor is trustworthy.
Overall, we are giving HeyTutor.com a rating of 3.5. While there are obviously some great tutors, and while many students are happy, the quality does rest upon the selected tutor and the "match" between that tutor and student.