Our verdict: Not Recommended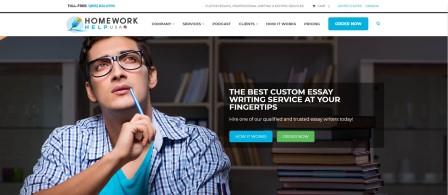 Top 3 services
VIP Support
From $14.99 per page
PhD Writers on staff: 80%
From $12.99 per page
HomeworkHelpGlobal Review
Finding a good essay writing service is quite challenging nowadays, as they all seem to be appearing everywhere, all the time. Some of them are great, too good to be true – and while some are that good, others may turn out to be a scam. Many people have been asking us to make a review for HomeworkHelpGlobal, so here it is.
Review Criteria
When we review the best essay writing service, we check for a variety of aspects. First, we check that the types of services they provide are useful for every type of student. Some people, for example, might be interested in getting an essay that has been written from scratch. However, other people might need other services – such as the editing and the proofreading of a paper.
We also check for other issues in the paper. Are there any grammar issues? Should we be concerned about plagiarism? How trustworthy are their services? We try to determine how safe these services are by looking at their reliability and quality services. We also look at the prices and how you may make your payments. Is it worth it? Do y0u get a good quality paper for the price that you are paying? This is what we will try to determine.
Factor 1. Types of Services Provided
Once you go into their website, you will see that their list of services is quite wide. You have pretty much everything from the classic essay to term papers, research papers, coursework, dissertation chapters, editing, proofreading, and so on. The problem that we noticed, however, is that you'll have to pay separately to have your paper proofread – even if they are the ones that gave you the paper.
This service offers you business plans and reports as well. This is not the kind of service that you would find in this domain – and it might be quite useful if you are looking past academic needs. Upon first glance, if you are looking for academic writing services, this one might seem to be a good jack-of-all-trades.
Factor 2. Reliability
In terms of reliability, this essay writing service does not have a very good reputation. We've seen quite a lot of complaints about papers being delivered past their deadline – something that can affect a student greatly if they have a short opening through which they could send in their paper.
Testimonials also say that their customer support is not as reliable. Many users made inquiries about their paper, and while the Homework Help Global staff was polite, they didn't know much about how to answer these problems. Most of the time they were vague and were asked if they could wait on hold until further notice.
Factor 3. Quality Level
In terms of quality level, things are also not looking as great for this service. Many people complained that their papers were riddled with grammar mistakes and that the sources they used were quite mediocre. For a paper of that price, you would expect to see academic sources and official books and journals, not some random internet websites. It is no wonder that HomeworkHelpGlobal has such a low BBB rating.
At the same time, we also could find no proof of the experience of the writers. They claim that all of their writers are professionals holding a degree – but upon looking, we could find no actual list of writers and no proof of their experience. For all we know, they could be just freelancers with no experience on the matter.
Factor 4. Prices and Payment Options
Things tend to take an even worse turn when you consider the prices of the service. Compared to other essay writing services, this one is quite expensive. For example, a typical college paper page on a 5-day deadline will cost you around $25, whereas the cost of a 6-hours doctorate paper page rounds up at about $58. This price can be quite hurtful to your budget if you need more than one page to your paper – and it's something that not every student may be able to afford.
In terms of discounts, things are also looking quite bad here. You do have a promo code that will give you a 10% discount on your first order, but aside from that, there is nothing else that you may take advantage of. There are no coupon codes and nothing else that returning customers may take advantage from. According to pretty much any review that we found online, the loyalty program is quite weak.
We could also find no reliable option for a refund, even as we read through customer reviews. The timeline for that is quite limited, and you will have to bring proof that your paper received a bad grade. In most scenarios, by the time you receive the paper with your grade, you will have been past the deadline for getting your money back.
As for payment, you have several options. You have the classic card method, you have PayPal, and you even have the option to transfer cash as well. For the latter, you will have to go to the bank and deposit the cash in the account that has been provided to you. Several users on Reddit said that they used this method and did receive a paper in return – so we cannot exactly say that it's a fraud. If it weren't for the quality concerns, the paper might have turned out reliable.
Additional Information
What we couldn't help but notice is that this website advertises itself as a "global homework help website," but when you go onto the platform, you will see that you are taken into one of two directions: the United States and Canada. This means that while the final product may be emailed in different countries you will have to use the currency for either the United States or Canada.
Conclusion
After analyzing the pros & cons, we cannot say that HomeworkHelpGlobal.com is fraudulent; you do get a paper in return for the price you pay. The only concerning thing is the quality of the paper. This is why, if you wish to get a good grade on your paper, you might want to seek an alternative.