Our verdict: Not Recommended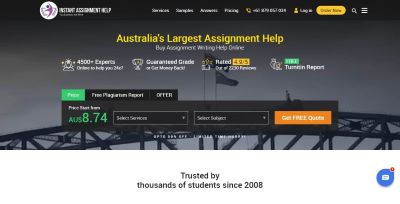 Top 3 services
VIP Support
From $14.99 per page
PhD Writers on staff: 80%
From $12.99 per page
InstantAssignmentHelp Review
InstantAssignmentHelp.com.au is an Australian based writing service. We have received over a dozen inquiries recently about them. People want to know if they can trust Instant Assignment Help. We are here to provide that information and then some. Our hope is that after reading our review of InstantAssignmentHelp.com, you will be able to make an informed decision on whether or not this writing service is for you.
Review Criteria
Our criteria for InstantAssignmentHelp is the same as it is for every other service. We weigh the pros & cons to determine the following:
Instant Assignment Help Must Provide Excellent Writing And Customer Service

There Must Not be Evidence From the BBB That InstantAssignmentHelp is a Fraud or Scam

Prices Must be Reasonable And a Good Value For The Dollar

Privacy And Security Must be Protected at all Times

The Website Must be Easy to Navigate And Placing an Order Should be Easy

Customer Review And Testimonials Should be Largely Positive
In order to determine whether or not these criteria have been met, we placed an order for a college level essay with a two week deadline. We reviewed that paper for quality and accuracy. We explored the writing service website, and we researched the company online.
Factor 1: Types of Writing Services Offered
This is an academic writing service. The products and services they offer reflect that. Most of the offerings are quite commonplace. They include research papers, essays, capstone projects, coursework assignments, etc. We did not find anything particularly noteworthy here.
Factor 2: Trust and Reliability
While much of the feedback we found was negative, we did not find any evidence of any efforts to scam or commit fraud. It does appear as if people who place orders receive papers. We did not learn of any reports of privacy violations or breaches of privacy. However, in terms of reliability there are problems. Several people report receiving their papers late. Others reported poor citation and content that was not as long as they had ordered. There definitely appears to be a lack of oversight, quality control, training, and organization.
Factor 3: Level of Quality
We were sorely disappointed with the essay we received. In our case it did arrive on time, and it was complete. Unfortunately, the writing was very poor. Further, our writer used sources that were biased and too informal to be used for any type of academic writing assignment. Clearly, this is a company that hires writers who are not familiar with academic writing.
Factor 4: Pricing and Payment
We paid a little more than fourteen dollars per page. This was for a college level essay with a two week deadline. This price is quite average and would have been a bargain had the quality been significantly better. There are discounts here, which is a positive. However, the website is so busy with popups and other intrusive content, that it was nearly impossible to simply choose a promo code and use it. The crowded, busy website was also difficult to navigate. Even placing an order was frustrating.
Concluding Comments
Our final rating is poor. While we have certainly encountered worse, the combination of disorganized customer service, poor writing, and a difficult website is more than enough for us to advise students to move on to the best write my paper website.