Our verdict: Not Recommended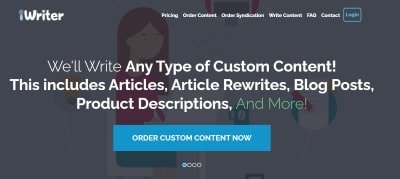 Top 3 services
VIP Support
From $14.99 per page
PhD Writers on staff: 80%
From $12.99 per page
Review of IWriter
Most sites we review focus on academic content, and court students as their customers. IWriter is a bit different. This is a business content writing and syndication service. Essentially, they write a variety of content for business professionals and help them get that content published in places where it will get the most attention. While the focus here isn't students, we thought it would be worth reviewing for any followers that are looking for assistance that isn't focused on coursework.
To write this review of IWriter, we took many of the same steps including reviewing a written work, comparing prices, researching reputation, and exploring the IWriter.com website.
Review Criteria
In order to determine whether IWriter would earn our endorsement, we established some criteria. These are:
The company must provide professional content that meets user requirements.

Content must be delivered on time.

They must attract professional, competent writers.

Prices should be reasonable. Discount programs are desirable.

It should be safe to use the website and place an order.
We also considered certain extras in the areas of the website content, customer support, and guarantees. These are the small offerings that can make an online service provider more attractive than their competitors.
Factor 1: Types of Writing Services Offered
This is a business services provider. They offer two main categories of services. The first is writing. This is their flagship service. It includes the following and more:
Article writing or rewriting

SEO Content

Articles on various subjects

Finance

Business

Home Based Business

Insurance

Real Estate

Computers And Technology

Public Speaking and Presentations

Fashion

Sports

Religion

Politics

Others
The second service category here is article syndication. With this service, IWriter takes articles that customers have written, then helps find publishers and websites that will get that content to a wider audience.
In order to write this review, we obtained a short SEO piece written on the topic of Real Estate.
Factor 2: Trust and Reliability
In order to measure trust and reliability, we examine our own experiences, conduct internet research, and obtain feedback from previous customers. This gives us the best chance of providing potential customers with an accurate assessment.
In terms of our experience, we did receive an article. It was completed on time. The payment was processed appropriately.
To assess customer experiences, we used websites such as TrustPilot and SiteJabber to read customer and writer reviews. Here, the feedback was quite mixed. There are many complaints from writers about withheld payments, low pay, and being dismissed without cause. Customers posted a variety of reviews as well. The positive remarks describe IWriter as a source for decent writing at a cheap price. The most negative remarks accuse the company of delivering 'spun' content that is virtually unreadable.
We researched IWriter starting on its own website, and elsewhere online. The company is located in Florida. So is its partner firm 'The Hoth'. However, the BBB lists them as being registered in Indiana. Not much information is shared on either website about the origins of the company or its ownership. We had to do some digging to learn that the company was owned by Brad Callen. It's also associated with companies Voomly, Doodly, and Toonly which are other content creation sites.
Ultimately, the pros and cons are as follows:
Pro: The company delivers content on time.

Pro: It's a simple, low barrier solution to obtaining business content.

Pro: There's no evidence of a scam or fraud.

Con: Treatment of its writers may border on exploitive.

Con: Customers will need to have tightly managed expectations regarding quality.

Con: There are other services that are more reliable in providing quality content.
Factor 3: Level of Quality
IWriter offers four quality tiers for customers ordering content. These are standard, premium, elite, and elite plus. We quickly discovered that the tier you select significantly impacts quality. For the lowest tier, you can expect fairly low quality content from ESL writers. Some customers believe that content at this tier is generated by bots. At the highest tier, content improves significantly.
We reviewed an article written at a middle tier. The content was mediocre and repetitive. However, it did appear to be written by a human. It was also original enough to pass through a plagiarism scan. We did suspect large chunks of it were likely derived from other articles and rewritten.
What's the bottom line? Anyone who orders the lowest tier should maintain very low expectations. We don't see any value in using this level unless there's a desperate need for content and little to no money to spend. Quality improves with higher tiers. Still, this clearly falls into the category of the content mill. This is further proven by the fact that the company openly recruits writers with little to no experience, and has a heavy base among ESL writers.
Factor 4: Pricing and Payment
As one might expect, pricing depends on the tier selected. For the lowest tier, content costs less than one penny per word. This pricing is so low that it falls off the charts. We understand that a struggling business owner may find that appealing. However, they should keep in mind that these prices often lead to the exploitation of writers. Businesses who hire out writing at these prices significantly increase their chances of receiving very low quality, even stolen works.
At the highest tier, customers will pay about seven cents per word. This is relatively inexpensive still, but the quality is much better.
Payment methods here are pretty standard. The only difference is that rather than paying for orders as they are made, customers are expected to create and fund an account. Writers are then paid out of that account as work is finished.
There is no discount program available here. We assume that the absence of promo codes is due to the fact that customers simply pick the tier that they are willing to pay for. If there are coupon codes, they are not readily available on the IWriter site.
Factor 5: Additional Important Considerations
There are some extras to consider here. First, the company provides writing samples for each available tier. We reviewed these, and do not believe they accurately reflect the true quality customers can expect. Every sample provided for each tier represents well-formatted writing that appears to be researched, and that is written by ENL writers. While this may be true for the higher tiers, it's important to manage expectations. Simply put, nobody ordering writing services should expect much at all in terms of quality if they are paying less than five cents per word.
We also noted that there is a blog on the IWriter site. This is actually quite well done. The blog content covers a variety of topics that are relevant to both writers and business professionals. Most posts are focused on writing, syndication, publishing, and hiring content writers.
Finally, there is some additional information provided on the site. IWriter publishes a list of its top writers. They also list their 'subprocessors'. These are PayPal for payments processing, and CopyScape for verifying content originality. Regarding the latter, customers should understand that CopyScape is good for validating that writing is not directly copied from other sources. However, it doesn't prevent writers from simply rewriting the content they find.
Concluding Comments
We tentatively endorse this site with a few, very strong caveats. First, we urge customers to consider the highest tiers of service here. We cannot recommend the cheap tiers at all due to concerns over quality and labor. Anyone needing content that cannot afford industry-standard rates should consider an alternative such as the cheapest essay writing service or sharing content with appropriate attribution. It may also help to build a wider audience by reaching out via social media. We recommend the Reddit AMA feature for this.