Our verdict: Not Recommended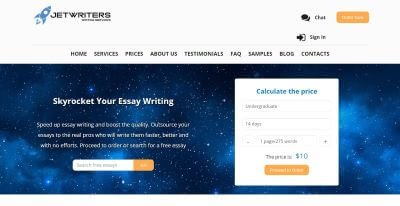 Top 3 services
VIP Support
From $14.99 per page
PhD Writers on staff: 80%
From $12.99 per page
JetWriters Review
JetWriters is an online writing service that has captured the interest of many of our followers. We have received messages and emails with many questions about this writing service. In order to satisfy our audience's curiosity about this service, we have decided to write this review. Here are the steps we took:
Placed an order for writing services
Reviewed the paper we received
Explored their website
Read online customer reviews
Researched the company through the BBB
Determined whether or not they are a fraud or scam
Compared prices and searched for coupon codes
Please keep reading to learn about our experiences and final thoughts.
Review Criteria
Our primary criteria is writing quality. We also judge on-time delivery and customer service. Next is pricing, and website design. Finally, we look for any extras that the writing service delivers to their customers.
Factor 1: Types of Writing Services Offered
This is a completely academic writing service. There are no services offered in the areas of business writing, or resume services. For our paper, we ordered an essay for a college student. We opted for no add-ons or extras.
Factor 2: Trust and Reliability
On the issue of trust and reliability, we can say that this writing service does indeed deliver the papers that you order. We placed our order and received our essay on time. We also did not encounter anyone who mentioned any sort of fraudulent behavior.
Factor 3: Level of Quality
We regret to say that this is where things came apart at the seams. The writing we received was just unacceptable. There were multiple errors. The writer also did not appear to have any true understanding of the subject matter. While customer support was courteous, they were ultimately unhelpful.
Factor 4: Pricing and Payment
JetWriters.com prices are far below industry average. We paid only ten dollars per page. Unfortunately, it is clear that they are unable to pay qualified writers or provide proper training to their support staff at these prices. This is problematic, and proof that low prices are not always a good thing. We searched for discounts, but we did not find any. We suspect that the company has opted not to allow the use of any promo code or other special offers due to their low pricing structure.
We paid for our essay using PayPal. We did not encounter any issues with making payment at Jet Writers.
Factor 5: Additional Important Considerations
We will point out that there are several positive features to the Jet Writers website. There are blog posts, videos, and other content that is all quite well done. If this was done in combination with top quality writing and service, this would make this quite a noteworthy service provider.
Concluding Comments
Unfortunately, our final rating of JetWriters is below average. The writing, our most important criteria, was substandard at best. Customer support was terse and unhelpful. While we can praise the overall design of the website, and the additional content offered, that is not enough to make up for the quality issues we encountered. We have weighed the pros & cons. In spite of a few positive testimonials, overall the opinions about this writing service are negative. Regretfully, we agree with this assessment.
Instead of using JetWriters.com, we strongly urge students to consider another service. We have posted several positive reviews for the top paper writing services we are happy to endorse.