Our verdict: Not Recommended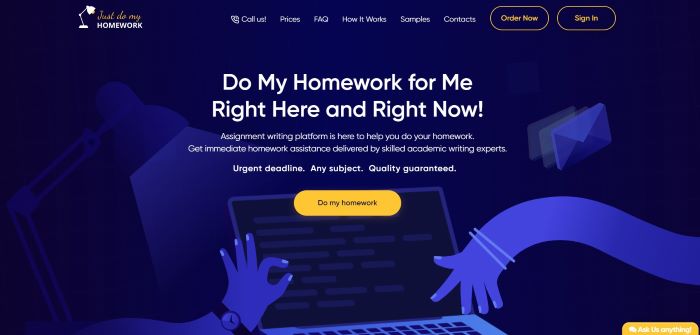 Top 3 services
VIP Support
From $14.99 per page
PhD Writers on staff: 80%
From $12.99 per page
JustDoMyH​omework.com Review
Justdomyhomework.com appears to have been in business for about four years. According to the website, the company was founded by college students who began writing essays and papers for their fellow students while still in college. Since then, they have opened this writing service in the U.S., accumulated a larger writing staff, and offer products and services primarily to students in American schools. This Just Do My Homework review is based on all of the same criteria that you normally use to evaluate the best essay writer website. The criteria are: review of the information provided on Justdomyhomework website, testimonials published on the site, sample writings, pricing, customer reviews found off-site, and the result of our order for a short research paper. This is what we have found.
Factor 1: Types of Services Offe​red
Just Do My Homework offers writing products and services to students in high school through Ph.D. studies. This includes essays, papers, research projects, lab reports, case studies, and more. The company states it has the qualified professional staff to produce products in any subject field at any academic level. For a company that has only been in business for four years, this is quite a claim.
Factor 2: Trust and Re​liability
Based on Just Do My Homework reviews, we can state that the company does deliver ordered products and does deliver them by the customer's deadline requirements.
As well, the payments methods are secure. We had no concerns about using a credit card to make a secure online payment.
We can say that Justdomyhomework is certainly not a fraud or scam. However, since it is a U.S.-based company, we expected to see a BBB rating, and we could not find one.
Factor 3: Level of Qu​ality
Here is where the concerns begin. We always judge quality by the information on the company website, along with samples that are provided, as well as customer comments and feedback we find on the web and via the writing order we have received. Here is what we have found:
The content on the website is bad. There are a lot of grammatical errors which belie the claim that it is totally American-based. If, indeed, the founders have created this content, their qualifications to produce academic writing for American students are seriously in question.

The writing samples that are published on the site reflect very poor writing. As well, they have been found on other writing websites, so we have no way of knowing who created them. As an example, one sample was titled "political institutions,' and we expected to see a piece of writing that related to that. Instead, we were presented with a piece on health insurance issues n the U.S. And, the quality of this sample was, quite frankly, bad.

Reviews that we found from customers were not positive. There are a number of complaints about the quality of research and writing.

We received the paper we ordered on time. It was, frankly, terrible, and not something we would consider that any student could submit to an instructor or professor for a good grade. The paper we received was indicative of an ESL writer.
Factor 4: Pricing and P​ayment
Just Do My Homework prices are within the low average range in the industry. A basic school essay begins at $12/page with a 10-day deadline. At the to of the scale, a Ph.D. piece with a more urgent deadline rises to $50/page. We were unable to find any discount offer or a promo code and have to assume the company does not have special offers for new or returning customers.
Factor 5: Additional Import​ant Considerations
Just Do My Homework does offer the usual free pages – title, bibliography, table of contents, and outline. They also promise a plagiarism check and free revisions.
Concluding Comm​ents
We always look at pros & cons as we summarize our comments about a writing service. In this case, we can find few pros. The writing quality is poor and we have a hard time believing that this is an American-based company. If it is, it has employed a number of unqualified, foreign writers. We cannot recommend this company.