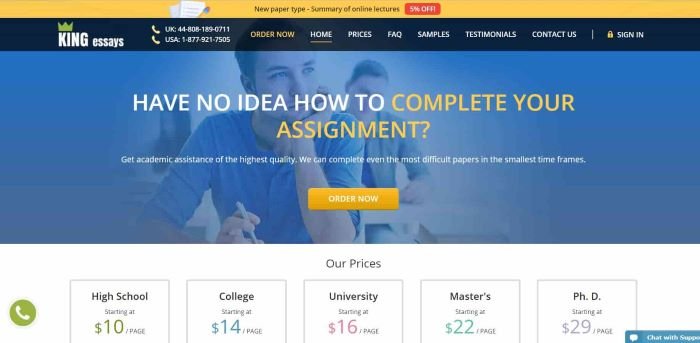 KingEssays.com Review
This is our review of KingEssays.com. Before delving into other details, we wanted to address some concerns we found while researching King Essays and reading customer reviews. We uncovered some information that may be of interest to anyone who is wondering if KingEssays is a fraud or scam. While we did not do a BBB search as this is not an American company we did find some troublesome information.
KingEssays.com lists their headquarters as being in London. In truth, the London address provided is a rented mailbox.
Their actual location appears to be in the Philippine Islands.
Research shows that in spite of some testimonials most customer feedback is negative
KingEssays is owned by a large corporation that owns several writing services.
Our primary concern is that a company like this may have had legal issues or that they have had significant customer complaints, thus being motivated to obscure information about their location and other origins. On the other hand, trusted companies do have subsidiaries. In spite of the misgivings that these issues caused, we decided the best course was to obtain an academic essay and treat this company as any other writing service. This includes comparing prices. Considering discounts. Exploring the website, and weighing out all of the pros & cons. We also read policy pages to help determine if the company could be trusted to keep customer data safe and secure.
Review Criteria
Our review criteria are simple and consistent. We expect writing services to offer great quality writing, proofreading, and editing. Costs should be fair and reasonable. Customer service should be attentive and knowledgeable. We also prefer that writers are able to communicate directly with customers and that any policies are clear.
Factor 1: Types of Writing Services Offered
This is an academic-only writing service. We purchased a college-level essay. As expected, other services include research papers, lab reports, application essays, book reports, critiques, and more. We did note that thesis and dissertation services were available at the university and graduate levels. Admissions essay writing may also be selected.
Factor 2: Trust and Reliability
We will leave it to readers to determine trust and reliability. In fairness, we can say that customers appear to receive completed, written works when they place an order. However, there are clearly claims being made that are suspect.
As noted above, there are valid reasons for operating under different names, and for establishing a business address within a specific nation. However, obscuring location information or the presence of other writing services is suspect. The reason for this concern is that there are some countries that provide little to no regulation or oversight for businesses. Companies that are untrustworthy will open operations in these companies knowing that they won't be held accountable if they behave dishonestly.
All reviewers agreed on one thing. Whether or not this company provides good writing or not, it would be difficult to trust them with a future order.
Factor 3: Level of Quality
Sadly, writing quality here was exceptionally poor. There was an astonishing number of spelling and grammatical errors. Our writer was clearly out of their depth academically. We do not believe that our writer was a college graduate or a native English speaker. The sources were biased. Many were also outdated. No student could have turned this essay in and earned a passing grade.
Factor 4: Pricing and Payment
We paid 14 dollars per page. This is quite average, and thus not remarkable. We were able to apply a small savings of 5%. This was thanks to a promo code we found on the website. Unfortunately, coupon codes were not enough to soften the blow of such poor writing.
Like other writing services, PayPal is accepted. Debit and credit cards may be used as well. We did not encounter any troubles making payment.
Factor 5: Additional Important Considerations
There is not much more here to consider. On a positive note, we can say the website is easy to navigate. We found writing samples. These were well-written which was not surprising. We have found that most writing services tend to save their best work for samples. We have no way of determining if these were written by KingEssays writers or not.
We read the various policy pages that are published on the website. Most contain standard information. TopWritersReview professionals reviewed the privacy policy in particular as data security is a concern to most students. We can state that this document was detailed, yet easy to understand. It lists customer's rights, including the right to have their data changed or removed from the company's servers. The site mentions being compliant with specific privacy regulations in the state of California. It also mentions being GDPR compliant. Finally, the policy has been updated as of January 2020. This indicates that their policies are regularly changed and reviewed.
Concluding Comments
We give King Essays a final rating of poor. The misleading information about the company's headquarters and ownership was quite disturbing. This was compounded by poor writing and mediocre customer service. In spite of a fairly well-designed website, helpful online policies, and decent cost, this is simply not worth students' time or money. We urge anyone who needs the best online essay writing services to avoid this company at all costs. KingEssays is simply not a company that can be trusted. Please consider one of the many writing providers that our reviewers have endorsed.