Our verdict: Not Recommended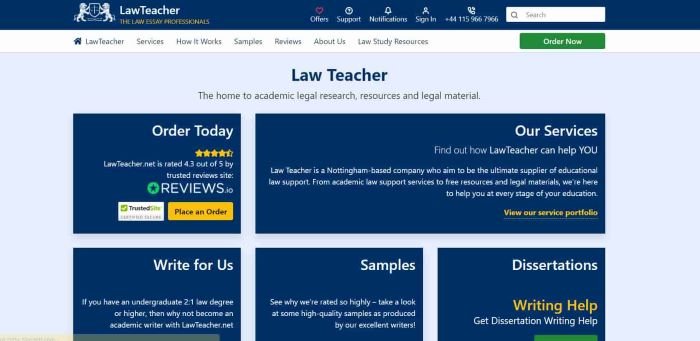 Top 3 services
VIP Support
From $14.99 per page
PhD Writers on staff: 80%
From $12.99 per page
LawTeacher Review
LawTeacher.net is a UK-based writing service that has been in business since 2003. As its name implies, it is focused on products and services for students in field of law and criminal justice – undergraduate through JD and Ph.D. programs. Students who are not in fields of criminal justice and law may not be interested in this service, but, because these areas are popular fields of study, we have decided to review the company.
Review Criteria​
To prepare this Law Teacher review, we used the same criteria that we do for all of our evaluations - we reviewed all of the content on the company website, company published testimonials, policies, samples, pricing, guarantees and benefits, and customer reviews that we found elsewhere on the web. We also contacted the customer support department with specific and detailed questions about products and services.
Overall, we are looking to see if Law Teacher is a reliable and trusted writing service that delivers what is promises and produces high quality writing products.
Factor 1: Types of Writing Services Offered​
The focus of LawTeacher is narrow – products and services in the field of law and criminal justice – undergraduate and graduate – for students in English-speaking universities. Products include essays, research papers, projects, presentations, theses and dissertations. Other services offered are editing, proofreading, and help with homework assignments.
There are also a number of free resources. These include a library of sample essays, papers, and dissertations, study guides for writing various types of assignments, and short course modules on various types of law, at both undergraduate and graduate levels. Much of this is obviously geared toward UK law, so American students would probably not find these resources helpful.
Factor 2: Trust and Reliability​
To determine the trustworthiness of the service, we relied on customers who have posted comments and feedback. Most of these comments were positive, although a few raised concerns about tardiness and responsiveness of their assigned writers. Some of this is certainly the result of the company keeping daytime business hours in UK time. Students in other time zones or those who have urgent needs or issues will find this inconvenient, at best.
All customers did receive their orders, however, and we can certainly state that LawTeacher.net is a legal writing company that can be trusted.
Factor 3: Level of Quality​
To determine quality, we always look at the content on the website, any samples or blogs that are available, and sometimes a copy of a piece that one of our site users has allowed us to review.
According to customer comments and feedback we found on the web or that were submitted to us, quality of research and writing ranges from "average" to "very good." American law students did comment that British English is used, and much of the case law that is cited is from the UK. This presents a major issue. Some students commented that they were very clear in the beginning that they needed American English and case law, and it was not always provided. They then had to request revisions which delayed their final delivery.
We also reviewed the samples that the Law Teacher has posted on its website. They are numerous, to say the least, and cover many aspects of the law. Students who are considering using this service may want to read through them as well. All of the samples are UK-based. Any American student must be certain that his/her writer will research U.S. case law and get that guarantee in advance. And, of course, American students will have to review the piece and make any changes in spelling and vocabulary that are necessary.
The other concern we have is the employment process. There is a link to become a writer for the company, which we accessed. Here we found a three-step process for employment – completing an application, submitting academic transcripts, and writing a 200-word personal statement essay. We find these requirements a bit "thin" considering the type of writing that must be produced, especially at the graduate level.
Factor 4: Pricing and Payment​
LawTeacher prices are high. While they are provided in British pounds, the price in U.S. dollars will be calculated on the order form. We calculated the price for a short undergraduate essay of three pages with a 7-day deadline. The cost was a whopping $363.00. We did not place the order, of course, but it gave us a clear picture of pricing in comparison to the top ten essay writing services that offer writing in this topic field.
In terms of payment procedures, students will not have to worry. Law Teacher uses a third-party secure payment processor and takes all major credit cards. Customer can feel safe providing their financial information.
We contacted customer support and inquired about discounts, and were promptly told that there were none. Students should not look for any type of special pricing on this site.
Factor 5: Additional Important Considerations​
There are written policies, which are thorough, as well as guarantees of no plagiarism, unlimited revisions, and on-time delivery. Other than this, there is nothing unique that sets this company apart from its competition.
Concluding Comments
As we evaluated pros & cons of this writing service, we can state that grad students in the UK will probably be relatively happy with the products they receive. For American students, this may not always be the case. We also find pricing quite high, and there are other services that can offer essays and research papers in this field for a lot less. We are also concerned about the employment process. Overall, after a total review, we are assigning a rating of 5, on a scale of 1-10.