Our verdict: Not Recommended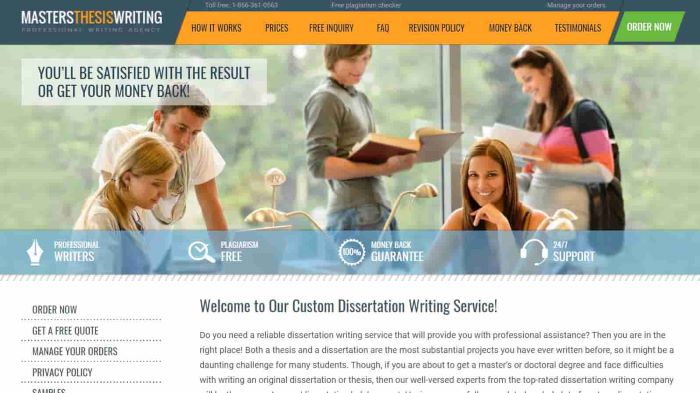 Top 3 services
VIP Support
From $14.99 per page
PhD Writers on staff: 80%
From $12.99 per page
Masters Thesis Writing Review
Mastersthesiswriting.com states that it has been in business for 10 years. In another place on its site, however, it states that it has been providing thesis and dissertation writing for over 13 years. We are not sure, but there is plenty of information, feedback, and comments on the web, so we have decided to conduct a review. We have used all of the customer reviews we have found, along with the content on the website, samples and blog posts, pricing, benefits, and even the testimonials the company has published on its site. Finally, we ordered a short research paper and evaluated both our experience and the quality of the product we received. This is our summary.
Factor 1: Types of Writing Services Offered
Masters Thesis Writing places a lot of its focus on thesis and dissertation research and writing, claims to provide the best dissertation editing service. In reality, it provides all types of academic writing products and services for undergrad and grad students. These include all of the normal writing assignments that students might have, as well as editing, proofreading, admissions essays, and, of course, help with dissertation writing (any or all parts), and theses.
Factor 2: Trust and Reliability
All of the feedback and comments we have read state that products are delivered on time. Customers also say that MastersThesisWriting also provides them with a personal account and protects their identity. They are also able to contact the customer support department b phone, email or live chat, but the offices are closed on Sundays. Customers do complain that the department as a whole is not as responsive as it should be. Emails area not answered promptly, and they often get a message machine when they call.
Factor 3: Level of Quality
We use several criteria to evaluate quality of products and services.
The content on the website is well written and clearly explains services and the process for ordering and receiving products
Footer pages that attempt to explain specific products are "thin" without much explanation, and the writing is not great
The samples that we reviewed were sub-standard. One was a dissertation proposal that was not only poorly written but would not have been acceptable by any advisor or committee. There was no research question, no summary of literature, and a timeline that would have the thesis completed in 7 weeks.
Blog posts also reflected grammar and usage errors, and they are supposedly written by graduate-degreed academics from English-speaking universities.
The research paper we ordered and received could not have been submitted as it was. There were many grammatical errors, the resources were too elementary, and there was a lot of redundancy just to get the page number we ordered.
Certainly, MatersThesisWriting.com is not a fraud or scam. However, quality is just not there.
Pricing and Payment
Masters Thesis Writing prices are based upon product, number of pages, and urgency of deadline. They begin at $20/page for undergrad writing, $25/page for Master's level, and $28/page for doctoral level.
In terms of discounts, don't look for any kind of promo code as a new customer. There are lifetime discounts ranging from 5 – 15%, beginning when a customer spends over $500.
Payment is only through PayPal, and it is secure.
Additional Important Considerations
MastersThesisWriting does offer the standard free pages, but beyond that there is nothing extraordinary.
Conclusion
Our rating of this writing service is "Fair-to-Poor." In terms of pros & cons, we can say that orders are taken and delivered on time. A big "con" is the fact that they promise and entire thesis or dissertation in as little as 7 days. This, of course, is impossible. Finally, quality is just not present. We recommend students to use the best websites to pay for essays and other types of assignments.