Our verdict: Not Recommended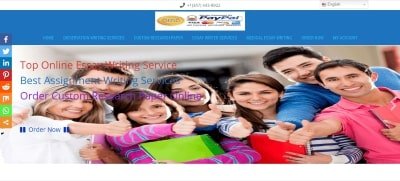 Top 3 services
VIP Support
From $14.99 per page
PhD Writers on staff: 80%
From $12.99 per page
MeldaResearch Review
From first glance, a few concerns popped up as we accessed the meldaresearch.com website. Text on the site is quite small and, interspersed with the content, are letters and words that are obviously of a foreign language. Further, the site, while filled with footer pages and other text, provides repetitive and redundant content, so that the visitor is left feeling that s/he does not really know too much about this company. The company provides two addresses – one in London and one in New York City. The New York City address does not exist. The closest address is in Huntington, NY, and that is a residential neighborhood.
Melda Research states that it has been in business for 8 years. On another page, however, it states that it has operated since 2001. Besides the testimonials on the site, however, we can only find customer reviews and comments going back 2 years. They have been incorporated into this review, along with the other factors that we use to evaluate all writing services.
Factor 1: Types of Writing Services Offered
The Home page states that students at all levels can order any type of academic writing, and, once a customer gets to the order page, there is a dropdown list of all of the types of products. The list is comprehensive and includes essays, papers, any type of research work, reviews, speeches, presentations, admissions essays, editing, proofreading, and re-writing (which it calls "rectifying").
Graduate level work, including theses and dissertations, is also available, either specific sections or chapters or the entire piece.
Factor 2: Trust and Reliability
Here is where the first issues with MeldaResearch begin. The company purports to be a writing service that is English-language based and housed in London and New York. We only looked up the New York address, but it was fake. This certainly does not promote a lot of confidence.
We also look at customer comments that we could find on the web. There are complaints of unreliable delivery and lack of response from both customer service and writers – this was particularly true when customers were requesting revisions.
We contacted the customer support department by phone and live chat. We called the provided phone number in the early evening and received a message: "The wireless customer you have called is not available. Please try again later." This was disturbing. We then attempted to chat live, as the site stated that chat was "online." We were told to wait for a customer support agent – after 10 minutes, we gave up.
We were finally able to chat with someone – unfortunately, they were not able to answer detailed questions. They did assure us, however, that we could get a full, original dissertation, of 200 pages, in 3 days' time. This would be a miracle.
Factor 3: Level of Quality
Here, were looked at the quality of writing on the site. Because there are no samples or a blog, we could only assess the actual text on the site pages and the footer pages. Frankly, it is not good.
Customer reviews on the web are all negative. While they did receive products for their money, the quality was so poor they were unable to use them. When they asked for revisions, they were "put off."
The quality of a college research paper we ordered was also poor – obviously produced by an ESL writer whose English was sub-standard. The resources were appropriate for a middle school student.
While MeldaResearch.com is not a fraud or scam (customers do receive a product), the quality, customer support, and general lack of information is cause for concern. Students should use other services to order essays and cheap research papers.
Factor 4: Pricing and Payment
Media Research prices seem to fall within the average range. Our college level research paper – 8 pages with a deadline of 7 days, was priced at $135.60. there are shopping 35% discounts to new customer, with a promo code to enter on the order form. We could find no loyalty discounts and no coupon codes for any other special pricing.
In the FAQ section, we did discover that payment can be made by any major credit or debit card and that three is a third-party processor. We made our payment, and it appeared to be secure.
Factor 5: Additional Important Considerations
MeldaResearch provides the normal free pages, along with free revisions, formatting, and, it states, 24/7 customer support. This last benefit is clearly not the case. Other than that, there is a fee-based VIP service for and additional $10.00
Concluding Comments
Melda Research does not hold a BBB membership, and we are not surprised by this. In comparing pros & cons to other best academic writing service websites, there are just no "pros" to list here. We would not recommend this service to anyone, given its questionable practices, its fake address, and the exaggerated claims of an original dissertation in 3 days. Quality is very poor, obviously written by foreigners, and responsiveness is even worse. Our rating is "Poor."