Our verdict: Not Recommended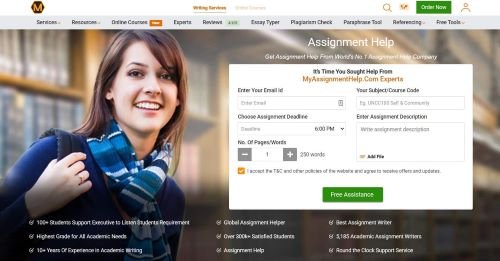 Short overview
Minimal deadline:
3 hours
Guarantees:
Revision Policy, Refund Policy, Plagiarism-Free, 24/7 Customer Service
Payment Methods:
Available Services:
Assignments, Assessment Answers, Essay, Dissertation, Homework, Programming, Case Study, Coursework, Thesis, Research
Extra perks and features:
Free Tools, Paraphrase Tool, Referencing, 282 Paid Online Courses
Summary
This MyAssignmentHelp review takes a close look at its services and customer experience. My overall impression is that its services are below par. The website does not have a revision policy, which makes refund procedures tricky. Customer support is designed well, but in practice, you don't get the support promised. I liked MyAssignmentHelp's free tools, paraphrase tool, and referencing options. The company does not offer a loyalty program. Referrals are good, but it needs to do more for its long-time customers. The paper quality ranges from awful to very good. This is too broad a range to feel safe when placing an order.
Pros
Free tools
Wide range of services
Cons
No loyalty program
Unreliable customer service
Paper quality below par
Expensive
Poor samples
Top 3 services
VIP Support
From $14.99 per page
PhD Writers on staff: 80%
From $12.99 per page
Service Overview
Is MyAssignmentHelp legit? The company has been around for a long time. 15 years in business is no joke. MyAssignmentHelp's bold claim that it is the world's number one assignment help company makes you cringe. In whose assessment? I rarely trust assertions about customer satisfaction. There is no way you can validate them. MyAssignmentHelp states it has more than 300,000 satisfied customers. I cannot take it for granted. Nor should you. The website looks user-friendly, but it is a bit overloaded with information. I like the little box customers can use to get a sense of the price range for their order. The live chat box also appears to help customers with questions. That is handy too.
MyAssignmentHelp also claims it works with degreed lecturers, professors, and academic writers from Australia. MyAssignmentHelp reviews do not support the claim. I take this with a grain of salt too. I googled some of the experts listed on the website and could not find matching information. Some of these profiles must be fake. Since you cannot contact writers directly, it is hard to believe their profiles and reviews are genuine.
Detailed information about help services leaves me with mixed feelings. While they matter, it is time-consuming to go through them. They could have been summed up in bullet points instead for easier reference.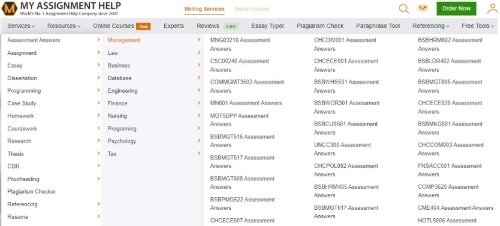 Types of Services Offered
Is MyAssignmentHelp good when it comes to services? MyAssignmentHelp's range of services is impressive. It includes assignments, assessment answers, essays, dissertations, homework, programming, case study, coursework, thesis, and research. Samples are included too. I reviewed one of them to assess quality.
Title: Principles of Geography
Length: 3 pages
Analysis: I picked one in geography only to find that the answer was about everything else other than geography. I was flabbergasted to see that the article discusses communication, digital era, privacy, and related issues. This is sloppy, and it does not make MyAssignmentHelp look good. Not only that, the article was poorly structured. I had no introduction, dividing into the subject directly. It took me long to understand what it was focusing on. There were no major grammatical errors or punctuation mistakes. I noted inconsistent use of some words, such as 'first' and 'firstly' in different sections.
Quality: Low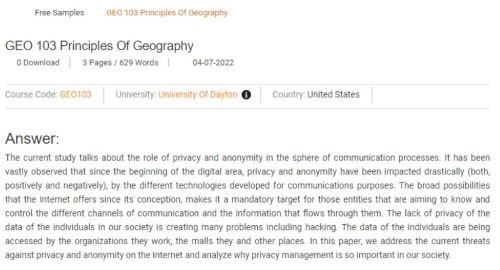 Guarantees as per My Assignment Help Review
MyAssignmentHelp does not offer free revisions. This is a missed opportunity because most of the leading paper writing websites include them in their services. I found a 'fair use policy', which you don't see with most other services. Basically, it asks customers not to use its content, such as samples, in their essays. Money-back guarantee is clearly explained. But MyAssignmentHelp reviews show that it must be too good to be true. Not all customers are able to recuperate their money even when writers miss deadlines or fail to ensure high quality.
Communication With Customer Support
Customer support at MyAssignmentHelp looks solid. Customers can use live chat for quick questions. Other options include email and phone. Offices are located in Dubai, Melbourne, Sydney, Perth, Brisbane, London, Singapore, New York, and Toronto. Phone numbers are provided for Australia, UK, United States, New Zealand, and UAE. You can also leave your comment or query in an in-built form indicating your contact information.
I did my best to test all options. Live chat works fine. Replies are not instant, but agents do get back. Phones are erratic. It seems only Australia numbers are valid. I could not get hold of anyone elsewhere. MyAssignmentHelp reviews note email is really slow. I got a response 3 days later. I don't think busy students can afford that much to get a response.

My Experience and Paper Quality
My overall experience with paper quality is negative. I don't think MyAssignmentHelp lives up to its claim of being number one among homework assistance companies. I ordered a 4-page essay at undergraduate level, with a deadline of 7 days. In about an hour, I got a writer assigned at a total cost of $88. When I looked at the writer profile, it looked solid. I tried to google him, but there was no information confirming his credentials. I reached out via live chat to raise my concern, but I was assured that MyAssignmentHelp vetted him a few times. I decided to try my luck and accepted his offer.
Reviews of MyAssignmentHelp talk about delays with MyAssignmentHelp. Seven days on, and I did not have my paper. I reached out to customer service again to raise my concern. An agent got back to me with an apology and a weird explanation that the writer was on sick leave. Two days later, I finally received it. My first impression was it was rushed. Most likely, it was completed within two days since I filed my complaint. I had to return it with lots of comments. If I were a student, there'd be no way I'd submit it to my tutor. I would have opted for one of the best dissertation services instead. I recommend you do the same.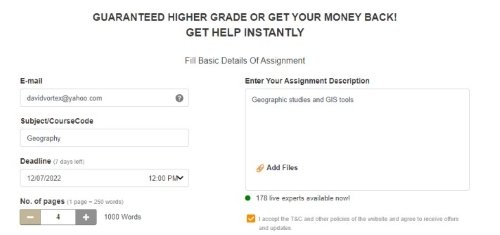 Ordering Process
Ordering process is fairly easy. I did not encounter any major barriers. As soon as you provide all necessary details, someone will get back to you within a few hours. It is disappointing that customers have no control over how writers are selected and assigned. MyAssignmentHelp makes every effort to convince you that it has top-class experts with degrees, but my experience does not validate that. I checked myassignmenthelp.com reviews, and they confirm my conclusion.
So, to place an order, enter your email, choose a subject, specify a deadline and number of pagers, add a brief task description, and create your account. You then need to verify your account by email. Look out for notification. It's inconvenient to go through all steps before getting a quote.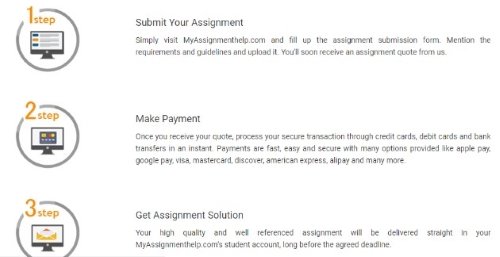 Prices and Discounts
MyAssignmentHelp's pricing policy is discouraging. It does its best not to disclose minimum prices. Instead, customers are inundated with assurances of quality, sales pitches, and fake testimonials. It takes a while before you get a quote. If it were the best coursework help service, as touted on its website, it would be more transparent about cost implications.
You can upgrade to premium services, but it's not clear how much that is. There is a lot of information about benefits, but nothing about related costs.
| | |
| --- | --- |
| Services | Prices per page |
| 282 Online courses (e.g., basic selling skills, design sketching in simple words, budgeting and forecasting, etc.) | From $5 per course |
| Editing/Proofreading | From $10 |
| Problem-solving | From $19 |
| Paraphrasing/Rewriting | From $9 |
| Multiple-choice questions | From $2 |
| Questions and answers | From $2 |
I was pleasantly surprised to see 5% cash back for using the company app. Review of MyAssignmentHelp shows many customers use it. You can earn more than $2,000 through your referrals.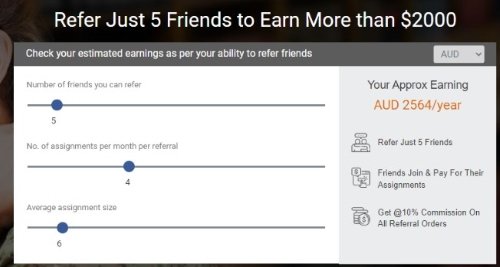 Writer`s Proficiency Based on MyAssignmentHelp Reviews
MyAssignmentHelp takes pains touting exceptional qualifications and skills of its experts. If you browse through their profiles, you will be impressed. There are two major issues. First, many profiles and related reviews and testimonials are fake. I was not able to validate authenticity through other sources on the internet. Second, you cannot choose a writer. Once you enter all details, MyAssignmentHelp selects and assigns an expert to your task. My Assignment Help reviews find this inconvenient too. Some companies use bidding systems to let you choose. Others allow direct access to chat and clarify instructions. You don't get that with MyAssignmentHelp. You are just persuaded to take things for granted and take offers as they stand.
Revision Policy at MyAssignmentHelp
MyAssignmentHelp has no revision policy, although it states one in its refund policy. This is a huge gap. MyAssignmentHelp offers some great tools. One could argue it has one of the best paraphrasing tools, but one does not substitute the other. I tried to request revisions for my paper, but I did not get them. Agents kept referring me to refund and dispute settlement policies. They don't work because all I needed was for my writer to take an extra few hours to address my comments and concerns.
Loyalty Program, Offers, and Extra Services
MyAssignmentHelp does not have a loyalty program. It runs a referral program, claiming customers can earn more than $2,000 when referring others. According to MyAssignmentHelp.com review, it's impossible to verify this. You can also upgrade to premium membership to get more qualified writers. Managers call you for rework within 24 hours, and you get a quality assurance report. The website also provides several useful academic tools.
Online Reputation
Review Services
Is MyAssignmentHelp reliable? There are lots of reviews on Sitejabber. With more than 1,100 reviews, MyAssignmentHelp gets a rating of 3.83 out of 5. Almost 73% of reviews in the last 12 months were positive. Customers are generally satisfied with their orders. Some customers note the failure of MyAssignmentHelp writers to follow instructions.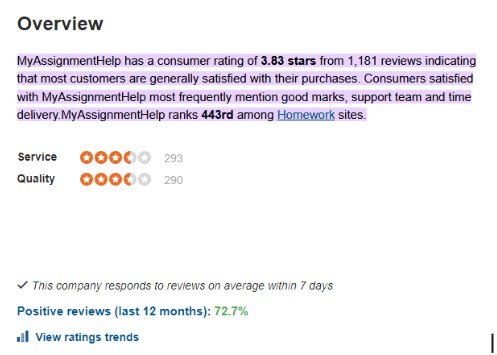 TrustPilot gives MyAssignmentHelp a rating of 3.8 out of 5. Most of the 19 reviews are positive. Customers are generally happy with their purchases. Some unhappy customers complain that they failed their test with MyAssignmentHelp essays.

Social Media
MyAssignmentHelp is not very active on Facebook. With slightly over 1,000 followers, it rarely posts anything on the platform. The most recent post is dated April 2021.
I could not find myassignmenthelp.com videos on YouTube. There are only customer videos reviewing the services of the website. They are not terribly positive about the quality and timeliness of the services received.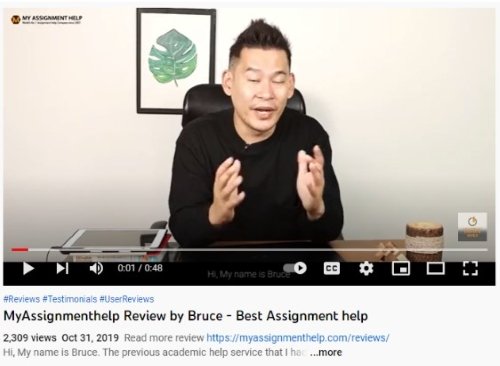 There is a Twitter account too, with almost 2,400 followers. The latest tweet is dated May 2020.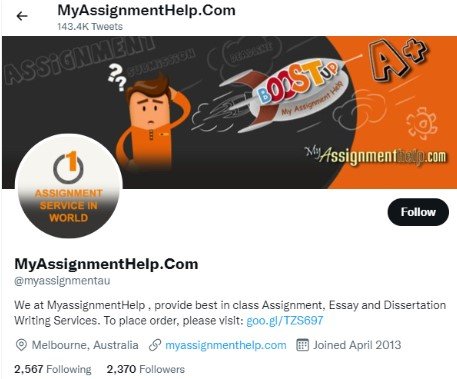 Show Me Your Top Services
Faq
Is MyAssignmentHelp legit?
I trust MyAssignmentHelp is a legit entity. Reviews of MyAssignmentHelp do not suggest otherwise either.
Is MyAssignmentHelp safe?
MyAssignmentHelp is safe to use. The company relies on secure payment methods, so your money is transferred using reliable platforms.
Is MyAssignmentHelp reliable?
I do not recommend MyAssignmentHelp as a reliable service provider. If you are looking for quality homework assistance services, look someplace else.
Is MyAssignmentHelp a scam?
Based on my detailed MyAssignmentHelp review, I don't think it's a scam. It just fails to deliver on the advertised promises.