Our verdict: Not Recommended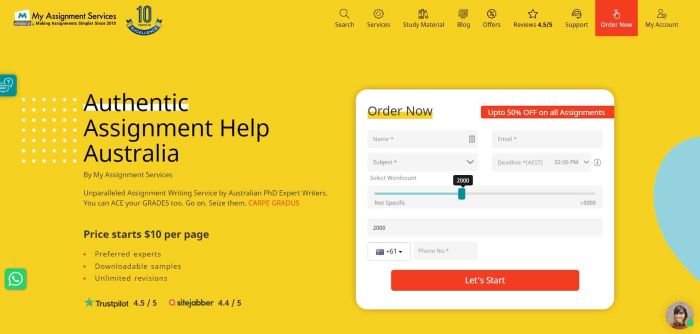 Top 3 services
VIP Support
From $14.99 per page
PhD Writers on staff: 80%
From $12.99 per page
MyAssignmentServices Review
MyAssignmentServices.com is an Australian-based academic writing/assignment service that has been in business for about five years and states that it serves English-speaking students the world over. This My Assignment Services review is written because some of our visitors and users have commented on it and have asked us to investigate.
Using our standard criteria as for assignment help websites, we have looked at all of the following:
We studied the MyAssignmentServices site content – we want to see a well-organized site, well-written content, clear and easy navigation, a detailed order form with upfront pricing, and samples and/or blog posts to review
We reviewed the My Assignment Services testimonials the company has published on its website and the customer reviews we found elsewhere. While we expect on-site testimonials to be positive, we want other customers to state that they have received quality products and services on time
We compared pricing and discounts with those of other quality college paper writing services. We want to see reasonable pricing that fluctuates with complexity and academic levels
We reviewed sample writings and a few blog posts – these should be well-written, scholarly, and using quality resources
We contacted customer service to determine the expertise and quality of question responses. We want to see friendly, helpful agents who can quickly provide detailed answers.
We found the following regarding My Assignment Services:
Factor 1: Types of Writing Services Offered
MyAssignmentServices offers all of the standard academic products and services that most writing services do. Students can order essays, papers, research projects, lab reports, case studies, reviews, analyses, theses, dissertations, editing, proofreading, admissions essays, homework help, test-taking, and more. There is also help for resumes and CVs.
These are all listed in a link on the home page if you can keep closing out the continual popups that prevented us from getting to a lot of the information. In fact, this is probably the most frustrating website we have encountered is all of our reviews. Every page is interrupted by some type of popup, several times over, offering special pricing and discounts. It was extremely hard for us to get through the content. Visitors will find these extremely distracting and even irritating. We urge My Assignment Services administrators to fix this.
Factor 2: Trust and Reliability
Top-quality writing services are reliable. This means they can be trusted to provide qualified writers for each order, complete that order on time, and deliver a scholarly, well-researched and written piece.
In the case of Myassignmentservices.com, there are some major issues here.
The first concern deals with even getting a hold of customer service to ask questions. We left a message on live chat; we requested a call back (you have to leave a message here too), and then we emailed the company with our questions. We did get an email response about 48 hours later. God forbid we might have an urgent need.
The second concern is with the ordering process. There is an order form on the site. Students are asked to fill it out and then submit. The company then gets back to the customer via email with a price for the order. The customer has four hours to accept or reject. Again, urgent needs will not be well served here.
These things do not foster must trust in My Assignment Services.
Further, we couldn't find a BBB membership, something we like to see.
Factor 3: Level of Quality
This we always judge by the website content itself, samples, blog posts, and, most important, the feedback and comments that actual customers have posted or submitted to us. Here are our findings:
When we could finally get through the popups to the samples, we were disappointed. The first half consisted of more advertising for the company. The second halves were poorly written – grammar and word usage errors
Blog posts had good topics – very current. Had they been written well, we would have enjoyed them
Customers complain about poor writing, inferior resources, especially at the college level, and inability to communicate with their writers. They could request revisions, but these were slow in coming and not satisfactory.
Factor 4: Pricing and Payment
There are no prices published on the site. As mentioned above, these annoying popups kept promising such things as 25% discounts or "first 500 words free." But there was no promo code or coupon codes to be found anywhere on the site or on the order form. How a customer takes advantage of these, we have no clue.
We tried to fill out an order just to get a price and see if discounts were included in the response. We never even received a response. Obviously, some things on this website are broken, and they need to be fixed. MyAssighmentServices is obviously losing customers over these issues.
Payment methods are via all major bank cards and PayPal. No customer has complained about their financial information being compromised, so we are assuming they are using a safe and secure third-party processor.
Factor 5: Additional Considerations
There are none to speak of – no information about writers or any benefits, other than the continual popup ads. They do offer the standard free pages and a Turnitin plagiarism check.
Concluding Comments
Wow is all we can say. If we tried to list the pros & cons, there would be no pros to mention, other than MyAssignmentServices.com is a legal company. Writing quality is poor, customers are not happy, we couldn't even get an order submitted, customer service is not responsive, and we wonder how the company stays in business. Our My Assignments Services rating is 1.