Our verdict: Not Recommended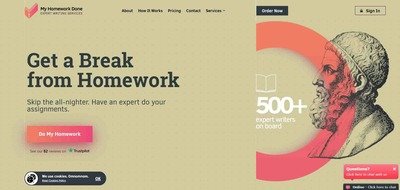 Top 3 services
VIP Support
From $14.99 per page
PhD Writers on staff: 80%
From $12.99 per page
MyHomeworkDone Review
MyHomeworkDone.com has been in the writing service since 2013. The company was not on our radar until recently when we received a few comments that spurred a discussion. We decided to conduct a review based on those comments because we like to present objective and factual information for our users.
Review Criteria
As always, we use the same criteria when conducting our reviews. And we are looking for professional and reliable writing agencies that can provide high-quality products and services to their customers. These are the criteria we use:
All of the content on the website is read, including products and services that are offered. In this case, the website is rather sparse with short sections about how the process works, how to order, contact information, etc.
We read through the on-site testimonials
We looked at prices, discounts, and benefits
We checked policies and guarantees
We read reviews and feedback from customers posted on the web and submitted to us
We contacted customer service via phone and live chat and asked lots of questions
We read a few of the company's blog posts
All of what we found is summarized in the sections you will find below. We urge you to read it.
Factor 1: Types of Writing Services Offered
Only academic products and services are provided by My Homework Done. Students from high school through graduate-level programs can order anything from essays and research papers, to reviews and analyses, to lab reports and case studies, to presentations and coursework help, to admissions essays, and even major graduate projects such as theses and dissertations. And, when accessing the order form, you can see that virtually every topic field of study is available. Frankly, it impressive.
Factor 2: Trust and Reliability
We are always interested in the policies and guarantees that writing companies offer. In the case of MyHomeworkDone, there are policies regarding guarantees of privacy, satisfaction, revisions, and more. When a company has such policies and actually follows them, it can be trusted. From customer statements, these policies are followed pretty well, although satisfaction is a bit iffy. Customers can feel safe that their personal information is secured on the site; they can also ask for revisions to the final product.
Factor 3: Level of Quality
We always judge quality by the actual products that are delivered and by samples and blog posts on the site. Here is what we found:
We reviewed a delivered piece. In it, we did find a number of grammatical and word usage errors that are typical of ESL writers. My Homework Done does not speak a lot about its writers, so we are not certain where they come from and what their qualifications are.
We read two blog articles – one on the characters in Canterbury Tales, and one on topics for annotated bibliographies. Again, we found the same compositional errors, even though the topics were certainly relevant and interesting.
Customers have complained about the poor structure and outdated or inappropriate resources. Some also stated that, when they requested revisions, they were completed but did not improve the overall piece well enough.
In all, we are disappointed in product quality form MyHomeworkDone. This is certainly not meant to question that it is a legal service. It is. And it does take orders, assign writers to them, and deliver those orders on time.
Factor 4: Pricing and Payment
Prices are in the very high average range for the writing service industry. We went through the ordering process in order to get a price on a high school essay (we did not actually place the order). A 4-page essay with 2 resources and a 13-day deadline was $93.00. That's on the high side.
Prices continue to rise based on academic levels, type of product, and deadline needs.
The payment process is both safe and secured. Customers can use any major credit card, but they are all process through PayPal, one of the most secure processors on the planet. Customers should have no worries making payment to My Homework Done.
Factor 5: Additional Important Considerations
The company does have a discount program, ranging from 5 – 15%. Details are not easy to find, but the customer support department did answer our questions about it. It also appears that the title and bibliography pages are free.
Customers can take the "best available" writer or pay more for what the company calls more advanced writers. There is a guarantee of no plagiarism, but a report will also cost extra.
Other than these, there do not seem to be any unique benefits or resources. As we stated, the website is rather sparse.
Concluding Comments
We always carefully consider the pros and cons of the writing services we review. As we look at the total picture of MyHomeworkDone.com, we just do not find a lot of pros. The quality of writing is definitely questionable, pricing is high for that quality, and our experiences with customer service were not great. The two agents with whom we spoke were not able to provide a lot of detail and told us to go ahead and place the order and then take up any questions with our assigned writer. There is a communications system in place for customers and their writers to converse, and that is a good thing certainly.
Overall, there are better writing services out there. Students should consider looking at one of the best paper writing service instead. Overall, we are giving a rating of 2 on our scale.