Our verdict: Not Recommended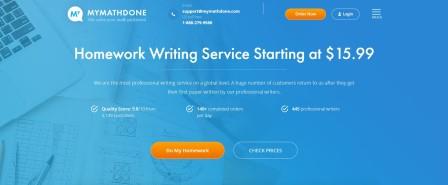 Top 3 services
VIP Support
From $14.99 per page
PhD Writers on staff: 80%
From $12.99 per page
MyMathDone Review
For five years, Mymathdone.com has been in the business of providing academic help to students in English-speaking countries. By the name, most students are led to believe that this service is only when they need help with coursework writing that involves mathematics. Actually, that is not the case. We have recently had a few requests for a review of My Math Done, so here goes. We have reviewed all of the website content, have contacted customer support with a number of questions, have read the on-site testimonials, and checked out writing samples, prices, discounts, and other benefits. We also ordered a short research essay, in order to judge first-hand the quality of products.
Services Offered​
As stated, we were surprised to read some customer reviews on the web that related to essays and papers. The name, MyMathDone would imply that this company only helps with math coursework. This is not the case. While most students probably go to the site for help with math-related coursework, they will find that the company also provides any type of academic writing product, high school through doctoral levels. However, if students are looking for the best essay writing service, they should check out our top 10 list.
Price​
My Math Done prices run in the high average range. A high school piece begins at $17.99/page, and pricing graduates up to $65.00/page at the doctoral level. Pricing also varies depending on which level of quality a customer chooses – standard, premium, or platinum.
Discounts and Additional Features​
In terms of discounts, new customers have a promo code for 20% off on their first order. There are also permanent discounts, with coupon codes, based upon a cumulative number of pages ordered.
There are no stand-out features to speak of. And we were unable to find a BBB membership.
Customer Support and Site Usability​
Customers can contact the MyMathDone support department via phone, live chat or email. We spoke with agent on two occasions. The problem we ran into was that they were not well versed on many products, especially dissertations. They seemed to think that dissertations could be completed within days, which of course, is total fiction.
The site is easily navigated, and visitors will find ll of the information they need about products, services, prices, and how to order.
Writers​
Here is where the issues begin. The company states that all of its writers have a Master's or higher from credible colleges and universities. If this is the case, we are wondering why one of them was not used to craft the website content. There are numerous grammatical and word usage errors, indicating that foreigners are heavily involved.
And we have to judge writers by the products they create. Here is what we found:
The sample writing on the company site are, frankly, horrible. They are titled "case studies" but are not in any way. One we read on tort law was disjointed, hard to follow, and seemed to deal with "trespassing," although there was no introduction that stated so. The piece was full of grammatical errors and incorrect word usage, we wondered who could possibly use it.

Customer reviews are mixed. Those who used the company for math-related help seemed to be pleased with the products they received. Others who used the company for academic writing, not so much. The complained about poor writing and outdated resources.

The research essay we received was obviously produced by an ESL writer – not good at all.
So, is MyMathDone.com a fraud or scam? No, it isn't. but potential customers need to be aware that the quality of products outside of math homework is not good.
Conclusion​
If we look at pros & cons of this service, we can say that orders involving math problems will probably be completed well. Students who order other products, though, will be very disappointed. For this reason, we are giving an overall rating of "poor."