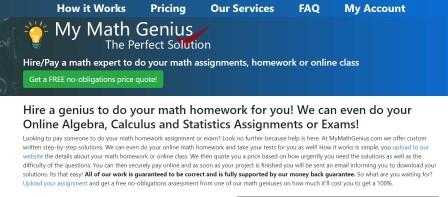 MyMathGenius Review
You might think of us as only being a review site for the best writing webssites. In truth, we have students ask us about math, science, and other academic disciplines as well. MyMathGenius.com is an online service that offers help with STEM courses. When we learned about MyMathGenius, we were eager to learn more. We wanted to explore the same questions we normally do. For example, is My Math Genius a fraud or scam? How are they rated by the BBB, and what do customer reviews say?
So, we did what we normally do. We read testimonials. We explored the My Math Genius website. We compared prices. We placed an order for assignment help. The following is our review of MyMathGenius.com based on our experiences.
Review Criteria
Here we decided to focus on accuracy, on-time delivery, customer service, and web design. We placed four distinct orders to have different math problems solved.
Factor 1: Types of Services Offered
This service offers math problem assistance and assignment help. It covers several math disciplines including algebra and calculus. We did not find any other products or services offered.
Factor 2: Trust / Reliability
It's difficult to quantify trust and reliability. We did receive a product or service in return for our payment. Unfortunately, it left quite a bit to be desired.
Factor 3: Level of Quality
This is where we found the most issues. Of the four problems we submitted, all of them had some issue. In one case, the answer was entirely wrong. In the other cases, the final answer was correct, but the mathematics used to arrive at that answer was pretty off base. Considering that many math assignments are graded on understanding as well as accuracy, that's a pretty big omission.
Factor 4: Pricing / Payment
You can order ongoing math assistance for an entire term or help for individual assignments and problems. To order help for the term, you can expect to pay more than 700 dollars. None of the other costs are outlined at all. Instead, you must request a quote. Given the issues we had, we are not happy with the prices we paid. Further, there are no discounts available. We asked about a possible promo code, and were told no such thing exists. A lack of coupon codes was upsetting, but less so than the quality issues we encountered.
Factor 5: Additional Important Considerations
In weighing the pros & cons of any service, we try to find extras that people might find useful. Here, there's a math solutions library and a search function. Sadly, the latter isn't very functional. That was problematic and pretty much eliminated any benefit. The library was a little more useful, but there just wasn't much there that advanced math students would use.
Concluding Comments
At this point, the bad news should be fairly obvious. My Math Genius has earned a very low rating. Our order was delivered late on two of the four orders we placed. We also found incomplete or inaccurate work. Add this to the fact customer support just wasn't very helpful, and we have to give this one a hard pass.
What we do recommend is checking out one of the services we have endorsed. Many of them offer help with various assignments. This includes math, science, and related subjects. You are sure to get the help you need from one of these companies without worrying about sloppy or inaccurate work.