Our verdict: Not Recommended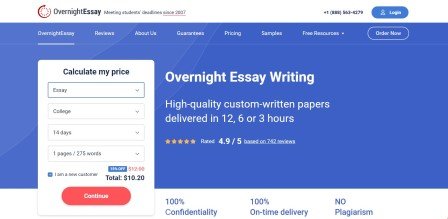 Top 3 services
VIP Support
From $14.99 per page
PhD Writers on staff: 80%
From $12.99 per page
OvernightEssay.com
A writing service that has been in business for 10 years has had plenty of time to develop and refine its policies, to find and employ excellent writers, and to provide exceptional customer service. That's what we were looking for as we investigated OvernightEssay.com to provide our review, so that students could make good choices. We looked at all of our standard list of factors – the layout of the site and its content, the products and services, information about Overnight Essay writers, policies, prices, benefits, onsite testimonials, customer reviews we found out on the web, writing samples (if available), and customer support. We also ordered a research paper to evaluate product quality first-hand. This is our summary:
Services Offered
OvernightEssay focuses on academic writing, including all of the typical writing assignments that students face from high school through Ph.D. programs. Products are all specifically listed in a drop-down menu on the home page, which also provides a fast calculation of price. Students can order essays, dissertations and everything in between, including admissions essays and coursework help. Editing services are also provided. The company is very clear that is serves students in English-speaking institutions and provides top essay writing services in Canada, U.S., UK, and Australia.
Prices
We found OvernightEssay.com prices to be within the high average range. Starting with a high school essay, with a 14-day deadline for $17.17/page and ending with Ph.D. research work with a 24-hour deadline for $37.37/page, prices are based upon academic level, length, type of product, and deadline urgency.
Our 8-page undergraduate level research paper, with a 7-day deadline cost $161.36.
Discounts and Additional Features
Overnight Essay does have a discount program, based upon loyalty, seasonal promotions, and personal discounts, although none of these is clearly defined. Apparently, customers will receive coupon codes for up to 30% when they return as repeat customers, seasonal discounts up to 15%, and other types of undefined personal savings. We asked the customer support department about it, but still the answers were unclear. At any rate, customers will not find any type of a discount promo code on the site.
Relative to additional features, we can say that the company offers the standard free pages, a guarantee of plagiarism-free products, unlimited revisions, and refunds for missing deadlines.
Customer Support and Site Usability
We contacted the customer support department by both phone and live chat. On both occasions, we spoke with an agent and asked detailed questions about policies and specific products. They did not seem to be able to answer some of the questions which were actually in their FAQ link on the site, so we are pretty certain that OvernightEssay uses an answering service. The agent we spoke with via phone was obviously foreign and did tell us that we could have a full Ph.D. dissertation of 200 pages within 10 days. That would be an exaggeration, at best.
The Overnight Essay site is well-organized with all of the standard links you would expect to find. Navigation is easy and fast. At the bottom of each page is a full listing of company information and footer pages on the major products that are offered. We expected to find detail on each of these products but instead got a brief vague paragraph and then a repeated listing of the benefits and the pricing chart. Those pages were not helpful, and we did pick up some odd and awkward words and phrasing – perhaps ESL writing.
Writers
This is the most important part of any writing service, because the writers determine the quality of products customers receive. There is very little information about the writers, so we navigated over to the Samples to read a few. We reviewed one research paper on "Crime in the Area." We had no idea what area until we began to read, but discovered that it was a section of Los Angeles. Unfortunately, the research was horribly out of date, with resources as old as 1997. Another piece on The Victorian Age was actually a comparison of two books – one by dickens and one by Wilde. Content was shallow, and other than the two novels, the only other reference work was from 1973.
The customer reviews we found off-site were not very positive. There were complaints specifically about the quality of resources and writing that was too simplistic for college level. We found the same with the paper we ordered. We wonder just how good the writers are when their research is just not current.
Nonetheless, we can say that Overnight Essay is not a fraud or scam. It does complete and deliver customer orders.
The company is not registered with the BBB, and we always have a concern about this.
Conclusion
We base our overall rating of a writing service after considering the pros & cons of what we have found. Our concerns with this company relate to the quality of research and writing, as well as what we believe are some exaggerated claims. We would place Overnight Essay in the "Fair" category. Students can find better services for the price being charged.